Gotham's (Other) Dynamic Duo
Sports Card Monthly
|
Fantasy Football 2 2019
New York is the Epicenter of the superstar running back. But who will own the Big Apple – Saquon Barkley of the Giants or newest Jet Le'veon Bell?
The King of New York. It sounds like something from Game of Thrones. And we're not talking about the song from Newsies. This is real.We're talking about running backs. And two prominent ones at that.
It's Saquon Barkley vs. Le'Veon Bell.
Giants vs. Jets.
A star on the rise vs. a fading star hoping to recapture past glory.
It's a fascinating story in Fantasy and reality, and we get to watch
it play out in 2019. The two will even meet head-to-head in Week 10 this season on the field they both share.
But who will claim the title of King of New York as the best running back in the Big Apple — and possibly the NFL? It's something Fantasy Football managers are curious about as well.
It didn't take long before Bell was asked about Barkley in his first appearance with the New York media during Jets minicamp in June.
"He's an amazing player," Bell said. "It's going to be fun sharing a stadium with him. Obviously, there's going to be internal competition, but I'm a guy who's going to root for him. I want him to be the best player he can be."
Bell is right to show respect to Barkley after his dominant rookie campaign in 2018. And Barkley is the obvious choice to wear the mythical crown of King of New York — at least coming into the season.
While Barkley was destroying defenses last year with 1,307 rushing yards (5.0 yards per carry) and 11 touchdowns, as well as 91 catches for 721 yards and four touchdowns, Bell was watching from home. New York and the Jets weren't exactly on the forefront of his mind.
He sat out 2018 in a contract dispute with the Steelers, and eventually signed with the Jets on a four-year, $52.5 million contract as a free agent, with $35 million guaranteed.
And now Bell has to remind everyone of just how great of a player he was — and will hopefully be once again.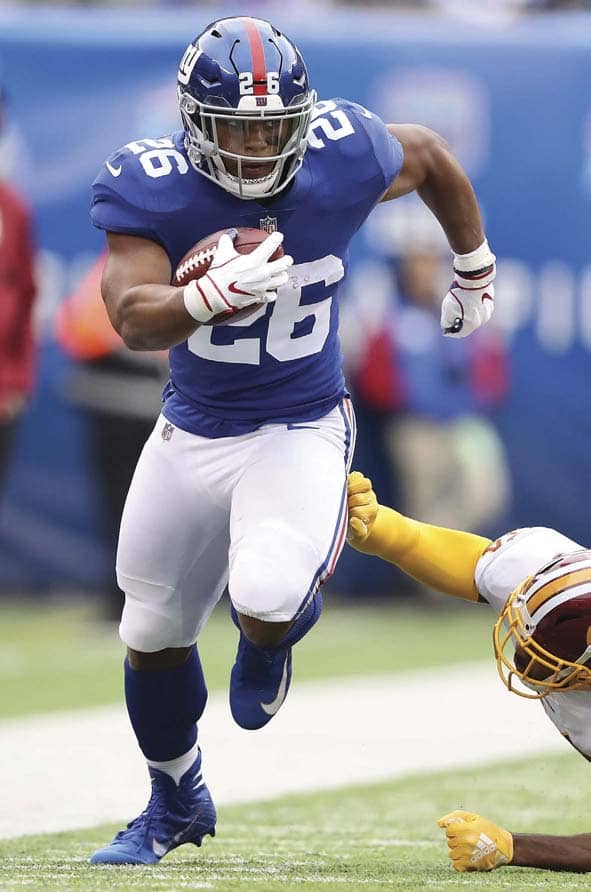 "Maybe people have forgotten a little bit because they haven't seen it in a long time," Bell said. "It's normal. That's what humans do. But I feel like once I get here and play, first game coming up, people will be reminded."
Fantasy players and Jets fans are hopeful Bell will still be the same player he was with the Steelers, although many are skeptical. He's 27, coming offa year where he didn't play and going from one of the best rosters in the NFL to a team in rebuild mode.
In Pittsburgh, Bell got to line up behind Ben Roethlisberger and a standout offensive line, flanked by Antonio Brown and JuJu Smith-Schuster. Not many running backs have that luxury, and Bell flourished in that system.
With the Jets, the offensive line isn't as good, and you can't compare a second-year quarterback like Sam Darnold to Roethlisberger. Robby Anderson and Jamison Crowder don't compare to Brown and Smith-Schuster at all either, even if there's promise with this Jets offense under new coach Adam Gase.
You can read up to 3 premium stories before you subscribe to Magzter GOLD
Log in, if you are already a subscriber
Get unlimited access to thousands of curated premium stories, newspapers and 5,000+ magazines
READ THE ENTIRE ISSUE
Fantasy Football 2 2019