The pigeon shooting pilgrimage
Sporting Shooter
|
May 2020
Emily Damment finally gets to spend a day in the hide with Andy Crow and his young protege Regan – and, despite a minor wardrobe malfunction, the day goes swimmingly!
Andy used three layers of netting against a treeline to build the hide
The long drive down the M25 to Andy Crow's 600-acre farm in Kent has become something of a pilgrimage for UK pigeon shooters. Anyone with a penchant for pest control would jump at the chance to spend a day in the hide with the Crowman and, after four years of reading and proofing his articles for this magazine, my own turn finally came.
I've been shooting on and off for about four years now, but have really got going in the last 18 months after getting my licence and my very own shotgun – a Browning B725, the one with the black action and gold pheasants. Pretty! I'm now out shooting as much as my busy schedule allows.
My experience of bird shooting is limited but not unsuccessful – an exciting duck shooting trip to Sweden was followed by a beaters' day at the end of last season, and I was pretty chuffed with my performance at both. However, the only time I've ever attempted to bring down a pigeon, it eluded both shots with a display of higher-level aerial ballet which, quite frankly, stunned me. I always thought pigeons were thick, but that day I learnt the valuable lesson of never underestimating your quarry! Since then, I've been dying to have another crack at them, so you can imagine my excitement when the invitation came to spend a day in the hide with the man himself.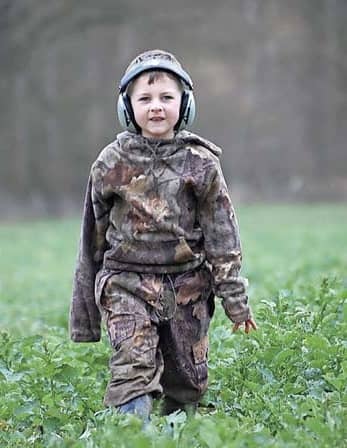 Little Regan was so happy to be outdoors all day
When I pulled into the farmyard on a dull but thankfully dry Saturday morning, Andy came to greet me with a little helper in tow – his very cute five-year-old grandson, Regan.
"I hope you've got some over-trousers!" called Andy as I began lacing up boots and donning camouflage.
You can read up to 3 premium stories before you subscribe to Magzter GOLD
Log in, if you are already a subscriber
Get unlimited access to thousands of curated premium stories, newspapers and 5,000+ magazines
READ THE ENTIRE ISSUE
May 2020