Problem Solving
Sporting Shooter
|
September 2020
Lesson #1: Why does my dog run past me on its return from a retrieve?
Let's open this article with a question. Why does my dog run past me on its return from a retrieve? This is a question that comes up repeatedly and She Who Must Be Obeyed (our fantastic editor, Rebecca Green) said: "It's about time you get your finger out Kirby and write something about it." So here we are!
So why does our dog run past us? Well, there's a question for you, the readers. I know you enjoy dog training as much as I do. I've said it before, but I'd love for all of us to be in a big auditorium right now so that we could swap ideas. It would probably end in tears though. There's a theory that if you put two dog trainers in a room, the only thing that you will get them to agree on is that all the other dog trainers don't know what they're talking about. Silly really!
Right then, back to the question. Have you answered it yet? Excitement? Over-exuberance? Or is it all about possession?
It's important to try to understand the dog's mindset when looking at behaviour as this may affect our approach to training. This is an excellent example as a dog that is running past us because it's never been taught to do anything else is likely to be in a different mindset to one that has decided that it's keeping the dummy and no one else is going to get a look in.
Once you've made up your mind as to why the dog is choosing to run past us, you can have a think about what you can do to make some changes. Fundamentally, though, the problem can be fixed with an obedient recall.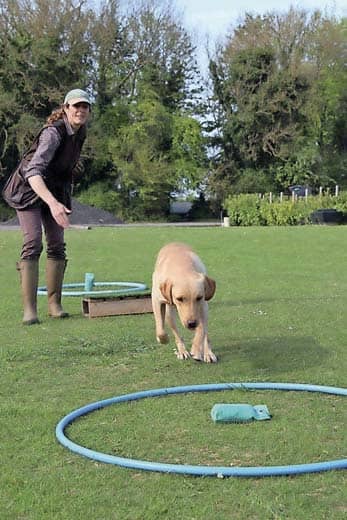 The training plan
I usually do this in my head but as I'm writing an article let's be professional and make some notes, a list of things we might consider doing if we are to successfully school the dog. Ensure the dog has been well schooled to come, sit, watch, move into heel, walk at heel and stay – basic obedience really. Target training, lead work, whistle training and obedience to any of the commands we give will be essential elements.
You can read up to 3 premium stories before you subscribe to Magzter GOLD
Log in, if you are already a subscriber
Get unlimited access to thousands of curated premium stories, newspapers and 5,000+ magazines
READ THE ENTIRE ISSUE
September 2020