Maya Moore, Nowhere Near Finished
At 29, Maya Moore has accomplished as much if not more than any other womens basketball player ever. Yes, you read that right: Ever. And shes nowhere near finished.
NOBODY IS PREPARED to see a picture of their face blown up two stories tall, not even four-time WNBA champion Maya Moore. "I had heard they were going to do something big," she says. But she didn't know that for the Minnesota Lynx home opener against their hated rivals, the L.A. Sparks, Jordan Brand was going to glue a mural on the side of a building that stretched an entire city block in Minneapolis. "I was driving to the game with my mom," she says, "turned the corner, and I was like, OK…there it is. And my mom was like, 'Oh my goodness.'"
Weeks before, Moore posed for the shot: arms outstretched, right hand palming a basketball, left hand pointing toward 6th Street—an exact replica of Michael Jordan's iconic "Wings" poster from 1985. Below the picture was a slightly edited proverb written by English Romantic poet William Blake. The adage is actually from Blake's Proverbs of Hell, in which he twists old biblical proverbs into provocative, darkly energizing advice. Stuff like, "The road of excess leads to the palace of wisdom," and "He whose face gives no light, shall never become a star." And below the Maya mural, in italics, it reads: No bird flies too high, if she flies with her own wings.
So what did Maya, who's been the only woman representing the Jordan Brand since she entered the league in 2011 and who also identifies as a deeply devout Christian, think when she saw herself on a mural that covered an entire city block? "I felt kind of like I was two people at once," she says. "One side of me felt like the women's basketball fan, the basketball fan that's just been waiting for this sort of celebration of our game, of where we're going." And the other side? "Oh my!" she says. "That's me."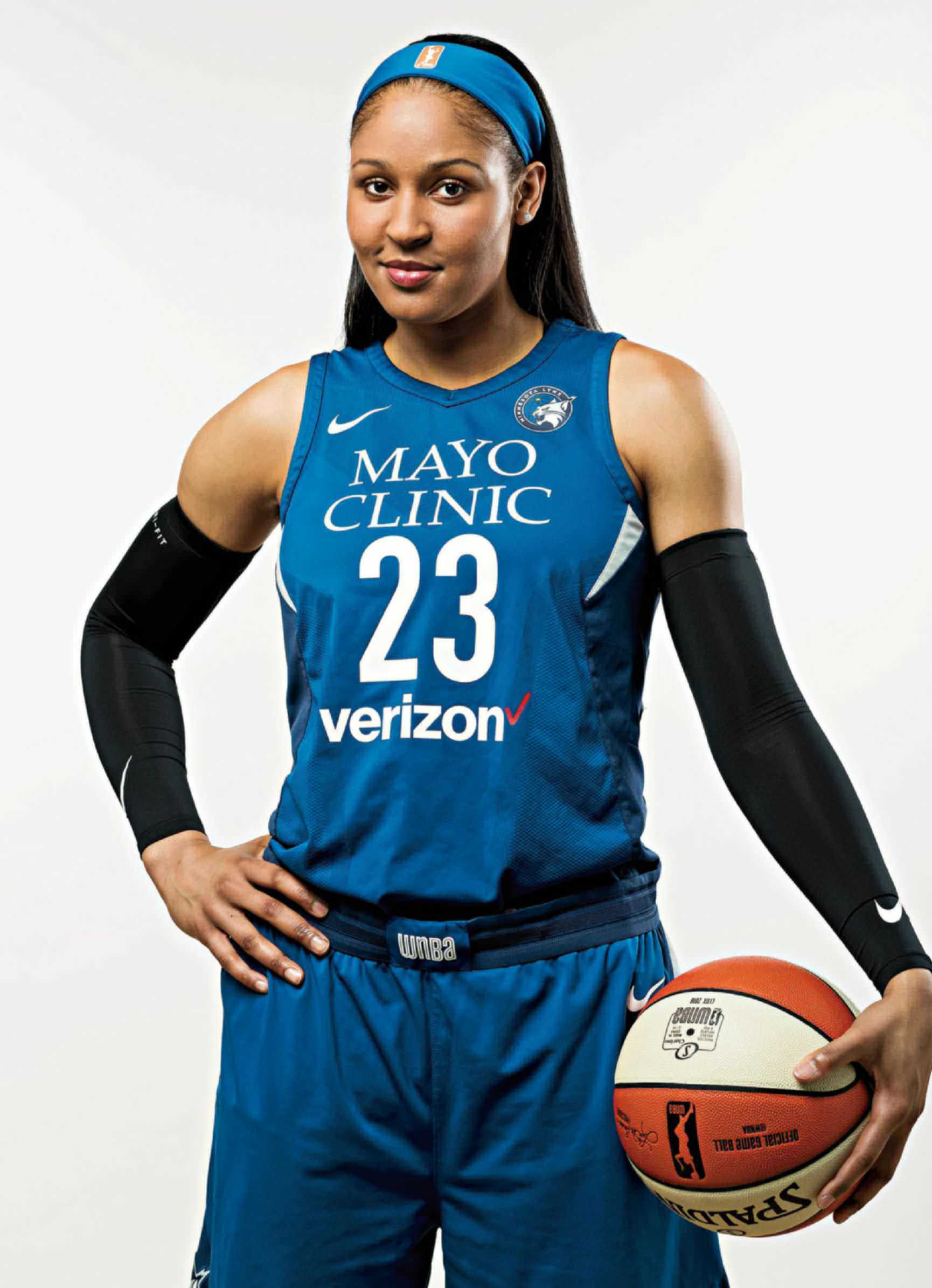 LAST OCTOBER, WHEN the Lynx beat the Sparks in their second thrilling Game 5 in as many years, they didn't just avenge 2016's last-second Game 5 loss to the Sparks, the Lynx's certain-hall of fame core—Maya, along with Seimone Augustus, Rebekkah Brunson and Lindsay Whalen (Sylvia Fowles, who since joining the Lynx, has become a league MVP, two-time WNBA champion and two-time WNBA finals MVP, joined the squad halfway through the 2015 season)—won their fourth championship overall. Which means Maya, in only her seventh year in the league, matched the total number of championships that her childhood role model, Cynthia Cooper, won with the seminal Houston Comets. "When I was just starting in AAU, I rocked [Cooper's] 14 and I loved it," she says. But unlike the Comets' smooth big guard, Maya grew up in the post, so her jersey numbers only got bigger: first 30, then 32, which stuck with her throughout both her dominant runs as a high school player at Collins High outside of Atlanta (three Georgia state titles and the 2007 National Championship) and on the AAU Georgia Metros (four National Championships).
But when she arrived at the University of Connecticut in the fall of 2007, a sophomore wore 32. She didn't know if she should fight her new teammate for the number or change her own. "And 23 was LeBron's number at the time," she says, "And MJ's obviously, so I was like, Heyyy! You know, that's good company."
You can read up to 3 premium stories before you subscribe to Magzter GOLD
Log in, if you are already a subscriber
Get unlimited access to thousands of curated premium stories, newspapers and 5,000+ magazines
READ THE ENTIRE ISSUE
October 2018