LeBron: Charged Up
Slam
|
October - November 2015
LeBron James spent the past year breathing new life into the Cavaliers and the city of Cleveland as a whole, in ways both tangible and immeasurable. The next step? Well, you know.
March 20, 2013. A relatively meaningless Cavs-Heat game at Quicken Loans Arena in Cleveland is trudging through its fourth quarter, the Heat holding an 83 79 lead over a truly depressing, Lottery-bound Cavs team.
As then-Cleveland guard Shaun Livingston holds up his right hand to set up some sort of inevitably ill advised set play, a skinny 6-1 white kid wearing a t-shirt that reads WE MISS YOU on one side and 2014 COME BACK on the other sprints on to the court, making it to the left elbow of the three-point line before a security guard runs and snatches him up in a forceful reverse bear hug.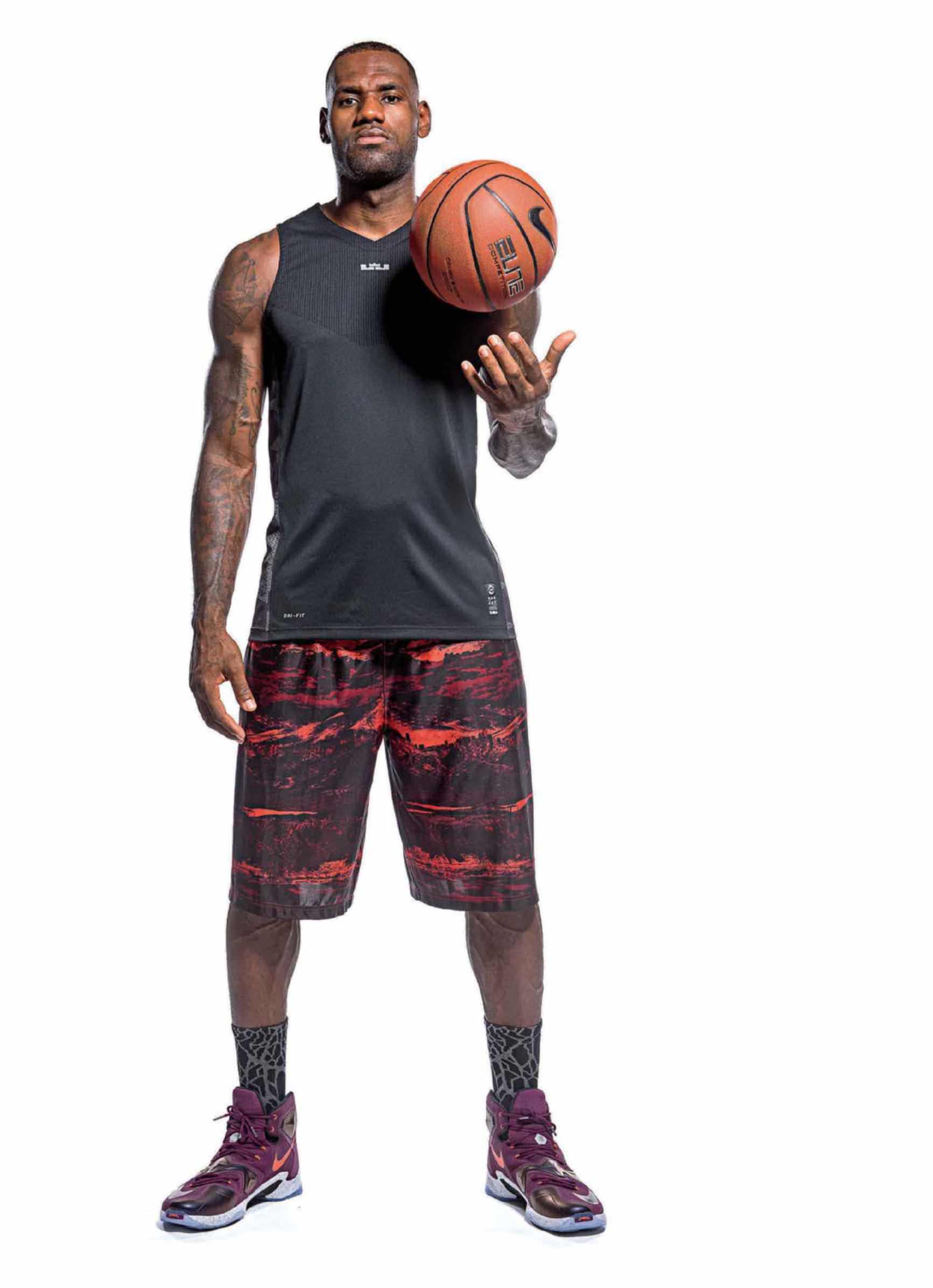 That's when things get kinda weird. The kid's purpose has become clear: He's a crazed LeBron fan on a mission to let LBJ know that the Cavaliers' fan base would love for him to make a return to Ohio once his contract runs up 15 or so months later. As he's dragged off the floor, he chirps, "We miss you here, LeBron," in James' direction.
He's also a massive security risk, and one doesn't need to re watch more than a little Malice at the Palace footage to remember that NBA players don't exactly love fans coming all up into their workspace. And yet, as he's pulled away by what's rapidly become a gaggle of arena staffers, LeBron drifts toward James Blair, and then, for some reason, extends his hand, gives Blair a quick dap, then taps the kid's head with slightly noticeable affection before Blair is erased from the scene.
"A lot of [Cavs fans] told me afterward that his reaction to what I did made them think, like, Oh, wow, he remembers how we are," Blair says. "I think it goes to show LeBron's character and the type of person he is, that even in a crazy instant like that, he still pays homage to his fans. That was kind of my goal, to remind him about that Cleveland passion and the fans we have here."
It's hard to imagine that LeBron, who we shot exclusively for this month's issue in August, needed much reminding. By now you're all well aware he grew up in nearby Akron and spent seven seasons in Cleveland before the Miami move—but his response to the court-storming did seem to prove LeBron's understanding of the intensity of Cavs fans runs a little deeper than your standard athlete-fan connection. Which makes sense, considering that passion is rooted in the fact that LeBron's impact is nestled earth's-core deep into the fabric of Northeast Ohio.
Let's start with the obvious:Cleveland sports fans have been through some shit. The Browns, Indians and Cavaliers have combined for an absolutely brutal 156-season championship drought since the 1964 Browns earned a Super Bowl trophy. But Cleveland hasn't given up. Quite the opposite: Those resilient motherfuckers doubled down.
You can read up to 3 premium stories before you subscribe to Magzter GOLD
Log in, if you are already a subscriber
Get unlimited access to thousands of curated premium stories, newspapers and 5,000+ magazines
READ THE ENTIRE ISSUE
October - November 2015