After a disappointing end to last year's season, the Boston Celtics—now led by Kemba Walker, Marcus Smart, Jaylen Brown, Jayson Tatum and Gordon Hayward—are right where they want to be: exceeding everyone's expectations, and having a blast along the way.
"Nobody was really talking about us, you know?"
KEMBA WALKER is seated in the Optum Lounge of the Auerbach Center, where the Boston Celtics practice, thinking back on this summer. When he was in China for the 2019 FIBA World Cup, along with Marcus Smart, Jaylen Brown and Jayson Tatum, the four of them discussed the doubt placed on their team at home.
"Granted, they lost a few guys who made this team go," Walker continues, "but I still felt like we would be pretty good just because of the talent that I knew we had and how much the young guys wanted it. Guys like Smart, JB and JT, I could tell how much they wanted to become better players and how disappointed they were about last year. Those kinds of things played a part in how I felt like we were going to be this season."
Of course, last season informed a lot of the early projections. The Cs were favorites to come out of the East in '18-19 but didn't live up to expectations, finishing as the No. 4 seed and getting bounced in the second round of the playoffs. That fact, combined with key losses in free agency, bred skepticism. But skepticism is OK. In many ways, it's welcomed.
There's less pressure in being the underdog. And once the wounds of a disheartening year began to heal, those remaining could find the positives in it. Sometimes, there have to be lows to be highs. The group had to learn from their mistakes. They used failure and doubt as further motivation, and they set out to prove everyone wrong.
"We were just talking about what we wanted to do this season, how we wanted to come out and really shut people up," Smart recalls of those conversations in China. "We just knew everybody was going to doubt us. So for us, it was just coming out and being able to show what we were capable of."
"I've got sunshine…" "…on a cloudy day"
Jaylen Brown and Marcus Smart have spontaneously broken into a duet of The Temptations' "My Girl." They harmonize and trade lines, singing into the shotgun microphone set up for our video shoot. It's so seamless that it sounds rehearsed.
"When it's cold outside…" "…I've got the month of May"
Spirits are high at the newly constructed Auerbach Center. It's early January and the team has entered a new decade near the top of the Eastern Conference. As of this writing, they are 26-11 and 15-3 at TD Garden.
There's a laidback, relaxed vibe to the shoot. Guys arrive one by one, led by the veteran Gordon Hayward, rocking their green and gold City Edition jerseys. They joke with each other and gang up on one of the equipment managers, who walks on set in a full uniform.
"That's how you know you don't hoop, because nobody wears their socks to their calves like that," Smart says.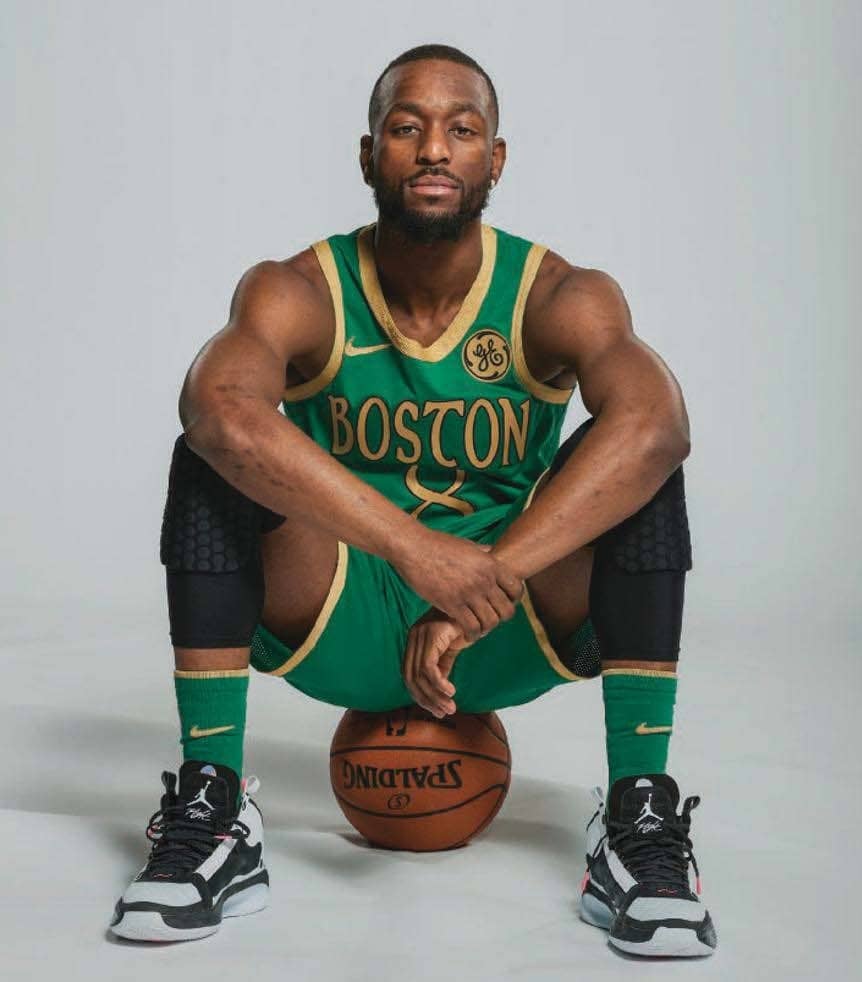 "You got to stop skipping leg day, Andy," Brown chimes in.
"He's skipping every day."
The returning players will freely admit, there was, at times, an absence of joy in the locker room last season. It was due in part to a reluctance to open up about personal issues outside of basketball. No one wanted to share, and the chemistry and happiness of the whole team suffered because of it. Bottling their problems didn't work, so they've taken the opposite approach this year.
"We're happy [now]. Everybody's actually talking to one another," Smart says. "Last year, we didn't really talk to each other as much as we do now for whatever reason. Everybody was dealing with their own things personally, so it was kind of hard to sit down with one another and really listen because you were dealing with your own things and you were trying to figure out things for yourself."
Continue Reading with Magzter GOLD
Log-in, if you are already a subscriber
Get unlimited access to thousands of curated premium stories and 5,000+ magazines
READ THE ENTIRE ISSUE
March - April 2020