CULTURE III
Slam
|
January - February 2020
MEET JOSH CHRISTOPHER, JALEN GREEN AND SHARIFE COOPER—THE THREE-HEADED SNAKE AT THE CENTER OF THE RED-HOT HIGH SCHOOL BASKETBALL SCENE. REGARDLESS OF WHAT THE FUTURE HOLDS, THEY ARE ALL ALREADY CERTIFIED STARS, AND THE BEST IS STILL YET TO COME. YES INDEED.
SHINE LIKE THIS
ALREADY A CHAMPION AND THE HIGHEST-RANKED RECRUIT EVER TO COMMIT TO AUBURN, SHARIFE COOPER IS HUNGRY FOR MORE.
ALEX SQUADRON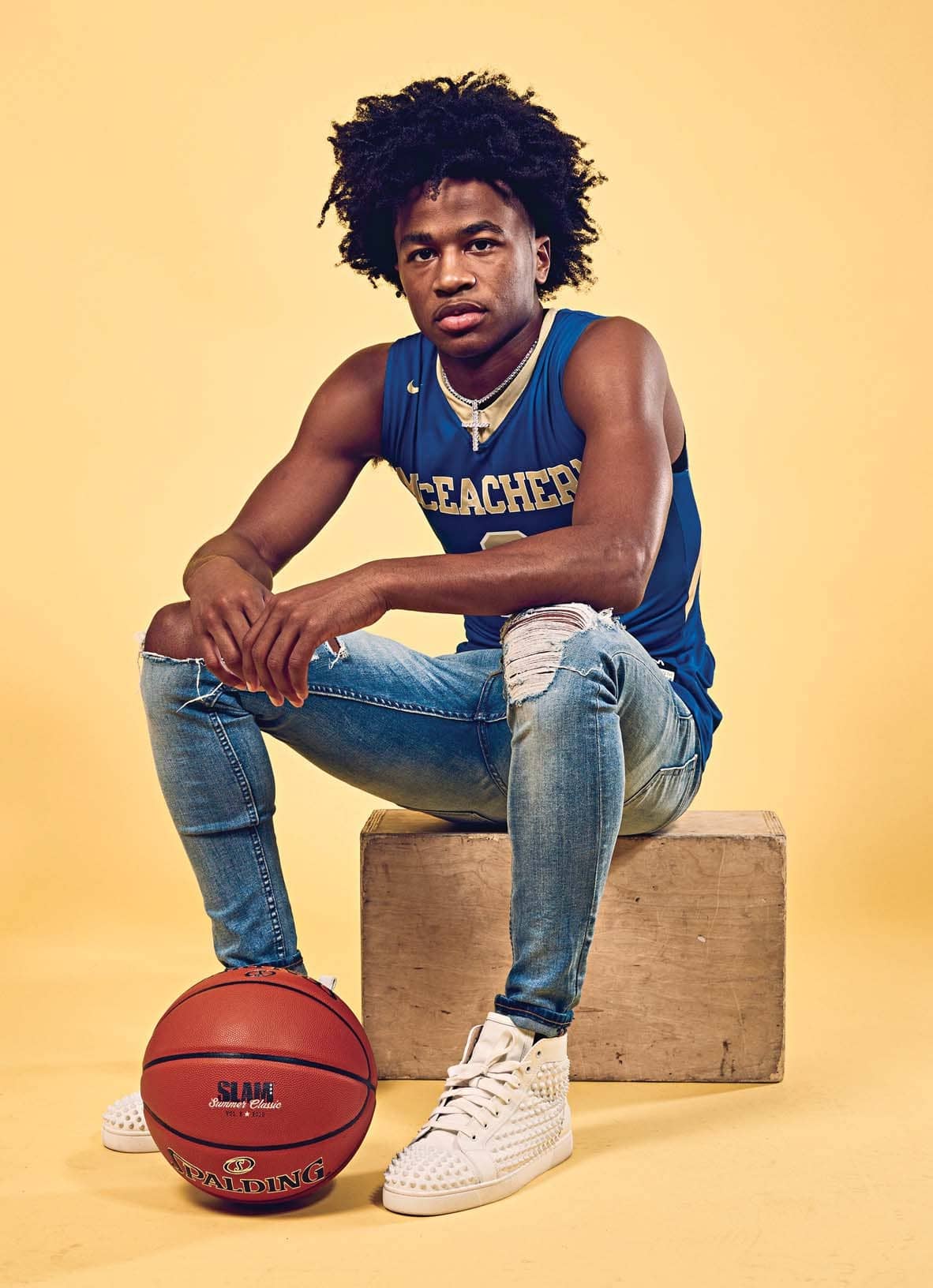 SHARIFE COOPER is nowhere to be found. It's a Saturday afternoon in midAugust, a day before the SLAM Summer Classic at Dyckman Park, and the players are cruising through NYC on a double-decker bus.
But Cooper isn't there. He's slipped away from the group and crossed the bridge into New Jersey for a workout. He spends hours training and then casually rejoins the bus as it makes a stop in Times Square, like he was never gone.
The moment is a microcosm of what Cooper, a star in the Class of 2020, has been doing for the last several years. With no one watching, he's quietly adopted a work ethic unlike most in the world of basketball, at any level. And it's paid off.
He guided McEachern (GA) to an undefeated season and a state title in 2018- 19, averaging 27.2 points, 8.1 assists, 5.6 rebounds and 4.3 steals. He became just the third junior—along with LeBron James and Greg Oden, who both went on to go No. 1 in the NBA Draft—to win USA Today's Boys Player of the Year and the first to be named MaxPreps Boys Player of the Year. He is the highest-ranked recruit ever to commit to Auburn.
As a kid, Sharife would watch his older sister Te'a, a former McDonald's All-American now hooping at Baylor, work on her game. He'd sit on the sidelines, restless and annoyed that he wasn't allowed to join. He begged for an opportunity. "I wouldn't let him," his dad, Omar says. "He was too young, too little. So when he got his chance, he's like, I'm not looking back. I want to go."
On a typical summer night, he and Omar would pull up to the Life Time gym in Atlanta close to 1:00 am, following a day packed with weightlifting, pool workouts, pick-up and shooting drills. Sometimes they wouldn't leave until 5:00, getting lost in competitive games of one-on-one.
Sharife's chill demeanor can be misleading. There's a whole different side to him, one that sets him apart from your average teenager.
"I'm definitely one of those guys who's not trying to be your friend [on the court]," he says, a stern expression on his face. He's soft spoken, but the words don't match. He sounds more like Russell Westbrook than a laid-back 18-year-old.
"I don't care how long we've known each other, I don't want to talk to you. That's my mind-set."
Combine that mind-set with his ambition and Cooper has evolved into one of the best HS guards in the country. He's not the most physically imposing (6-0, 160 pounds), but his skill level is insanely advanced. There's a patience to his approach that you just don't see in other players his age. He'll study the defense, figure out its weaknesses and then exploit them, either with his scoring or playmaking. Everything looks effortless.
"Shit, I wish I had what he had [during my career]," says retired pro Brevin Knight, who grew up with Omar and remains close to the Cooper family. "I look at the way that he plays the game with his head—that's probably the most similar to what I was able to do. But in terms of skill, I wish I had a tenth of the skill that he's able to play with right now.
"You could see that there was something a little bit different about Rife," Knight continues. "He was always willing to do whatever Omar wanted him to do in terms of getting better."
When McEachern was bounced in the 2018 state quarterfinals, Cooper vowed not to let it happen again. He went straight to the gym afterward, clocking in at 11:30 pm.
You can read up to 3 premium stories before you subscribe to Magzter GOLD
Log in, if you are already a subscriber
Get unlimited access to thousands of curated premium stories, newspapers and 5,000+ magazines
READ THE ENTIRE ISSUE
January - February 2020