To The Grit
Rock and Ice
|
December/January 2020
About 10 winters ago I touched down in Manchester in a hard, driving English rain. The city was hidden from view. I was groggy after a red-eye from Dallas, an over-brewed black tea barking on my dry tongue.
"Well, you'd best have your shit together next time, mate," the customs officer told me after impatiently waiting for me to text my local friend for things like his home address, phone and email.
Long gray halls and concrete walls led me to baggage claim, but I had missed my first flight by 10 minutes and so my bags were now winging their way back to Texas.
"Two to five days and we'll drop them at an address of your choice," the customer service desk informed me. Thankfully, I packed spare clothes and climbing shoes in a carry on for just such an occasion. Four days later I received my bags, the airline carrier service having left them on the sidewalk next to the door. Of course it was raining.
Between my flight coming in late and the good times at the lost-bags counter, my airport ride had missed a hard-won appointment to get his sporty Subaru in tune for our upcoming trip.
"There must be loads of auto shops around, have you looked into it?" I inquired of my friend Adam Wood, aka Woody. He wryly looked back at me, a smile creasing his face with what we'd call a Bless-Your-Heart look down in Texas. I.e., You poor simpleton.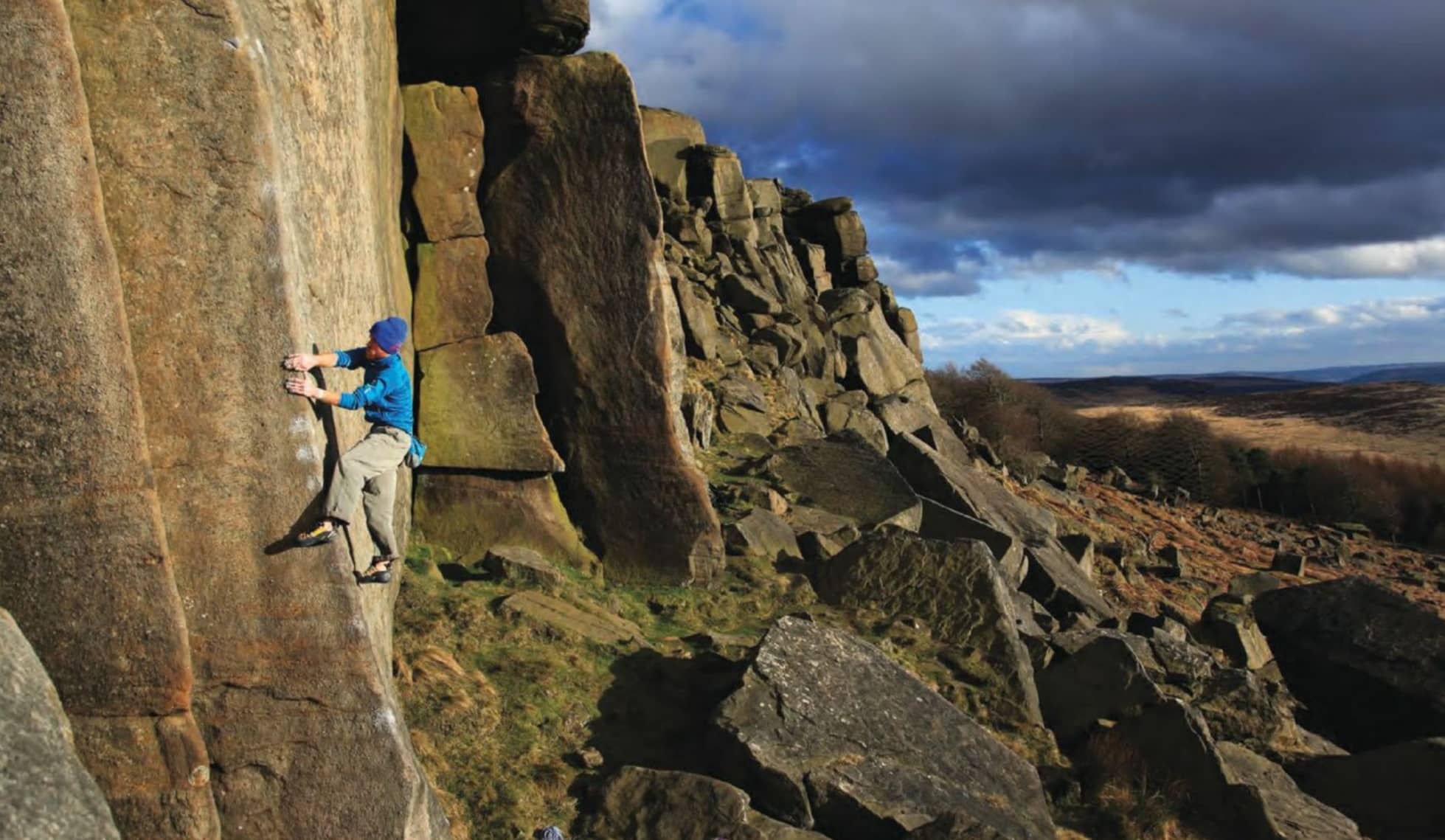 "Naaah, can't be done really … there's only one shop I'll trust with it, and they're five days out yet." A roll of distant thunder struck as I gazed outside, across the gray concrete of the parking garage and out into grayer skies, gray with rain. Great.
Our destination, Bowden Doors, lay a crippling three-hour drive from Adam's home town of Sheffield, 40 miles from the airport at Manchester. A handful of stops for fuel and snacks along the way showed me there was a new accent to be found every five miles or so. The overblown Cockney we often imitate in the States is just one small slice of damn near 50 ways to say "right."
Driver-guide-mate Woody confirmed, telling a tale of straining to follow some ripe ol' dad sprung suddenly from the heath to inquire "Whatcher doin'?" and offering that he was headed "oer ta hill dere, goo ah feetin'! Ya know, feetin'! Whicher fahsts!," holding up his scarred knuckle sandwiches, hammered hard from years of … ah yes, fighting … with your fists ... with the boys over the hill there … five miles' distance.
Further north up the road I popped into a village shop to recaffeinate. Ordering a double-shot cafe creme, I was quickly marked as what they say is "not even from 'round 'ere."
"Hweeer you frome, loaf? Yew've ah looflee accent," the clerk crooned, smiling, with porcelain-lit skin, roses in her cheeks and ashes in her pale hair.
"Kah-luh-rah-dah," I said with a lopsided smile, thinking the sweet 'ol gal is laying it on a little extra thick for a tourist. "Gonna see if I can klahmb the rocks y'all got over here!" I winked and clinked heavy coins on the counter.
Onwards, upwards. Winding through the browns of low scrub and the grays of a low sky, I cracked the window and detected a strong salt-encrusted breeze. A rise and curve, and holy cats, the heavy Bamburgh Castle by the sea came into view, an old, proud guardian overlooking the North Sea, the site on-watch since the year 420 A.D. and standing in state since about the 12th century. No fairytale abode here: This sentinel was built on the Celtic foundations of Fort Din Guayrie. Passing back and forth between Britons and Anglo-Saxons, destroyed by Vikings, rebuilt by Normans, and finally claimed by the King in 1095, this castle was built to hold fast in the toughest times a thousand years ago.
"No fancy lords or dances there," Woody explained, a bit of English pride shining in his smiling eyes.
"That thing's a block," I said. "Can you imagine paddling up to that, intent on getting in?"
We swung again south, coming at last and suddenly to The Joiner's Shop Bunkhouse, surrounded by high green trees. Wal Wallace runs the shop up here, and he had just come out from the wall of foliage with a brace of pheasants nocked between his fingers, all smiles and bird's blood handshakes. A small squad had come up from round Sheffield same as we.
Evening came fast and we sat around the fireside. Cozy chairs and beers and stories. Wal brought down a squat whiskey bottle, halffull, pale gold, a scribble of a label, illegible gothic spider-web script. Glasses passed around as Andy Jennings poured. Andy had come up from Sheffield, Lee Anderson in tow. We'd planned to rendezvous with them in Fontainebleau this week but for the delays with car and weather. So here we sat by a crackling fire, passing whiskey around.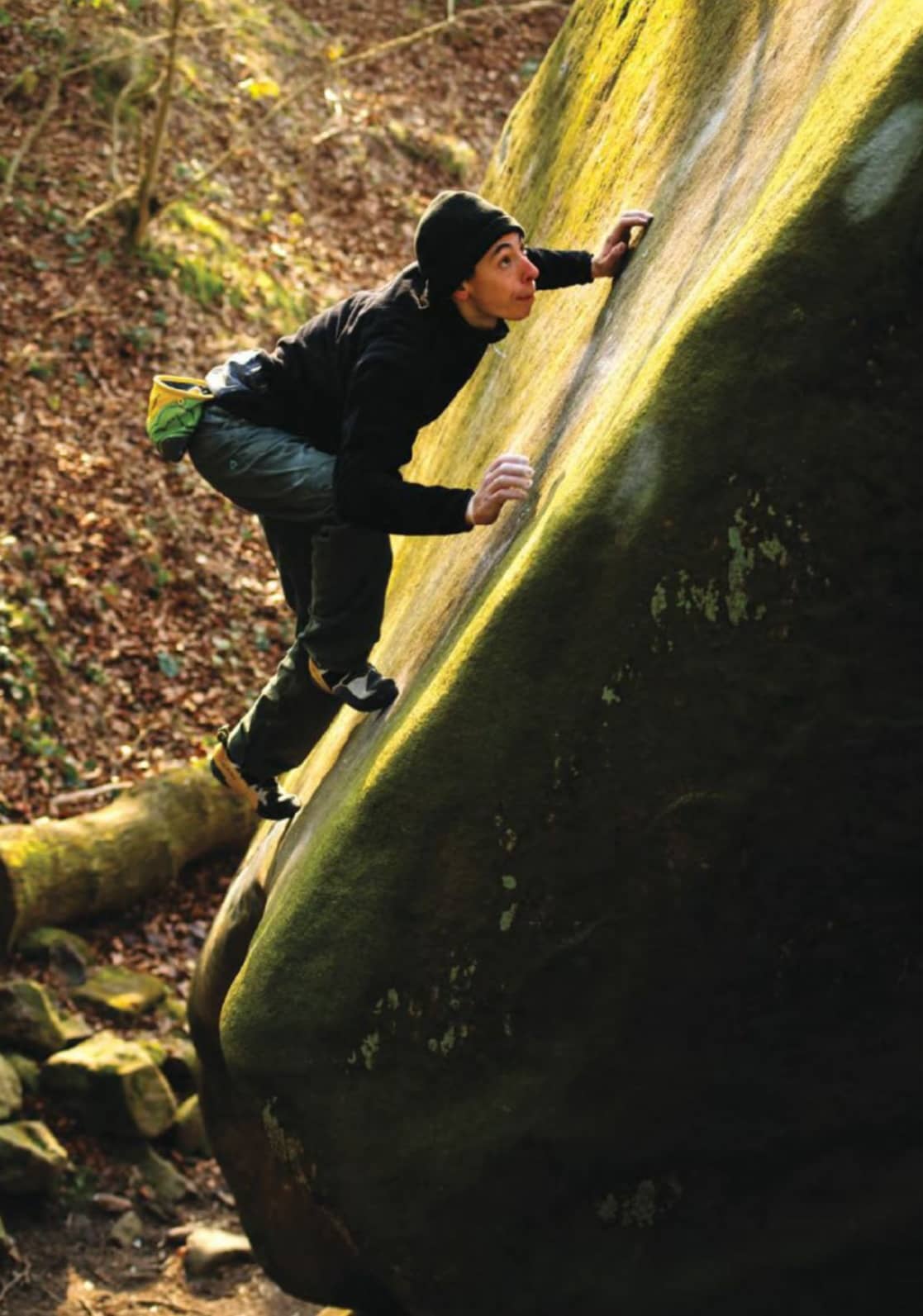 "Water?" Wal asked each in turn. All accepted.
"Well I'm no a savage," Lee explained. Of course he took a splash.
When the bottle pointed at me, I shrugged the tempering water off. We don't do that back home, boyos. The spirits touched my lips and not much more I think, as the golden liquid went to air, burning in its vapors. I've had no whiskey of that caliber either before nor since. Cask-strength, I can only guess, hot as a welder's torch.
Northumberland is the proper North, north even of the ancient wall built by the Roman emperor Hadrian to "keep intact the empire." The soft, south-facing Fell Sandstone of Bowden Doors—a short and beautifully striped cliff band running along above lawn green grass—thankfully catches the sun and dries fast.
The early days of climbing at Bowden Doors are not well documented but for a couple of entries in the 1930s climbing journals of Cambridge and Oxford, and a bare mention of climbing in the 1890s from Cambridge classicist Geoffrey Winthrop Young. The majority of the routes were established between the late 1960s and 1970s, with only a handful of routes and boulders opening up much after that. As for the cliff line bouldering, Dan Varian capped the scales at Bowden with an ascent of The Rail (V14), in 2013.
Alfie Thornton, a tricky V10 on the farend seems smooth until you reach the last hold. Setting out from high gastons, I half expected to flash the rig until reaching the final move. Time and again I flopped onto the pads and grass from the bitter finish, feeling as if the ending sloper was garnished with fine-grained silt. As you make your way down to the far end, the stone becomes softer and more easily damaged. Beautiful but fragile fluting, the latter the result of weathering and erosion, appears at the lip of the crag. Considering the friability, toproping and rappelling are forbidden.
You can read up to 3 premium stories before you subscribe to Magzter GOLD
Log in, if you are already a subscriber
Get unlimited access to thousands of curated premium stories, newspapers and 5,000+ magazines
READ THE ENTIRE ISSUE
December/January 2020