Older, Wiser, Stronger!
Rock and Ice|June/July 2020
YES, THEY CAN GO TOGETHER. HOW TO TRAIN STRENGTH AS YOU COME ALONG DOWN THE ROAD.
You're in your late 40s, 50s or 60s, keen as ever to crank, and unsure of whether to focus on strength or endurance. Your only certainty is that you want to avoid injury.
Over 50s, don't sell your hangboards. The picture is extremely optimistic, especially for doing steep, hard sport climbs. Take it from me: I climbed my hardest sport route (a new 8c+ / 5.14c at Malham Cove in the UK) at the age of 46.
Historically, a host of factors, from anecdotes to misleading literature, have conspired to make older climbers fear strength training. Most veterans will have come across the depressing stats about age-related performance decline. In brief, we are told to expect, from age 35-40 onwards: a significant decline in muscle strength and power; to be able to handle lower volumes of training; and to need longer recovery between sessions. Additionally, we're warned that when older athletes stop training, their fitness deteriorates more quickly than before, while regaining it becomes harder. Great.
Over the years, many climbing coaches have accepted these depressing stats and been prophets of doom about strength training for older climbers. A compounding factor was that many older climbers became injured back in the late 1980s and 1990s by training strength, leading me to write an article for this very magazine around the turn of the century advising them not to use hangboards and campus boards and to default to endurance training.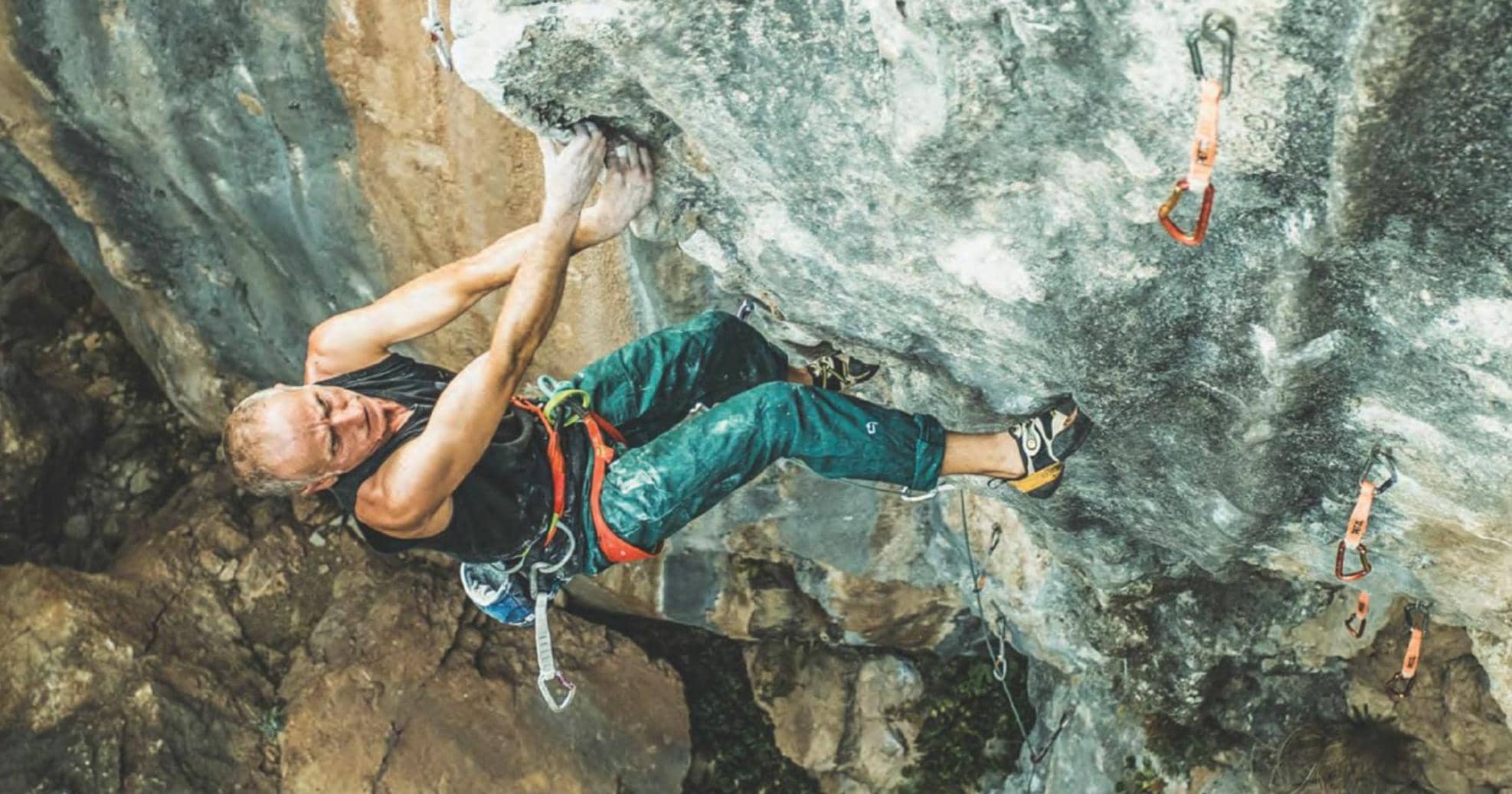 Oh, how times have changed! Masters are defying the data by bouldering V10 and redpointing 8c-9a (5.14b-d) in their 50s and 60s. This level is very difficult to achieve by training endurance alone, and we now understand that there are safe and effective strategies for getting stronger well into our later years.
Strength
While we now see that older climbers can get stronger, how can this be true from a physiological perspective? Sure, climbers who didn't train in their earlier years will get stronger if they start training later, but we are also seeing climbers who trained hard all along hitting personal bests for strength beyond their late 40s. Who knows whether Chris Sharma or Margo Hayes will climb as hard at 60, but guys like me who've been training hard for decades are doing it.
Older climbers can and should train strength. While research indicates that gains will be lower than in our youth, the evidence is overwhelming that they can still take place and are likely to bring additional health benefits. In a 2019 article entitled "Your Guide to Strength Training Over 50," Elizabeth Quinn described strength training as "the only type of exercise that can substantially slow and even reverse the declines in muscle mass, bone density, and strength that were once considered inevitable consequences of aging." Quinn lists additional benefits for neurological function, sleep, joint health and mental health.
You can read up to 3 premium stories before you subscribe to Magzter GOLD
Log in, if you are already a subscriber
Get unlimited access to thousands of curated premium stories and 5,000+ magazines
READ THE ENTIRE ISSUE
June/July 2020