Marty and Denali Schmidt hoped to be the first father-son team to summit the Savage Mountain. Instead, they disappeared, leaving a daughter / sibling to pick up the pieces.
ON JULY 25, 2013, Chris M. Warner, age 36, Martin "Marty" Schmidt, 53, and Martin's son, Denali, 25, climbed comfortably from Base Camp to Camp 2 on the Abruzzi Spur on K2, the second-highest mountain in the world. They cut and leveled a tent platform, cooked and talked in the tent.
"We were all happy as usual, enjoying the mountain," says Warner. "We felt strong."
Before dark, other climbers passed by with reports that a group of Sherpas on a carry had failed to reach Camp 3 at 7,200 meters (24,100 feet). Eventually the Sherpas themselves came by, reporting sluffing and waist- to chest-deep snow.
Upon the reports, most of the 20 or so climbers and Sherpas in Camp 2 left for Base Camp, while the rest intended to descend in the morning. The Schmidts, dual KiwiAmericans, and Warner (not the American climber and gym owner of the same name), of Canberra, Australia, held off.
They felt fresh and keen. "We had only been on the mountain a day," Warner says. Moreover, conditions can be variable on the peak. The trio had found little new snow on the way up to Camp 2, and a band of clouds wrapped only the middle of the mountain.
The three talked about judging conditions for themselves, and agreed on "checking it out."
That night they slept well, or about as well as anyone can crammed in a tent at altitude. Gentle but consistent snowfall continued through the night, with about six inches of fluffy snow underfoot in the morning.
Warner changed his mind. As they made tea, he told the Schmidts he was descending. To continue, he says, "didn't seem to add up in my head as a good decision in regards to safety or our progress to the summit. I really thought we would just go up and come down without making C3, and what's the point of that?" He didn't think they could make the summit in such snow, especially with reduced manpower and rope-sharing after other climbers descended. "[I said] we could always wait and come back up again." He spoke, as he puts it, "shyly": "I knew Marty was on a certain path upwards and [might] think of me as quitting." Marty, he says, "was accepting" of his choice without comment.
The time was 8 or 9 a.m., no one in a great rush. The three conversed with the remaining climbers leaving camp.
Says Warner, "The more people went down, the more [Marty] wanted to go up, it seemed. We rearranged the gear, as they were now two. We left each other in good spirits, and I said I would stay in contact over the radio."
He considered the Schmidts mutually inclined. "One did not convince the other to go up," he later wrote on the guides' website peakfreaks.com. "They were both motivated and prepared to assess the conditions and turn around if need be."
He maintains that assessment, but now adds, "You could read more into it, as Denali looked up to his father without much questioning." Denali was still learning about the mountains, and he emulated his father in clothing, setup and what he ate.
Warner also wrote that he was torn: "I swallowed my ego and descended from Camp 2 feeling that I had blown my summit chance as these two were heading to the top."
WHILE MARTY AND DENALI were American by background, the family was based in Hastings, New Zealand. Denali's sister, Sequoia, age 22 in 2013, was born in New Zealand, and Marty, a guide of 38 years, ran Marty Schmidt International Guiding (MSIG) from there. The family received New Zealand citizenship due to Marty's then wife, Joanne Munisteri's, work with a national Maori dance-theater company.
Marty had begun climbing at age 12 in California, taking four busses roundtrip from home in Castro Valley to Indian Rock in Berkeley. At 15 he was guiding (informally) in Yosemite and elsewhere, and he soon climbed a great deal in the Valley and Tuolumne, leading 5.11 trad.
Lance Machovsky, one of Marty's oldest friends and climbing partners, says he was an all-around "prodigy athlete" and that Denali, too, was "wildly talented ... a phenomenal skier, good at everything he tried."
In 1988 Marty moved to Australia, then New Zealand a year later. Guiding took him into New Zealand's Alps, to Europe, North and South America, and the Himalaya. Over the next two decades he climbed, often in combination with guiding: Denali (27 times including three times in a season), Aconcagua (32 times), Gasherbrum 1 and 2 (solo), Kanchenjunga and Cho Oyu (three times, including guiding the peak and making a ski descent), and Everest twice, in 2012 and when guiding it in spring 2013. In 2010 he attempted a new route on Makalu, rescued his ill partner, rescued three Iranian climbers, and then climbed the mountain solo. He had tried K2 twice, in 1992 and 2000.
"I've climbed a lot of the world's biggest mountains, but K2 is the one I respect the most," he told www.scoop.co.nz before leaving for the 2013 trip. "I've been on it twice without summiting. I'm just called to it all the time." He added in the same interview that he loved to climb with Denali: "We have a great time for three months," he said. "Not many fathers get that kind of time with their grownup sons."
Highly accomplished though he was in the big ranges, Marty, living abroad and working as an independent guide, was lesser known than other Americans and guides such as Ed Viesturs or Scott Fischer. Among the guiding community, however, "everyone knew" of Marty's experience, says Luis Benitez, a Denver-area-based guide who worked in New Zealand two or three times a year.
"Marty was doing speed ascents like Steve House later did on Cho Oyu," Benitez says. "He was playing at that level, absolutely." Schmidt set a then world speed record on Cho Oyu on September 28, 2001, climbing it in 10 hours, 45 minutes from advanced Base Camp to summit. In 1989 he had set the speed record of 6:13 on Aconcagua.
Schmidt was about 5 feet 10 inches, chisel featured, with near-black (later graying) hair and brown eyes. The slim rock climber's build of his youth later morphed into one of an alpinist's powerful legs and lungs. Warner says Marty had "a strong personality, warm and welcoming," and shone in the sociable milieux of expeditions. Seiichi Kitamura, a Japanese climber on K2 in 2013, lauds both Schmidts' "great personal magnetism."
Benitez calls Marty "high energy,full drama, full stoke, full tilt. Full on. Over caffeinated. Psyched for it and had the goods to back it up."
He also characterizes Marty as open, outspoken and opinionated, with "no real middle path."
In many ways, Schmidt seemed larger than life. He participated in rescues on Denali, Aconcagua and Everest as well as Makalu. During the 2013 Everest altercation between Sherpas and Ueli Steck and Simone Moro, as bmc.com reported, Marty "jump[ed] in to prevent a Sherpa hitting Moro with a rock, receiving a rock to his head instead." That same year, after climbing Broad Peak themselves and just before starting up K2, Marty, Denali and Chris Warner joined a search for missing climbers on Broad Peak. Warner says, "He was always willing to help someone else."
Years earlier, at 20, Schmidt had joined the United States Air Force and become a Para Rescue Jumper, or "PJ," an elite special-forces operator trained for dangerous missions. In 1984 he received the U.S. Air Force Air Medal for rescuing nine people from a hotel fire in the Philippines, jumping to the roof from a hovering helicopter to load them in.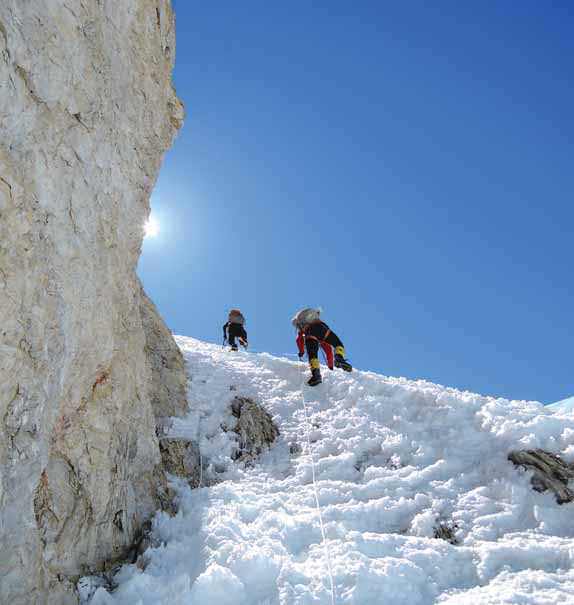 Continue Reading with Magzter GOLD
Log-in, if you are already a subscriber
Get unlimited access to thousands of curated premium stories and 5,000+ magazines
READ THE ENTIRE ISSUE
January 2017, #239
The Wild Ones
Rock and Ice
Chasing Winter
Rock and Ice
What To Expect When Expecting
Rock and Ice
A Self - Made Superman
Rock and Ice
Turning Points
Rock and Ice
THE NEW BEER BARON Brewing the craft from India for the globe
Entrepreneur magazine