SAME OLD JIMMY?
Niner Report
|
October 2020
49ers, Garoppolo still strong in belief QB will be better
Jimmy Garoppolo dropped back to pass on a crucial third down in the final minutes with the game on the line and the 49ers' chances of rousing victory or crushing defeat depending heavily on his capable right arm.
He looked deep.
Garoppolo's receiving target had slipped past the defense, gotten behind the secondary, had nothing in front of him but clear end zone. Garoppolo spotted his target and let sail, the hopes of Niners Nation clinging to every dizzy spiral as his pass descended toward its destination.
It fell incomplete.
Jimmy Garoppolo in February during Super Bowl LIV?
No, this time, it was Garoppolo in September during San Francisco's season opener against the Arizona Cardinals.
Jimmy G missed again.
"That's one I wish I had back," Garoppolo said. "When you get opportunities like that, you've got to take advantage of it."
Don't the 49ers and their fans know all about that.
Garoppolo had missed on an opportunity similar to that seven long months ago on the game's biggest stage at Miami Gardens, an opportunity that could have brought San Francisco a Lombardi Trophy. Instead, the 49ers were stopped on the ensuing fourth down and went on to lose Super Bowl LIV to the Kansas City Chiefs.
The stakes were lower, but the circumstances much the same, Sept. 13, at Levi's Stadium as the 49ers turned to Garoppolo as a game in which San Francisco seemingly was in command earlier with a 10-point lead was now slipping away.
Trailing 24-20 to the upstart Cardinals with less than a minute to play, 49ers receiver Kendrick Bourne had beaten the Arizona secondary with a strong double-move route to get wide open as he streaked toward the corner of the end zone. But Garoppolo was late and badly underthrew a wobbly pass, allowing cornerback Patrick Peterson enough time to get to Bourne and break up the play, with Garoppolo's pass hitting Peterson in the back of his helmet as Peterson blindly and desperately attempted to recover from behind.
A throw to the back end line probably would have won the game. But Garoppolo couldn't deliver.
He couldn't extend San Francisco's final drive on fourth down, either, throwing late and behind receiver Trent Taylor, allowing cornerback Byron Murphy to step in and knock away the throw at the very last second.
Game over. Instead of a comeback victory, the 49ers began defense of their NFC championship and 2020 season of great expectations with a home loss to an Arizona team coming off a last-place finish in the NFC West, leaving San Francisco alone in last place in the division after the season's opening week.
"I mean, yeah, they weren't perfect passes," 49ers coach Kyle Shanahan said. "He's got to play better."
That's a mantra Garoppolo has had to endure — from NFL critics and fans alike — ever since his fourth-quarter fade in the Super Bowl played a significant role in denying San Francisco its first NFL title in a quarter-century.
Garoppolo and the 49ers had spent an entire offseason and extended summer training camp with the promise that it would be different in 2020, that Garoppolo would continue to build on his excellent 2019 season, when he tied for the NFL lead with four fourth-quarter comebacks while producing statistically one of the greatest seasons by a quarterback in team history.
Coming off an ACL tear that ruined his 2018 season in Week 3, Garoppolo passed for 3,978 yards and 27 touchdowns during the regular season last year, leading San Francisco to a 13-3 record and the NFC's No. 1 playoff seed. In the process, he became the only quarterback in the NFL to rank in the league's top five in passing touchdowns, completion percentage (69.1) and passing yards per attempt (8.4). His 102.0 passer rating ranked eighth in the league.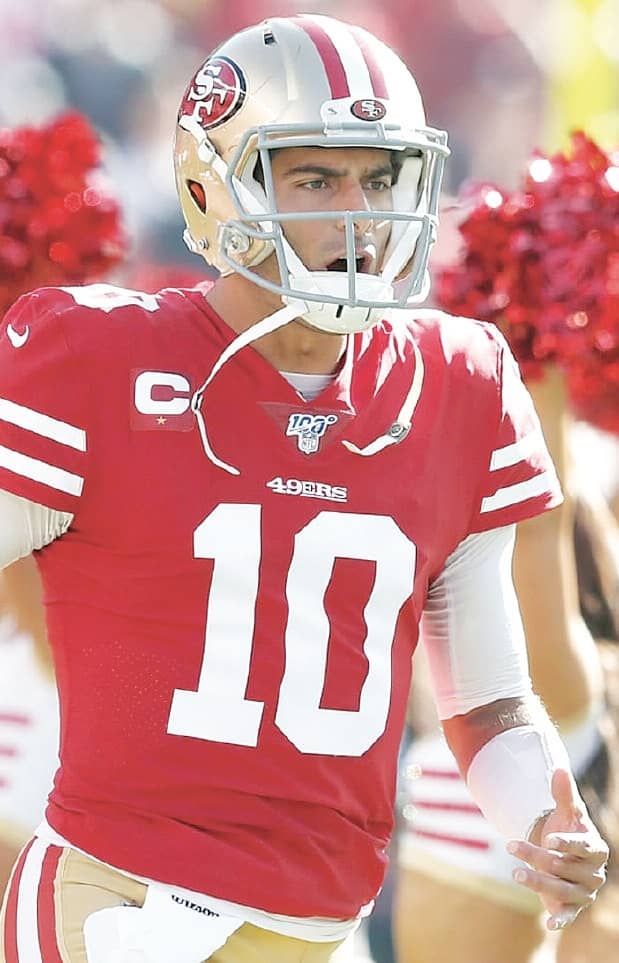 You can read up to 3 premium stories before you subscribe to Magzter GOLD
Log in, if you are already a subscriber
Get unlimited access to thousands of curated premium stories, newspapers and 5,000+ magazines
READ THE ENTIRE ISSUE
October 2020