DRAFT WRAP A TO Z
Niner Report|June/July 2020
Tidbits, trivia, and other draft morsels as we cover the 49ers' five-player draft Class of 2020 and the team's slick operations during an eventful college lottery from top to bottom while running down every letter of the alphabet.
A is for Aiyuk: As in Brandon Aiyuk, of course, San Francisco's new wonderboy wide receiver whom the 49ers were so enamored with that they sent three draft picks — a first-, fourth and fifth-rounder — to the Minnesota Vikings to move up just six slots in the first round to select him. For those new to the Arizona State standout, Aiyuk pronounces his last name EYEyook. Might want to get to know that one. You'll be hearing it a lot in seasons to come.
B is for Buck: As in passing the Buck, which is what the 49ers opted to do when they traded star defensive lineman DeForest Buckner to the Indianapolis Colts in March to acquire the No. 13 overall pick in the first round, a decision that eventually set in motion seven separate San Francisco trades during the three-day draft process. "That's why we had to make some tough decisions like losing Buck and things like that," 49ers coach Kyle Shanahan said. "That's what allowed us to get a draft pick which gave us a chance to maneuver a little bit."
C is for Colton and Charlie: As in Colton McKivitz and Charlie Woerner, San Francisco's opening Day 3 selections in rounds 5 and 6 who represent an injection of new blood and toughness into an offensive front that entered the draft looking to upgrade its depth and competition. Time to enter the ring, boys. Don't expect either to back down from the challenge.
D is for Defensive Line: As in San Francisco's best positional unit that the 49ers again invested in heavily during yet another draft. Not only did the 49ers use their top first-round selection on a defensive lineman for the fifth time in the past six years, but don't forget that the second-round pick San Francisco was without this year was traded last spring to the Kansas City Chiefs to acquire standout edge rusher Dee Ford.
E is for Eighty-one: As in the 81-inch wingspan of first-rounder Brandon Aiyuk, who stands 6-foot-1 but has a wingspan equivalent to a man who stands 6-foot-9. All the better to reach out for those Jimmy Garoppolo passes. E here also stands for Eighteen, as in 2020 being the 18th consecutive year the 49ers have selected at least one wide receiver in the draft.
F is for Frank Sinkwich: As in the Frank Sinkwich Award, given out annually by the University of Georgia to the toughest player on the school's football team, an honor that went this past season to sixth-rounder Charlie Woerner. Yes, that guy is a Bulldog.
G is for Gamecocks: As in South Carolina Gamecocks, who for the second consecutive year provided the 49ers with one of their premium draft picks, with first-rounder Javon Kinlaw following one of San Francisco's rookie sensations from last year, 2019 second-rounder Deebo Samuel. Kinlaw and Samuel are two of seven prospects the 49ers have drafted from South Carolina since 2011.
H is for Hands: As in the soft Hands of first-rounder Brandon Aiyuk and seventh-rounder Jauan Jennings, who both come to San Francisco with a reputation for sticky mitts that can latch onto any pass near them. H here also is for Hback, a position that both Jennings and sixth-rounder Charlie Woerner have the versatility to play in certain offensive alignments the 49ers may employ.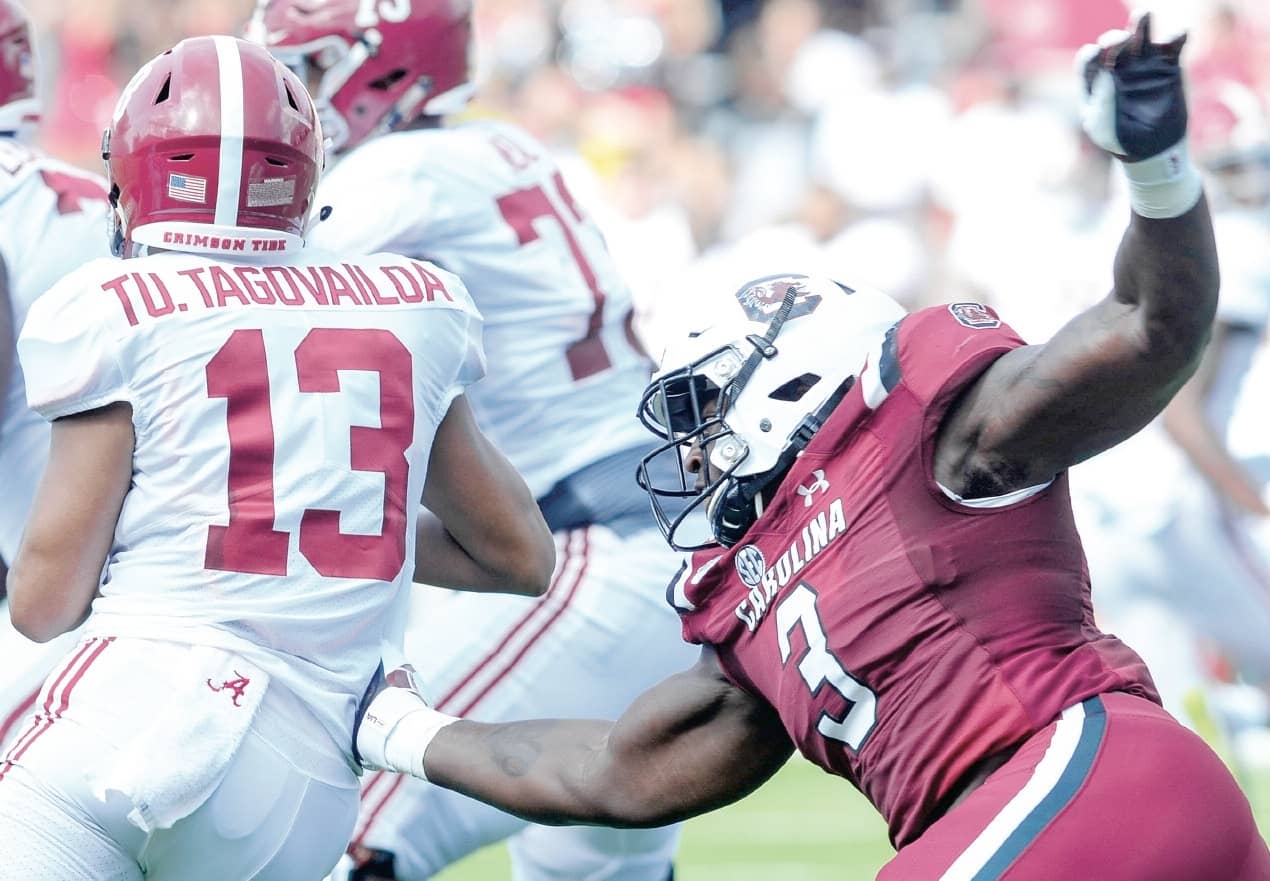 You can read up to 3 premium stories before you subscribe to Magzter GOLD
Log in, if you are already a subscriber
Get unlimited access to thousands of curated premium stories and 5,000+ magazines
READ THE ENTIRE ISSUE
June/July 2020