A new kind of gameday experience
Niner Report
|
October 2020
As he enters his 32nd season covering 49ers football, The Niner Report's Craig Massei has attended virtually every 49ers home game of the 21st century. But never one quite like San Francisco's 2020 season opener against the Arizona Cardinals. Amid the fallout from historic wildfires that burned throughout Northern California, the enduring effects of the novel coronavirus pandemic and pervading issues of social justice, the game experience at Levi's Stadium — and throughout the NFL, for that matter — promised to be uniquely different than during any other time in the team's illustrious 75-year history. And it was. Here's a narrative chronicling the events and atmosphere surrounding the start of the most different and strange of all 49ers seasons.
As the freeway dips down from Sunol Grade into the Silicon Valley basin, Interstate 680 is unusually devoid of traffic, even for a Sunday morning.
But that's not what immediately grabs your attention on the way to Levi's Stadium. It's the ominous gray sky that seizes the senses, not because morning gray skies are unordinary in the San Francisco Bay Area, but because the composition of this sky is much out of the ordinary.
These aren't clouds that disappear into the East Foothills. This is smoke. Thick, hazy smoke, the residual of the hundreds of wildfires that have ravaged the Northern California region and burned more than three million acres throughout the state, representing more than 3 percent of California's entire land surface.
It's another 25-minute drive to Levi's Stadium, but the visibility prevents you from seeing too far ahead. The horizon is filled with the billowy smolder, the kind that has enveloped the entire region since the fires turned worse during the previous week.
The 49ers and Arizona Cardinals are going to play football in this? It's not exactly horrible conditions, but you've really got to wonder.
"It's dark out there," 49ers quarterback Jimmy Garoppolo said. "It's not clouds. I mean, just with the smoke and everything, and there's the ash falling all over the place. Send best wishes to all the families out there that are dealing with it. It's tough times."
The 49ers practiced in it throughout the week preceding their Sept. 13 opener against the Cardinals, including the Friday before the game with an Air Quality Index just past 150, which not only gave the skies above them a surreal quality, but is deemed unhealthy for everything and everyone that breathes.
"It's like an apocalyptic state out there," coach Kyle Shanahan said. "Yeah, it definitely looked different out there."
Later that Friday, the AQI in Santa Clara —site of Levi's Stadium — climbed above 200, which is categorized as "very unhealthy" and also above the level at which the NFL would deem conditions unsafe.
The NFL football operations department is tasked with contingency planning when smoke from an extensive fire is a significant health risk to an area in close proximity to any NFL stadium hosting a game. The league was prepared to relocate the 49ers/Cardinals game if there was definitive evidence that the AQI will remain consistently above 200 for a significant period of time, including the day of the game.
"If it happens Sunday," Shanahan said, "my understanding is if it gets to 200, that's when the NFL will start really discussing what to do with the game, that's when they'll decide whether we play or not, how to go forward with that. But I'm not really sure of the contingency plans. Hopefully, it won't get there. Hopefully, it'll be safe, but we've got to see what the wind does."
With kickoff only a few hours away, the AQI in Santa Clara stood at 172.
• • •
You always know that a 49ers game is brewing nearby when you exit the freeway at Great America Parkway.
That's the thoroughfare that takes you to the front of Levi's Stadium, and on Sundays during football season it is always alive with colorful energy, a literal Boulevard of Football Dreams as fans flock to the stadium from all different angles.
You see hundreds and hundreds of them coming in droves. They're wearing their favorite 49ers jerseys, both present and past, the Joe Montanas and Jerry Rices, the Jimmy Garoppolos and George Kittles, with the occasional oddball jersey of a nondescript former San Francisco player thrown into the mix.
And hours before kickoff, the Parkway usually is a virtual parking lot as cars creep along. It can take almost 15 minutes to drive a mile as you advance on the stadium parking lot.
But not on this Sunday.
The Parkway is practically empty of both cars and red-clad pedestrians. You cruise toward Levi's Stadium stopped only by red lights. It's a clean shot into the parking lot, where a most unusual scene awaits upon turning into the gate.
There weren't just a few cars ahead. There were no cars. Not one. Usually, it's a sea of cars, creating a stop-and-go snarl while inching up to the parking pass check booths. But not on this day. Not at this season opener.
And attendants manning the only lane that's necessary to be open aren't just asking for parking passes. They are asking for and checking names. Only a select group of individuals are getting into this stadium during the novel coronavirus pandemic.
• • •
The 49ers announced to the public, Aug. 25, that the team would begin its season against the Cardinals without fans in attendance "due to the continuing COVID-19 health emergency and accompanying government restriction," a team release said, and also to comply with coronavirus protocols after ongoing discussions with state and Santa Clara County health officials.
It made for a sad sight as you approach Levi's Stadium, obviously empty from afar.
It's a ghost town, instead of a sprawling parking lot that's usually bustling with activity, with fans streaming toward the stadium, bands playing and tailgate parties everywhere, while those still in vehicles strain to move forward and find open spots in which to park.
The designated media parking area is close to the stadium entrance, and to get there it's usually a meandering stop-and-go maze of weaving through oblivious fans whose focus most definitely is not behind them. But there's nobody to get around this time. A parking attendant instead guides to a waiting space amid a small group of cars.
The first message I see when getting out of my vehicle: "Face Covering Required."
There are no waiting lines to contend with, and nobody else around when I reach a special checkpoint set up for media. To begin an afternoon of different rituals and protocols, a digital infrared thermometer is aimed at my forehead and my temperature is taken. A tape bracelet is wrapped around my wrist to wear for the remainder of the day as confirmation that I passed health screening.
A landscape barren of basic game-day formalities continues as I walk over a connecting bridge into the stadium confines, where instead of the usual awaiting throng there is just stillness and rows and rows of empty stairs heading up to an empty concourse level.
Then it's an elevator ride up eight levels to the press box — alone — where I'm greeted not by the usual media crowd and team personnel, but instead by signs and messages, all of them offering sober reminders of the current conditions and state of affairs.
"Covid Warning"
"You Must Follow All Stadium Policies"
"Social Distancing"
"To Report a Cleanliness Issue, Text Support"
Not exactly the warmest of welcomes to a new season.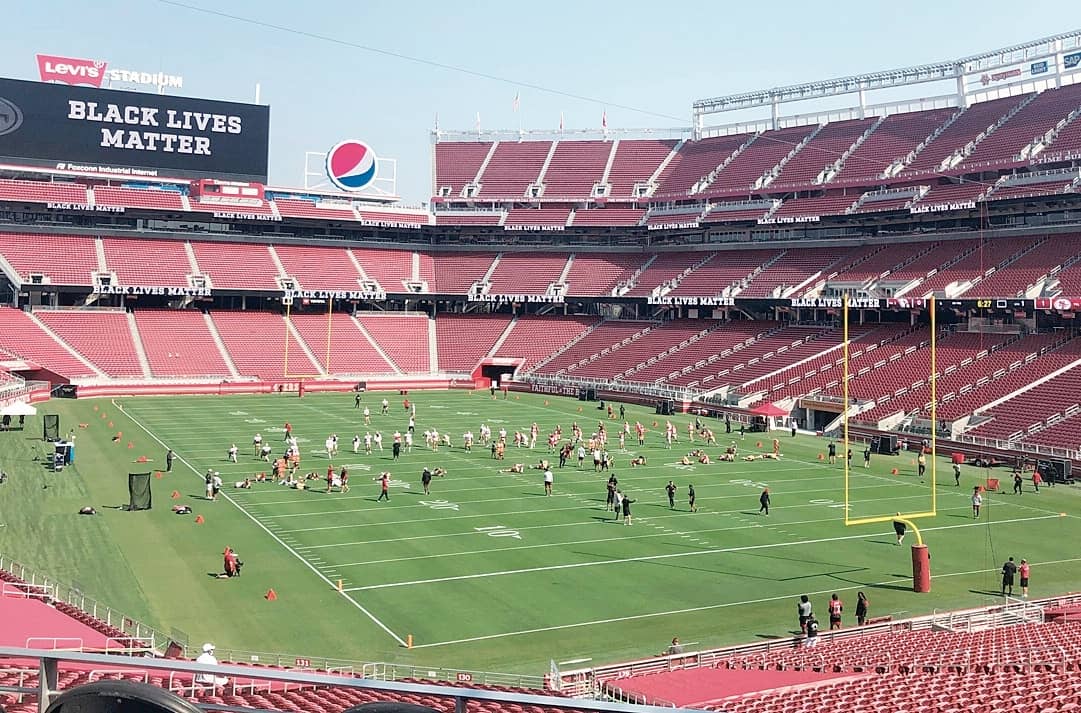 • • •
With 90 minutes remaining before kickoff, you can count on your hands and toes the number of individuals on the perfectly-groomed field below.
You can read up to 3 premium stories before you subscribe to Magzter GOLD
Log in, if you are already a subscriber
Get unlimited access to thousands of curated premium stories, newspapers and 5,000+ magazines
READ THE ENTIRE ISSUE
October 2020