Over 50 years ago surfing's greatest ambassador of all time, the legendary Duke Kahanamoku, had a vision that one day surfing would become an Olympic sport.
Unfortunately, the Duke never got to see that moment come to fruition in his lifetime, but in 2016 all 90 member countries of the International Olympic Committee voted unanimously to accept surfing into the Tokyo Summer Olympics 2020. Across the platforms of the ancient Olympics and the evolution of the modern Olympics, the games have always been the pinnacle of sporting achievement and greatness. In most sports even the World Championships plays second fiddle to the Olympics. And while qualifying places for each country's surfers has been a rather confusing system to get our heads around, across the Pan American Games, the WSL, and the ISA Champs in 2019 and 2020, each competing country/continent could qualify a maximum of two surfers per division, with 20 men and 20 women squaring off for Olympic glory in Tokyo 2020.
We proudly celebrate that Ella "Ellympian" and Billy "Billympian" Stairmand, have 'provisionally' qualified for the Olympic Games.
But, first let's clarify a few common questions:
How did they achieve this? The top-placed Oceania surfer, as long as they were in the top 30, received immediate qualification. Yes, Australia is part of Oceania, yet they have used up their two qualifying spots by way of the WSL.
The position has been announced as provisional, does this mean that they might lose their spot? With the 2020 ISA World Championships taking priority over the 2019 results, it is mathematically possible that both Billy and Ella could be replaced by another NZ surfer, yet two different surfers other than these two would have to finish likely placed in the top 5 un-qualified males and top 7 un-qualified women, which based on this year's event would be top 16 males and top 19 females. If one Kiwi surfer was to achieve these positions both Billy and Ella could be joined by another Kiwi going to the Olympics.
BILLYMPIAN
So you've just pretty much become an Olympian which is a pretty exclusive club, and not only that but you've become one of the first surfers on the planet to qualify to surf in the Tokyo 2020 Olympics.
(laughs) Yeah I know, it's been a couple of weeks now, but every time people say that it sounds so awesome. It kinda seems surreal. I see people downtown and they say "How you been doing?" and I say, 'really good I just qualified for the Olympics', and I get the same reaction from everyone of "Ayyyyyyyyeee?"
It gives me chills, because to me it's the pinnacle of athletic performance. It still doesn't feel real. I'm still super busy and I've had so much going on that it hasn't quite sunk in yet.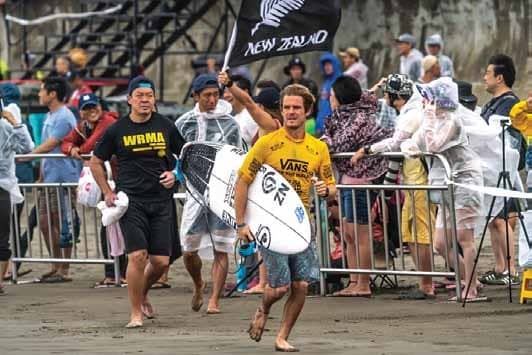 So you just mentioned that you see it as the pinnacle of high-performance sport, and for the majority of sports the Olympics is the pinnacle event, but for surfing, this is entirely new and, up until now, the World Tour has been the premier focus and goal. When it was announced that surfing would debut in Tokyo 2020, what was your take on having a shot at this?
As soon as it was announced it automatically went to the top of my goals list. Obviously, I'm getting older and I'd be 34 by the time the next Olympics came around, so it was now or never really and I decided I'd do everything I can to get into that team and be amongst all that talk and chat and a shot at achieving that dream. Obviously, the WSL and qualifying for the World Tour are my major focus and these two things were two of my goals heading into this year, so to achieve the Olympic one is crazy. It's been a couple of really hectic and hard years for me, at one point I was down and out and almost gave up. I was forced into having to go and work to get enough coin to be able to even attempt to carry on, and with no sponsorship it was pretty rough there for a bit. But then I started this year with a new mindset and switched a few things up. I knew this year was gonna be my make-or-break, and with the ISAs qualifying for the Olympics and the WSL prospects, I had to make some pretty significant changes if I was to have any shot at all. I picked up a new board sponsor, I changed some stuff mentally, so I knew I had to just put my head down and focus! I kinda just segregated from a lot of people to focus on me and doing my own thing. I knew this year at the ISA Champs that it was going to be the easiest way for us to qualify, everyone just kept saying that it looked confusing and it wasn't gonna be that easy, but I just kept believing that it was really achievable.
So you read the fine print? And a lot of other surfers obviously didn't!
Well everyone's got their own personal goals and how they approach events differently. I love representing NZ anyway at the ISA Worlds, I went the year before and I've been several other times in the Open Men's. I always like going to those comps, so for me, I was going regardless of whether it held Olympic chances or not.
Continue Reading with Magzter GOLD
Log-in, if you are already a subscriber
Get unlimited access to thousands of curated premium stories and 5,000+ magazines
READ THE ENTIRE ISSUE
Issue 188