The Half Time Report
NZ SURFING MAGAZINE
|
Issue 187
On the surface travelling the world from one epic surf destination to another seems like a dream you'd never want to wake up from, yet when that travelling is fixated around the World Qualifying Series, at times it can be more of a nightmare.
This is the cutthroat world of sport and this is far from the marketed image that the Dream Tour portrays. Athletes with next to no dollars in their back pocket, worrying about how they're gonna make it to the next event, and the fact that in such a tight schedule the events are mostly held in waves that you wouldn't even paddle out in back at your local. There is a lot of misconception amongst the surfing public of how a really good surfer goes about climbing the ranks and try to make it in the world of professional surfing. Sure being a shredder helps, and so does having one of those comp heads, and being fit and all the rest of the typically suggested requirements. But there is so much more to getting a break and climbing that ladder. Unless you're very fortunate to have secured a wildcard for a major event, starting off for every surfer on the planet means you are bottom-feeding, picking up the scraps, and if you are lucky enough to stock up on enough scraps, you might just get a chance to be invited to the main course, a highly rated event, where you are competing for big points and possibly your only window of opportunity, so you better take it if it appears.
Every year at the Halfway Point of the WQS Tour the rankings are re-seeded, meaning if you just so happen to by then, high enough up the ladder, that means you have finally earnt your chance to have a shot at the back end of the year and either get your seeding up as high as possible for an all-out assault in 2020 or a genuine crack in Hawaii at qualifying for the tour like our King and Queen Ricardo Christie and Paige Hareb did last year. We often hear of these two surfer's exploits, as they are our showpieces and we're so proud of them, but these are the background stories of our other representatives out there 'Flying the Flag' for us, they share their ins and outs, and the heartache and glory.
Now in his ninth season on the WQS Tour, in 2014 Billy finished a remarkable 29th on the ratings only narrowly missing out on the cut for the World Tour. This result should have set him up for solid run over the following years, and the next couple of years Billy did finish with respectable top 50 rankings at the end of the year. Then his world came crashing down and Billy fell outside of the top 200 and unable to get entry into the highly-rated events, his shot at a dream spot on the World Tour was fading away. Billy shares with us his battle and fall from grace and the journey to climbing his way back up the ladder.
"In 2016 my mum had become pretty sick and I was trying to deal with that personally, and at the same time, as I wasn't performing the writing was on the wall, and I knew I was gonna be let go by my long-time sponsor, at the end of the season. Coinciding with this my mum passed away at the end of the year. All this stuff happened and I felt like I was all by myself kind of way like I didn't have any more financial support, I still had my wife and dad and friends around me, but it really took its toll. And during that time my motivation faded, and I almost had to stop and try and reset to find out why I was doing what I was doing. Those were the worst years I've ever had since I started competing and I slipped down to 271st. I had to come back to Raglan as I didn't have any support and I had to go to work like everyone else. During this period, I had to find and appreciate what I had been lucky enough to do and also what I'd achieved. I almost had to segregate myself from everyone except my closest friends. And I had to start from the ground up and work harder, I'd been lucky up till that point I was always supported financially, and everything was always done for me. I always appreciated this and never once took it for granted but now I was having to find ways to support myself, and the only way I was gonna get a shot at my dreams was to believe in myself. I hadn't achieved what I wanted or what I believed I was capable of, and I'd come very close a couple of time to qualifying. I think in a way before things came so easy, and I had all this support but maybe deep down I didn't back myself, and I think that's a kiwi thing and that took a lot to change that attitude, but now I believe I'm deserving of being there.
I'd only ever known surfing, so during those years, it was really hard to accept that I'd lost a lot of things important to me and that I had to go out and work, save up enough money and then go out and start again.
Being ranked 271st going into this year and unable to get into the higher-ranked events, I started the year acknowledging that it was gonna be a long road. I'd picked up several new sponsors who believed in me and their support was invaluable, I was offered new boards from Sharp Eye Surfboards which was massive as without good boards your talent won't reach its potential. I began with a warm-up at my favourite event the National Champs which I won beating Ric and Elliot in the final, so with that confidence I set off to compete in a bunch of 1000 events on the Australian leg, in hope of getting some results and building up my ranking to get into the bigger events. I set myself a goal of making at least the quarter-finals in those events, as anything less is wasted investment in the hunt for points.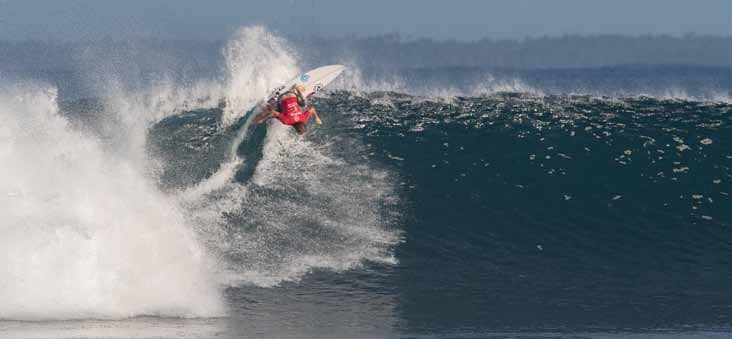 You can read up to 3 premium stories before you subscribe to Magzter GOLD
Log in, if you are already a subscriber
Get unlimited access to thousands of curated premium stories, newspapers and 5,000+ magazines
READ THE ENTIRE ISSUE
Issue 187