Back Beyond The Horizon
NZ SURFING MAGAZINE
|
Issue 187
On October 12th, 2009, out beyond the horizon an elite group of NZ's best surfers arrived at a remote reef after motoring in a straight line 25km out to sea.
What began as a fisherman's tale back at the turn of this century, this reef became a topic of discussion in a period of time where big-wave surfing was going through a massive transformation of what was considered possible here in NZ, driven not only by the introduction of jetskis as a tool for surfing , but also of the attitudes of these highly skilled warriors all pushing each other into each and every big swell. New waves were discovered and ridden for the first time, and in a country where a 10-foot wave had up until that point been considered big-wave surfing, now we were looking at waves of 20 foot plus.

New frontiers opened and it seemed for a period that every month there was a new discovery that re-invented NZ surfing as we knew it.

In 2004, driven by the urge to put to rest this rumour of a giant wave, Blair Stewart, myself and Daniel Kereopa began to plan a mission of discovery just as one of the biggest swells in many years made its way up the NZ coastline. Like all missions, many factors must all come together and gel if they are to reach the launch state, and that inaugural trip was canned at the last minute. It took a further five years, but this time all the elements fell into place, the crew assembled were at the time the top guns of the movement, all trusting in each other's preparation and tools. Yet here we were, staring at this open-ocean wave, what you might describe as NZ's answer to Cortes bank, and the initial judgement call was "That can't be ridden, someone will die!"

One lone soldier, a man who really needs no introduction when it comes to NZ big wave sessions, Daniel 'DK' Kereopa took one deep breath, took another look at the next breaking wave, and announced that he was gonna go. "Pass me the rope," he commanded.

In attendance were surfers that had ridden Waimea, Pipeline, Teahupoo, Papatowai and many other big-wave arenas, yet when DK selected an in-between small wave to start and began to drop in, appearing almost flea-like, right then and there were all these guys left slack-jawed. What happened throughout that day redefined what was considered possible on these shores, and the photos that were brought back to the boat ramp even had those that had ridden them shaking their heads. On that day many of the biggest waves ever ridden in NZ went down, including one massive behemoth that Damon Gunness rode which stands as the biggest wave in NZ history. Over the following year, five more missions were taken out beyond the horizon, and with each new session, those that took it on were getting to know the reef intimately and began to know which lines to draw and the how the moods of the swell angles and tides all had an effect.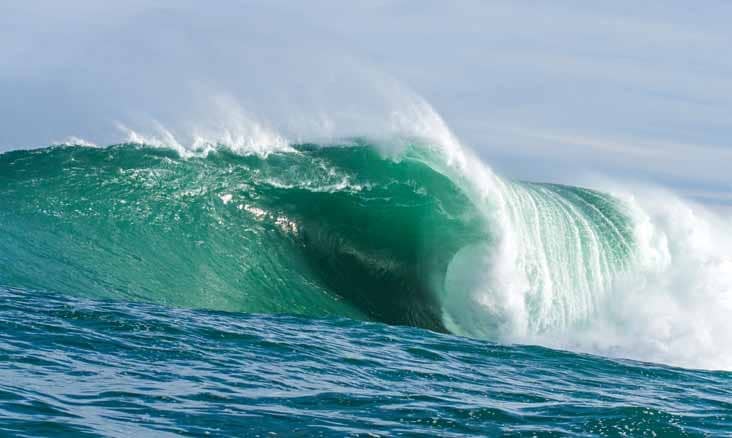 Then as fast as the wave we dubbed 'Uncles' came into our lives, his regular visits all but dried up. The Southern Ocean went through a cycle where it seemed the deep sub-Antarctic swells failed to show. And on top of this, that unit of soldiers all began to go their separate ways, some who were pro-surfers lost their sponsorships and had to find paid employment, others sold their jetskis, and some even decided to quit while they were ahead in the game; they'd had a taste and were aware of the associated dangers and with young families back at home, it simply wasn't worth it for them.
It was hard to believe that 10 years had passed and while those first sessions at Uncles lived fresh in our minds, we were almost accepting of the belief that those days would never come again.
You can read up to 3 premium stories before you subscribe to Magzter GOLD
Log in, if you are already a subscriber
Get unlimited access to thousands of curated premium stories, newspapers and 5,000+ magazines
READ THE ENTIRE ISSUE
Issue 187