THE SEARCH FOR MOBY DICK
NZ Rugby World
|
Issue 207, October - November 2020
REPLACING THE WORLD CLASS JEROME KAINO IN THE ALL BLACKS NO 6 SHIRT HAS BEEN THE NEAR IMPOSSIBLE CHALLENGE. BUT MIGHT THE ANSWER HAVE PRESENTED ITSELF DURING SUPER RUGBY?
I
t's maybe a good job Steve Hansen retired as All Blacks coach when he did, or he may have become a little like Captain Ahab endlessly and hopelessly chasing Moby Dick.
The white whale in Hansen's case being a bruising, intimidating blindside flanker – a new Jerome Kaino.
Hansen achieved plenty as All Blacks coach almost did the impossible in some regards. He won a World Cup, he won the Rugby Championship six times, presided over a perfect season in 2013, and masterminded a world record run of 18 consecutive victories.
Hansen also found a successor to Richie McCaw both as captain, but more significantly he developed Sam Cane into a world-class openside so he could take over the No 7 jersey in 2016 and make an immediate impact.
There was the small miracle he worked of inheriting just one test ready first-five in 2012, Daniel Carter, and then reaching the 2015 World Cup with six and never letting his stocks of genuinely capable No 10s drop below three.
But the one thing that alluded him was a replacement for Kaino. He couldn't find one and like Captain Ahab, he certainly tried.
He roamed the country in his quest and several times thought he'd harpooned his target only to find he hadn't.
The list of unsuccessful candidates proved long in the end. Between 2012 and 2019 Hansen tried 10 players at blindside in the hope one of them would establish themselves as the long-term successor to Kaino.
Some impressed, plenty didn't and it proved a long and frustrating battle especially as injury and then a Japanese sabbatical saw Kaino miss all of 2012 and 2013, before injury and personal issues curtailed his involvement in 2017 which led to him leaving New Zealand in August 2018.
That meant there was time and opportunity to breed and groom the next generation of blindsides, but it didn't happen.
The two who came closest to being long-term options were Steven Luatua and Liam Squire. Vaea Fifita had one extraordinary performance in 2017 that generated some excitement he might be the one, but he faded alarmingly quickly and never again reproduced the sort of rugby he did against Argentina in New Plymouth.
Luatua was arguably the most frustrating as his talent and potential were obvious. At 1.96m and 113kg he had the size and presence the All Blacks wanted. He could win lineout ball, move bodies and even fill in at lock if needs be.
But what everyone liked was that he wasn't just big – he was mobile and athletic with it and a natural ballplayer. He was the most similar athlete to Kaino that the All Blacks found and he also shared another common trait with his Blues mentor.
Luatua lacked off-field discipline in his early days. This had been Kaino's barrier too when he first started out and after enjoying a good, if not overwhelmingly impressive rookie test season in 2013, Luatua fell away hard and fast in 2014.
He wasn't making the starting team for the Blues and when the All Blacks held a training camp in May that year, the reason for Luatua's lack of form was made clear by Hansen.
The All Blacks were in Christchurch to plan for the year ahead, to get a feel for how the coaches wanted them to play. But Luatua found out he was there to be run into the ground.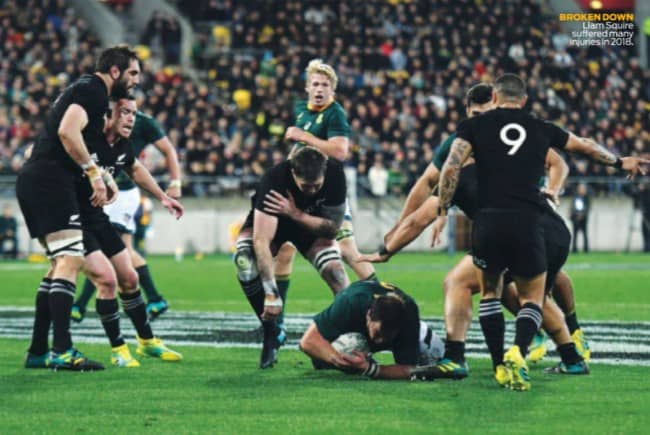 Hansen didn't think the big loose forward was fit enough and so Luatua spent a few hours with conditioning coach Nic Gill being put through the most exhausting drills.
"Steven's problem is that he's probably been a bit lax on the aerobic side of his game, so hence he's not doing enough when he's out on the park," Hansen told media afterwards.
"He'll do something and then go missing for five or six minutes. You want your players to be doing repeated efforts and he's just not doing that at the moment so we had a bit of a chat about that and put something in place during the camp to feel what it was like to be able to hurt and still deliver what he needs to deliver on."
You can read up to 3 premium stories before you subscribe to Magzter GOLD
Log in, if you are already a subscriber
Get unlimited access to thousands of curated premium stories, newspapers and 5,000+ magazines
READ THE ENTIRE ISSUE
Issue 207, October - November 2020