Smart Choices
NZ Rugby World
|
Issue 203 December 2019 - January 2020
ASK STEVE HANSEN WHAT THE FOUNDATION OF A SUCCESSFUL RUGBY SIDE IS AND HE WILL TELL YOU WITH LITTLE HESITATION THAT IT IS GETTING THE SELECTIONS RIGHT.
No selector gets everything right. There will always be the odd player who is deemed to be ready only to be plopped into test rugby and prove to the world that they are not.
There will also be times when good players, proven performers, are picked to play when they shouldn't be: when they are struggling for form and confidence but the selectors didn't want to believe it so picked them anyway.
A perfect record is unachievable but in eight years as head coach, Steve Hansen came close. There were mistakes, but not many. There were misjudgements, but not many and as the time has come now to analyse a career that was so rich with success, there's no going past Hansen's skill as a selector.
It was the foundation of his tenure. He was quite brilliant at it and rarely, if ever, did the All Blacks review a performance between 2012 and 2019 and think that there may have been a significant problem with the personnel they picked.
When they lost or failed to play well, it was almost never the case that selection was fingered as the problem.
Hansen's tenure was almost devoid of selection controversy or failings and there were a number of reasons for that.
In no specific order – he was remarkably astute at knowing when to pick a new player in the squad but more importantly, when to put them in the team.
He so often, almost faultlessly, knew when and how to ease a long-serving All Black out of the team. And he had a sixth sense about when to tinker with the line-up – when to inject someone who he felt was maybe ready to burst into life.
As a final quality, he was aware of public and media scrutiny yet not one to be bullied by it.
It was the first of those gifts – knowing when a new player was ready to be brought into the squad - that he continually got right.
But there was more to it than that. He plucked all the low hanging fruit – the obvious superstars such as Ardie Savea and Damian McKenzie – yet he so often found diamonds where everyone else thought there was just coal.
And it was the first squad in June 2012 that was arguably the most important he picked in eight years as it launched the careers of a number of special All Blacks who were at the core of the team right through to 2019.
He judged that the likes of Brodie Retallick, Sam Cane, Aaron Smith and Beauden Barrett had what it took to become great All Blacks.
That may seem like it should have been an obvious call, but Retallick, Barrett and Cane were all in their first year of Super Rugby and the latter only featured in cameo appearances off the bench.
Smith had been with the Highlanders in 2011 but again, was only winning cameo roles off the bench and it may sound crazy, but a different coaching regime may not have seen the potential of all of them. Retallick, yes, because he was a huge part of the Chiefs Super Rugby successful campaign in 2012 and his work-rate and impact were impossible to miss.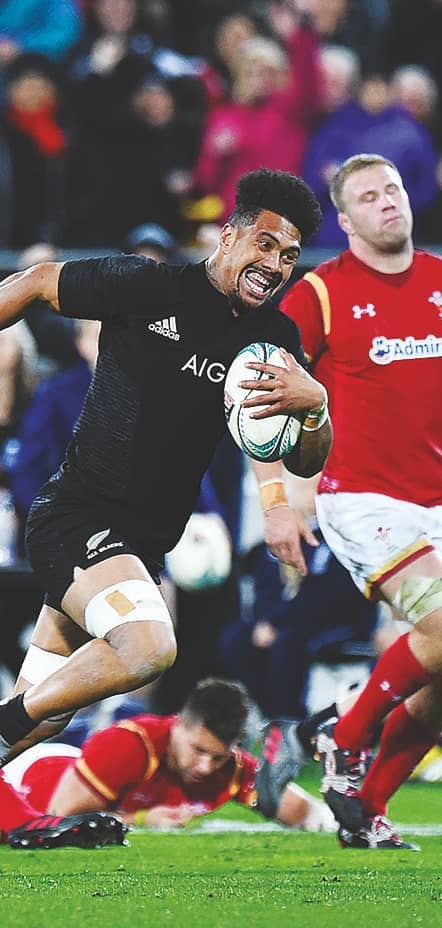 Barrett, maybe, but he was battling against Dan Carter and Aaron Cruden. Another coach may not have felt they needed three first-fives or seen the potential to use Barrett with such great impact off the bench given his ability to play fullback.
Smith would not have appealed to all coaches because of his lack of size and this was still an era where powerful, muscular halfbacks were sought after. There was a prevailing view it was defensively risky to pick a player as small as Smith but Hansen had such a clear vision of how he wanted to play he held no fear about a lack of size in his number nine.
And as for Cane...he almost certainly wouldn't have been picked had there been a different regime. His game time for the Chiefs in 2012 was low.
He was barely 20, only 101kg and not being picked ahead of Tanerau Latimer at the Chiefs.
No one in the media, certainly, had Cane on their radar and the expectation was high that Matt Todd would be asked to back-up captain Richie McCaw at openside.
But Hansen had seen enough in what Cane did when he was on the field to believe he was ready for test rugby. He also buried deep into Cane's background and found that he was a tough nut, a genuinely resilient character with natural leadership qualities.
The fact those four are now all on track to win 100 test caps is the most powerful testament to Hansen's skill as a selector.
"To me, selection is one of the most important parts of the game," he said during this year's World Cup.
"Stats can be manipulated to do whatever you want with them. Yes, they're important. Are they the key thing? No. It's what you see on the park.
You can read up to 3 premium stories before you subscribe to Magzter GOLD
Log in, if you are already a subscriber
Get unlimited access to thousands of curated premium stories, newspapers and 5,000+ magazines
READ THE ENTIRE ISSUE
Issue 203 December 2019 - January 2020