IN 10se BATTLE
NZ Rugby World
|
Issue 207, October - November 2020
NEW ZEALAND CURRENTLY HAS THE TWO BEST FIRST-FIVES IN WORLD RUGBY VYING TO WEAR THE ALL BLACKS NO 10 SHIRT. IT'S A BATTLE THAT HAS CAPTURED THE PUBLIC IMAGINATION BUT IT MAY BE ONE THAT NEVER QUITE MATERIALISES.
There was something about Beauden Barrett's body language that told a bigger story when he played against the Chiefs at Eden Park in Super Rugby Aotearoa.
He was moving that little bit quicker than he had been in previous weeks. He was almost skipping as the ball came his way, his hands were out, his brain flicking through the options as he assessed the shape of the rushing defence.
There was an energy about him, a boldness in his decision-making that hadn't been apparent, or actually had been missing in his previous five games for the Blues.
Perhaps it was a sign that having not played rugby between November and June, he was finally feeling more like himself halfway through Super Rugby Aotearoa. Maybe.
But really what had sparked him into better form and giving a more convincing impression of his former self, was a positional change.
Against the Chiefs, he was wearing No 10. He hadn't played a game there since the warm-up test against Tonga in early September 2019 and having that responsibility of driving the team around the park, brought the best out of him.
Barrett is an exceptional footballer, probably the most talented the world has seen and can slip on the No 15 jersey and deliver extraordinary performances in that role.
By the end of the World Cup, he had proven himself the best fullback in the world and while he has the team-first attitude to willingly play there, it's not his happy place.
Whatever anyone else thinks doesn't matter as in Barrett's head, he's a No 10. He said as much after the Blues had lost to the Hurricanes in Wellington: a night which saw him endure being booed by his old fan-club, and then being bumped around by the rampant Ngani Laumape.
He had one brilliant moment when he popped up at first receiver and split the defence to score a memorably good solo try and two bad defensive incidents when he was left one-on-one with Laumape at fullback.
It was a performance that reminded everyone that while he's capable at fullback, he's arguably more destructive and influential when he plays at first-five.
Former England first-five, Stuart Barnes, writing in the Times, went as far to say: "New Zealand rugby is in danger of turning one of the most original talents in the history of the sport into a liability."
The liability reference was over the top but everyone got his point – Barrett is happier at first-five and that showed in the last few games of Super Rugby when he was wearing No 10 again.
And maybe, somehow, what had been forgotten by a media and rugby-following public which have surprisingly short memories and poor recall, is that Barnes wasn't exaggerating in his claim that Barrett is arguably the most all-round, gifted player to have graced the game.
Remember how good he was in 2016 playing at first-five? How good he was in 2017 playing at first-five? And how good he was in 2018 playing at first-five?
He was World Player of the Year in 2016 and 2017 and on the short-list in 2018 and probably would have won it had the All Blacks beaten Ireland in November.
For three years we were anointing him as the most special No 10 the world had known and then when the All Blacks, a few games out from the 2019 World Cup, decided to switch him to fullback as part of a wider tactical strategy to have two play-makers on the park, it was almost as if everyone forgot what he was capable of at first-five.
Some of this is due not just to his positional switch, but also to the emergence of Richie Mo'unga. He's a special player. A truly talented and organized No 10 who has steered the Crusaders to four consecutive Super Rugby titles and already a young man who everyone can see is going to end up among the best this country has ever produced.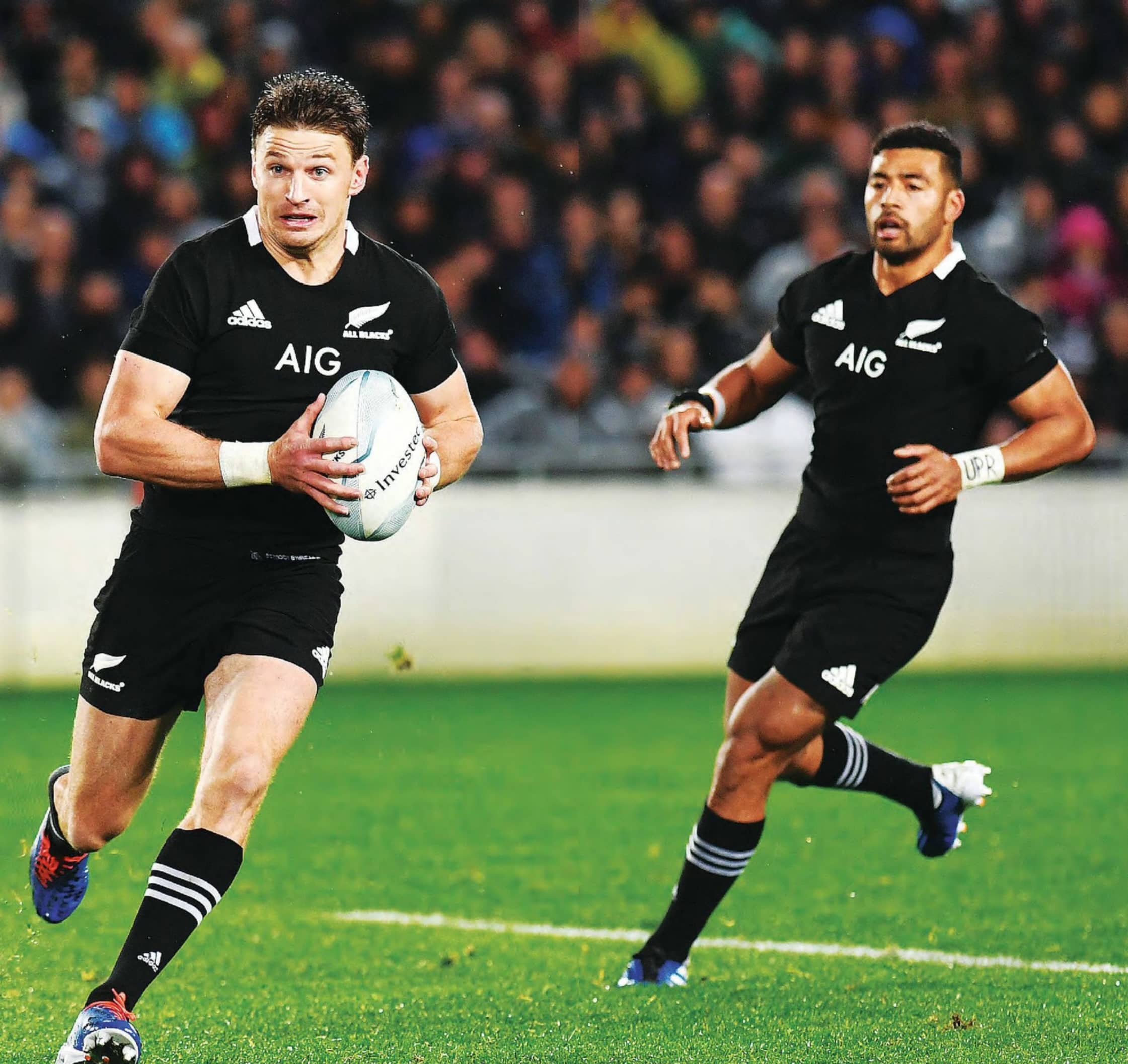 The Irish and English will disagree, or maybe they wouldn't, that Barrett and Mo'unga are number one and two in the world. The question that everyone in New Zealand wants to be answered is in which order does new coach Ian Foster think they sit. "People have their views and that's exciting," he says. "The good thing is we've got two outstanding rugby players that people are talking about.
"It doesn't matter what spin I put on it, they're two outstanding players who we know are proven at the international level.
"I've always said I think [Barrett] he's a 10 who plays 15, and that hasn't changed. He's had a pretty rich history in the black jersey as a starting 10. For the first four years he was in there as an impact player who came off the bench to play 10 or 15, then last year we gave him another job based on a revised game plan that, really, we felt utilized both of them really, really effectively. We've got some good choices."
"We've got high regard for both players, and Beauden still has some flexibility around his position."
The public wants Foster to make a choice but he's not convinced he has to because the question he needs to ask is not which one is the better first-five. That can be left for the pub, the armchair selectors, and social media users who can debate the house down about that.
As head coach, Foster has to ask what's best for the team rather than who is the better No 10 and that's an entirely different question.
Last year at the World Cup, Foster as an assistant to Steve Hansen, agreed that the team was best set-up to attack with Mo'unga at No 10 and Barrett at fullback.
They reached that conclusion through a backdoor process almost. By the middle of the 2018 Rugby Championship, it had become apparent that the All Blacks needed a second play-maker on the park at all times to give them a greater level of flexibility and weaponry with which to attack the rush defences they were increasingly facing.
For the second half of the season, Damian McKenzie started at fullback, typically making way for Mo'unga in the last 30 minutes.
You can read up to 3 premium stories before you subscribe to Magzter GOLD
Log in, if you are already a subscriber
Get unlimited access to thousands of curated premium stories, newspapers and 5,000+ magazines
READ THE ENTIRE ISSUE
Issue 207, October - November 2020