John Cena Has Yet To Peak
Muscle & FitnessJanuary 2016
At 38, he's still setting personal records in the gym. He's in a new movie, Sisters, in theatres. He's got an exciting new show on Fox. His hall of fame WWE career is still going strong. We went to Florida to watch John Cena train and might have found the secret to his success: He still pushes himself like a hungry up-and-comer.
JOHN CENA is just getting warmed up. It's 1:58 p.m. on a Friday. We're outside Tampa, FL, inside Hard Nocks South, a private gym inside a converted warehouse. It's surrounded by swampy terrain and hidden behind a stone wall and black gate. It's out of the way, and that's sort of the point. Only those who belong here know where it is.
Military flags adorn the walls. There are some mats, a few benches, a power rack or two, and a lot of weights. There's a working bathroom, but the door is tricky.
Equinox, this ain't. A few feet behind the warehouse, alligators roam in a pond. "You might see one," says Rob MacIntyre, Cena's best friend since high school in Massachusetts and now his personal trainer. (For what it's worth, MacIntyre could be an M&F model in his own right. He speaks softly and carries a big, lean physique.)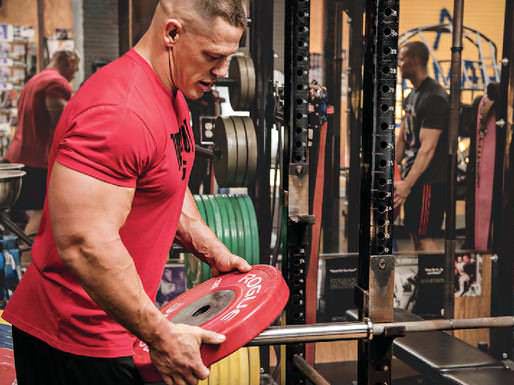 It's the day before Halloween. It's also, incidentally, the day before a Taylor Swift concert in the nearby Buccaneers stadium. The same sort of massive coliseum Cena has helped WWE sell out countless times. Yet here he is with eight other people in a warehouse gym, his back resting on a bench, his enormous arms lifting a weight starved bar to heat up his muscles.
The photo shoot and interview and Web video is scheduled for 2 p.m. to 4 p.m. With other M&F cover subjects, this process could take all day. But Cena doesn't have time for that. This is a guy who does more than 250 shows a year for WWE. Who acts in movies (like the recent Trainwreck and the new Tina Fey/Amy Poehler comedy Sisters). Who has granted more than 500 Make-A-Wish wishes to children facing life-threatening illnesses—nearly twice as many as the next closest person in the charity's history. Who appears on Total Divas, the hit reality show on E! that stars his gorgeous girlfriend, WWE Diva Nikki Bella.
This is a guy who has spent three years taking lessons in Mandarin so he can better entertain the WWE fans in China—his contribution to the WWE's expansion efforts into that gigantic market. Think LeBron James or Tom Brady would learn conversational Mandarin in order to help their respective leagues win over the Chinese? Right.
In fact, this is literally the last day we could do this shoot before Cena will venture way off the grid—"to an undisclosed location, 46 floors be low the earth's surface," as he puts it—to complete a long-in-the-works show for Fox called American Grit, a military-inspired competition series from the production company that does Pawn Stars.
So, yeah, here you are. Watching Cena work out, observing a photographer snap hundreds of pictures of him, peppering him with questions ("This is like Sunday Conversation with weights," quips Cena), witnessing him shoot a magazine cover and conduct a video interview.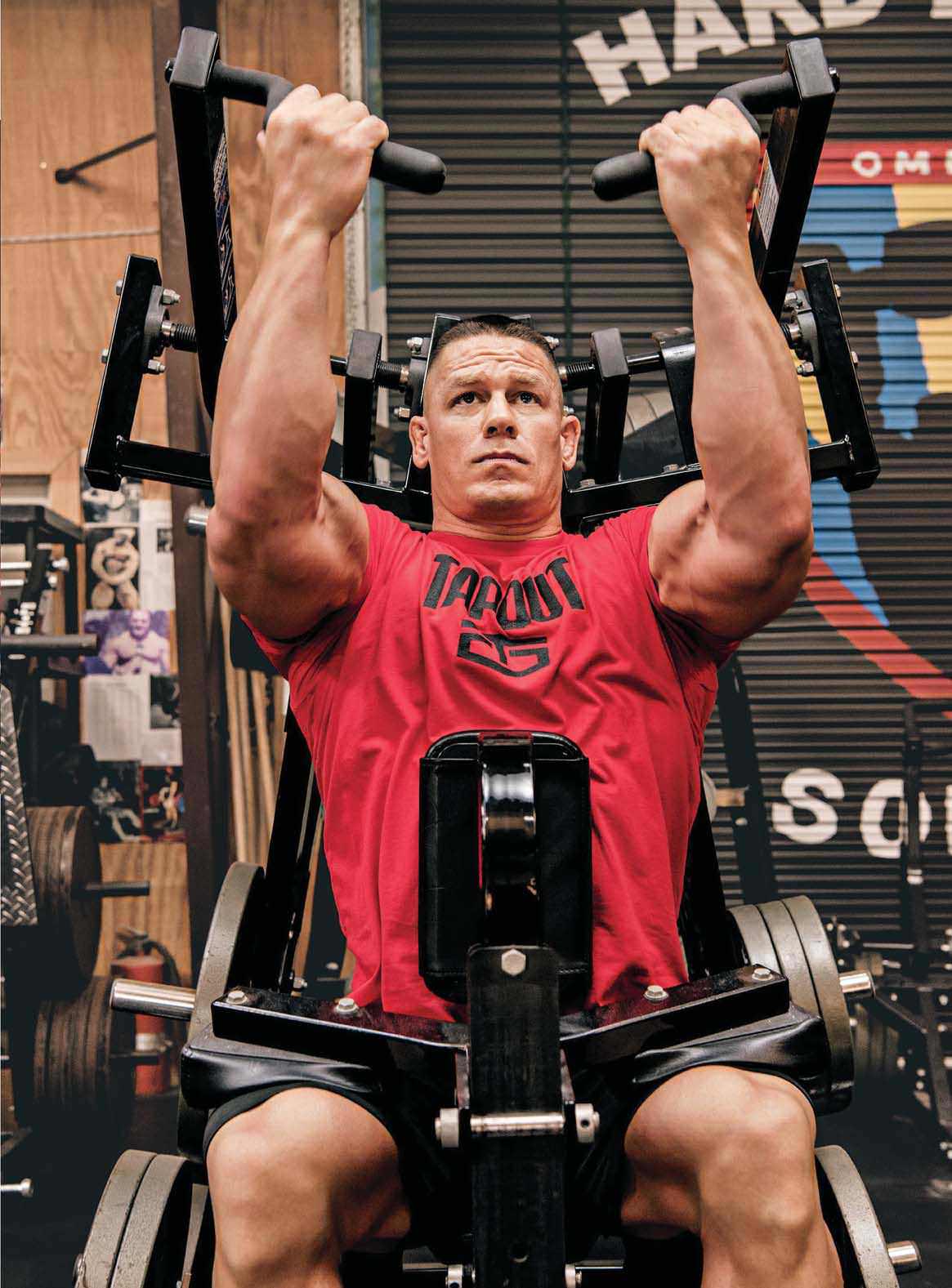 You can read up to 3 premium stories before you subscribe to Magzter GOLD
Log in, if you are already a subscriber
Get unlimited access to thousands of curated premium stories, newspapers and 5,000+ magazines
READ THE ENTIRE ISSUE
January 2016