" I WORKED LIKE A DOG "
Motor Sport India|October 2019
From racing the Esteem in Chennai to having the National Anthem played out for him at a Formula 1 weekend and now working the microphone in the F1 pitlane, Karun is living the dream
KARUN CHANDHOK IS ONE of only two Indians to have driven in Formula 1, the only one to race in Le Mans and the familiar voice you hear every other Sunday as he wields the microphone in the Formula 1 pitlane. Then again, everybody knows that. But how hard was it to get to where he is today? How many times did he throw in the towel? How many times did he want to leave behind the cold, wet, dreary UK weather for homecooked food and the bright sunshine of Chennai? I sat down with Karun at our offices in Pune, for a long chat on the life and times of the most high profile motorsports person in India. And, of course, I start by asking how he manages to spot stuff that the other F1 commentators just cannot see.
I love the technical side of the sport
"I love the strategic side and I love reading the race. One of the things I learned [while racing] was breaking down the race for people at home to understand. I always keep in mind my mum or my grandparents who are watching at home, they need to understand the nuances of the sport."
It's been a tough journey
"Coming from India to try and make it to the top in motorsport was always going to be a challenge. Nobody really knew where the path would take us, because obviously Narain was seven years older than me, and at that stage we were both feeling our way through and then trying to carve our own paths. There was no template. At the time everyone knew you had to be in the UK and I think that's still very much the case. It's still a very strong centre for junior formula racing.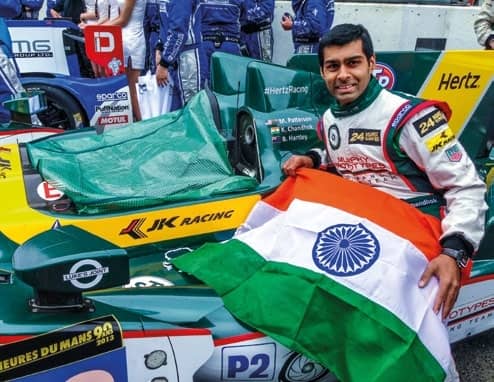 "Along the way it was very hard, especially from a financial standpoint. I'd go to meetings with companies and try to explain to them that you need to raise two, three, four crore rupees to go racing in Formula 3 and they'd turn around and say 'hang on a second, I can sponsor Rahul Dravid for `30 lakh'. How do you justify that? That was the hardest part, the financial side. My family re-mortgaged the house multiple times and sold off every possible asset they have to get me till GP2. I was very lucky people like JK Tyre and Punj Lloyd are very good sponsors, and finally Red Bull pushed me along the last step."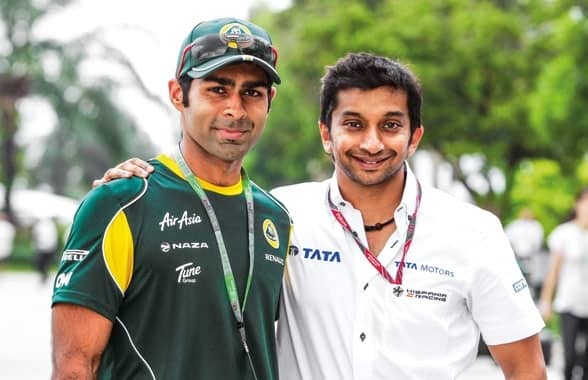 In motorsport you grow up very quickly
"I was at an age where my peers from school were going out and partying, getting drunk in their undergrad. I, as a 22-year-old, was negotiating deals with teams worth five, six crores, trying to negotiate with sponsors for `75 lakh to a crore. You know, these are sums of money that no 22-year-old in any normal sense would be negotiating with. So you grow up very quickly, you have no choice, you have to. I have to credit Sanjay Sharma [motorsport boss at JK Tyre] for teaching me a lot about how to deal with the media."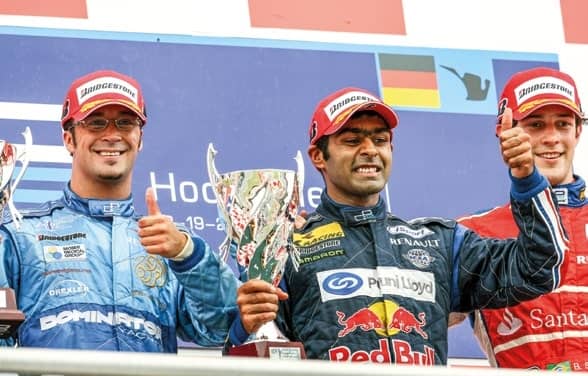 When I arrived in the UK, I underestimated it completely
"I didn't realize how hard it would be. If you race in Asia, you need to dominate the championship, win 50 percent of the races then maybe you'll be in the top 10 in Europe. That's the level of difference. That's just reality. I ended up underestimating, but one thing I did do is work like a dog. I went and lived in a small town called Brackley. I went from a city of 11 million in Madras to 11,000. There'd be nights in the winter, you're 18 years old, miles away from my family, didn't know anybody else, living on my own, didn't know how to cook but all I would do is train. I would take the laptop from the engineer's home at night, and I just studied the data and tried to learn.
You can read up to 3 premium stories before you subscribe to Magzter GOLD
Log in, if you are already a subscriber
Get unlimited access to thousands of curated premium stories and 5,000+ magazines
READ THE ENTIRE ISSUE
October 2019