Is CrossFit Founder Greg Glassman A Modern Messiah?
CrossFit founder Greg Glassman became filthy rich, then became something else entirely: a spiritual leader with a flock of millions.
​
WHEN GREG GLASSMAN ARRIVES in Boston off a red-eye from Santa Cruz, he doesn't have much information about the person he's come to see. He knows that her name is Dawn Ditano and that she is dying. And that for her last rites, she had requested neither a priest nor a rabbi. She had requested him, the 59-year-old cofounder and CEO of the world's largest fitness chain—CrossFit.
Less than 48 hours later, he marches into Massachusetts General Hospital, accompanied by his Global Brand Manager and occasional body man, an ex-Marine named Jimi Letchford.
"Dawn, the coach is here!" a woman screams as Glassman bursts through the door. From where she lies encircled by a troupe of muscular women in matching gym T-shirts, Ditano shrieks—"Oh my God, oh my God, oh my God"—and starts to cry. "There you are," Glassman says, laughing as Ditano stares at him in disbelief. He's used to this now, the stupefying effect he has on CrossFit acolytes. The fact that he's been summoned here, for this, doesn't seem to surprise him a bit.
Even in her blue hospital pants and a T-shirt, with her rocky biceps and bulging trapezoids, Ditano looks supremely healthy. The cancer came on that suddenly. Her friends have blown up several photos of her for Glassman to sign. One shows her performing a squat with a 135-pound barbell over her head. She looks unstoppable, like the poster girl for the CrossFit gym she's co-owned and operated in Boston since 2010.
A plump nurse in a yellow scrub top pauses at the door, surprised by the crowd. "Oh, hello," she says, looking around at the group of muscle-bound women, at Glassman smiling gamely from Ditano's side, at the square-jawed Jimi Letchford.
Ditano's friend and business partner, Dawn Mary Angus, introduces Glassman. "Having him here, for us, is like having Mick Jagger," she says. Later, Angus tells me she'd spent the previous day engaged in "barbell therapy" to help cope with losing her friend.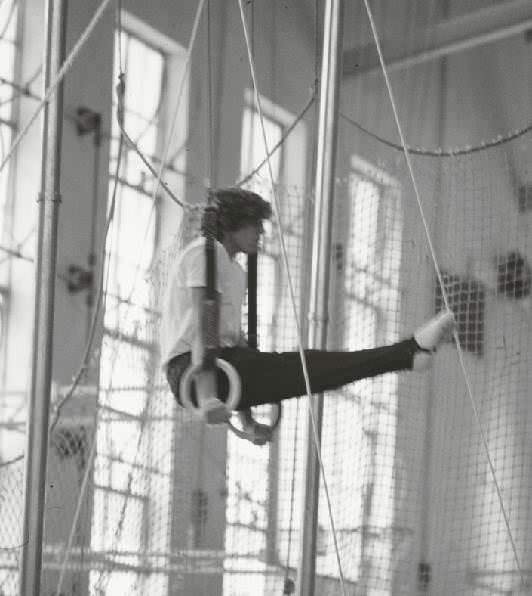 "People need a place in the world where they're not a mom, or a CEO, or a janitor. It's a hard thing for outsiders to understand."
The nurse has come to give Ditano a lesson on self-administering pain medication, as she'll soon be transferred home. But Ditano is eager to assume the role of instructor. Before taking up CrossFit, she had struggled with addiction, and she credits the sport with saving her life. "Think of a baby," she says to the nurse. "When babies squat, they don't bend in half at the waist like most adults do. They bend at the knees. CrossFit is all about fitness through natural movements."
At that moment, as if on cue, a bundle of IV tubing slips from the nurse's hands and onto the floor. She bends down carefully, at the knees, to pick it up. "Oh, yeah!" shouts Angus. "Keep squatting! Hold it, hold it!" The nurse glances over at Glassman, a petite man with scraggly gray hair. His right foot is in a padded boot, the result of a recent surgery. "A solid squat," he says, and the room erupts in applause.
When people started doing CrossFit in 2001, it was revolutionary and also a little crazy. If you live in, say, Silicon Valley, where the sport is popular among the tech elite, you've probably seen them in their muscle tees and tiny shorts, flipping tires or carrying each other up flights of stairs. Athletes (anyone who takes a class is called an athlete; instructors are "coaches"; gyms are "boxes") combine homegrown resistance-training techniques (i.e., the tires), explosive weight lifting, running, and squats to transform their bodies into hard-charging muscle machines.
But the bigger appeal of CrossFit is the fiercely tribal culture around it. CrossFitters train together, eat together, and party together. They also, as is only natural wherever washboard abs and toned glutes abound, tend to sleep together. They've been described as a "cult of overachievers." Their unofficial mascot is a clown vomiting on himself, and for good reason: Puking is practically a rite of passage for beginners. Egregious injuries resulting from the sport have been well documented.
Still, CrossFit is one of the fastest-growing networks of affiliated gyms on Earth. A new "box" opens somewhere in the world every two hours, and more than 115,000 people to date have been certified to coach. The company earns more than $100 million a year in revenue from the $1,000 certification fees and $3,000 annual gym fees, and one man owns it 100 percent.
That man is Greg Glassman, a salty, charming but little-known, thrice-married father of seven who may be the most unlikely spiritual leader to emerge in the 21st century. For millions of devoted CrossFitters, Glassman is a brash, libertarian guiding voice. He's a preacher with an enormous platform, given to tirades against government interference and what he sees as a Big Soda conspiracy to make the world fat. He surrounds himself with a posse of ex-Marines and ex-SEALs, and he relishes his place behind the scenes. So who is this modern messiah?
Maxim was granted unprecedented access to find out.
GREG GLASSMAN was born July 22, 1956, and raised in Woodland Hills, an upper-middle-class Los Angeles suburb. At 10 weeks old, he contracted polio, although he wasn't diagnosed until more than a year later, when he was given a small walker. "I was just one-legging it for a while," he says, laughing. "I'm not the wallowing type."
Glassman spent summers with his grandparents in Alabama, where he and his cousins slept two to a bed. "It was the only thing in my childhood that was wholesome," he recalls. "At home, there was nothing but mischief and vandalism. My mom was pretty mean-spirited. And my dad turned everything into a pissing contest."
When Glassman was 12, his father, a rocket scientist, came to him with a bag of a thousand nails and a micrometer and had him measure each nail to 10-thousandths of an inch and make a histogram as a lesson. "I was in a math-oppressive environment," he says.
At school, Glassman was a brawler. ("I could fight at the drop of a hat; that part's still in me.") He spent most of his
You can read up to 3 premium stories before you subscribe to Magzter GOLD
Log in, if you are already a subscriber
Get unlimited access to thousands of curated premium stories, newspapers and 5,000+ magazines
READ THE ENTIRE ISSUE
October 2015