Weird Games People Play
Roll ball, a sport invented by a Pune-based man, is gearing up for a 3rd World Cup and the hope of an Olympics slot; meanwhile, a middle-aged Mumbai businessman is going all-out to promote pickleball, which has found few takers so far.
Growing Up, one of the funniest movies I'd seen was a 1998 flick titled Baseketball. Given the title, it's not too hard to figure out what it was about – two average American guys who come up with a hybrid of the country's two national pastimes, baseball and basketball. When the game picks up on the popularity charts, in comes the shrewd businessman who hopes to monetise the latest phenomenon.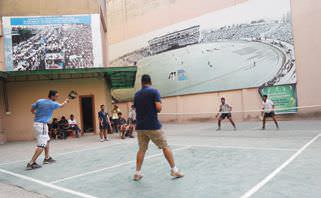 Pickleball can be played as singles or doubles on any hard surface
Like all other movies in the genre, this one, too, comes across as exaggerated fiction. But if the word pickleball rung a bell when you watched it, the premise wouldn't seem as bizarre, especially in the USA. For it was one of their own — a State Representative, along with two of his friends — who invented the game of pickleball on a sunny 1965 afternoon. The gentlemen were looking for a cure to their families' collective boredom. Improvising with the resources immediately at hand, they fashioned some paddles from wood lying in the shed, picked up a Wiffle ball, lowered the net of their badminton court and that's how it began. It's not like the game became an instant sensation.
It's only in the past decade that the US seems to have taken a shine to the sport (it's the fastest growing sport in the country in the past decade, we're told), and it's among the only five countries that are registered with the International Federation of Pickleball. There's also Canada, Spain, France, and — surprisingly — India.

Sunil Valavalkar
You can read up to 3 premium stories before you subscribe to Magzter GOLD
Log in, if you are already a subscriber
Get unlimited access to thousands of curated premium stories, newspapers and 5,000+ magazines
READ THE ENTIRE ISSUE
October 2015