You Can't Outdo God
Golf Digest South Africa
|
June 2017
One of Our Own Explains His Part in Erin Hills' Strange Path to Attracting the Us Open

IN JUNE, ERIN HILLS, the mammoth rumpled blanket of a golf course in tiny Erin, Wisconsin, will host the first of what will be many US Opens. I say that with confidence, because it's the right course in the right place at the right time. Erin Hills is a privately owned public golf course, befitting the USGA's populist desire to grow the game, in an untapped market. The course sits on 264 hectares, an expanse unprecedented in championship golf. There's enough room to accommodate every money-making skybox, hospitality palace and merchandise tent imaginable. There's room for 100 000 spectators, if the USGA wanted that many. It doesn't. Ticket sales were capped at 35 000, evidently to avoid traffic snarls. The course will be a genuine test. Yes, it's ridiculously long from its back tees at 7 633 metres, but it isn't intended to ever be played at that length. For the Open, it'll officially measure 7 035 metres but will be shorter on any given day because each hole has enormous flexibility. It's a par 72, first for a US Open since Pebble Beach in 1992, and at least a couple of par 5s could force even big hitters to use a fairway wood to reach those greens in two.
Agreed, it's not a genuine links where one can bounce every shot into every target. There are some elevated fairways and elevated greens, and that's by design. The wind blows a considerable amount of the time at Erin Hills, and one of its tests is handling aerial shots in the wind. Fairways pitch and heave, dip and tumble, with few level lies anywhere. Its bunkers are real hazards where recovery is often secondary to escape. The greens are pure bentgrass, the first time in a US Open in forever, slick and smooth surfaces on which there will be plenty of birdie putts made.
Yes, I'm an unabashed cheerleader for Erin Hills. I have a right to be, for I was involved in its creation. Or rather, its excavation. Erin Hills existed within the glacial folds of Wisconsin's kettle-moraine topography for eons. We just had to unearth it.
Stating My Case
Let me set the record straight: I was a co-designer of Erin Hills with Hurdzan and Fry. We jointly bid on the project in 2000 and won the job over competition that included the design firms of Jack Nicklaus, Arnold Palmer and Tom Doak. I was not brought in at a later date by Mike and Dana to peek over their shoulders and write laudatory commentary. I was not hired as a design consultant to stop by a couple of times for arm-waving photo opportunities. And I was certainly not, to quote the phrase Doak once used, there to simply "fill the talent deficit of Dr Mike." (Leave it to Tom to pat a guy on the back and end up slapping another in the face.)
Mike and Dana needed no additive. They are two of the most talented, imaginative, knowledgeable and enthusiastic golf architects I've known. Their works speak to that. Calusa Pines and Naples National, both in Naples, Florida, and highly ranked by Golf Digest, are as different as yin and yang. Likewise, Devil's Pulpit and Devil's Paintbrush, Golf Digest's first Best New Canadian Courses in the early 1990s, sit side by side yet don't resemble one another in the slightest. But because media coverage of golf architecture is mostly fan-boy worship, Mike and Dana have never got the attention they deserve. They were never the cool kids in school. The Internet is full of pundits who say Erin Hills would be so much better if only one of the Golden Boys had designed it. Chew on this for a moment. Mike and Dana were one of five finalist firms for the Chambers Bay job, the course that hosted the 2015 US Open. Had things gone just a little differently, they'd now have two courses hosting US Opens in a three-year span.
We agreed to team up on the Erin Hills bid because Mike and I have been friends since the mid-1970s. In the late 1990s, as I was approaching 50 and feeling life was passing me by, I decided to get involved in some course designs. Mike and Dana took a chance on me without hesitation. It was simple luck that the project we decided to chase together was a course that has ended up hosting a US Open. But then again, as I'll explain, you make your own luck.
I say all this to explain why I can't be objective when talking about Erin Hills. I made over 100 visits to that site. I staked out every hole and then some. I hand-dug bunkers, floated out some greens. I agonised over big issues and tiny details. Of course, I'm biased and highly emotional on the subject. My DNA is in that design.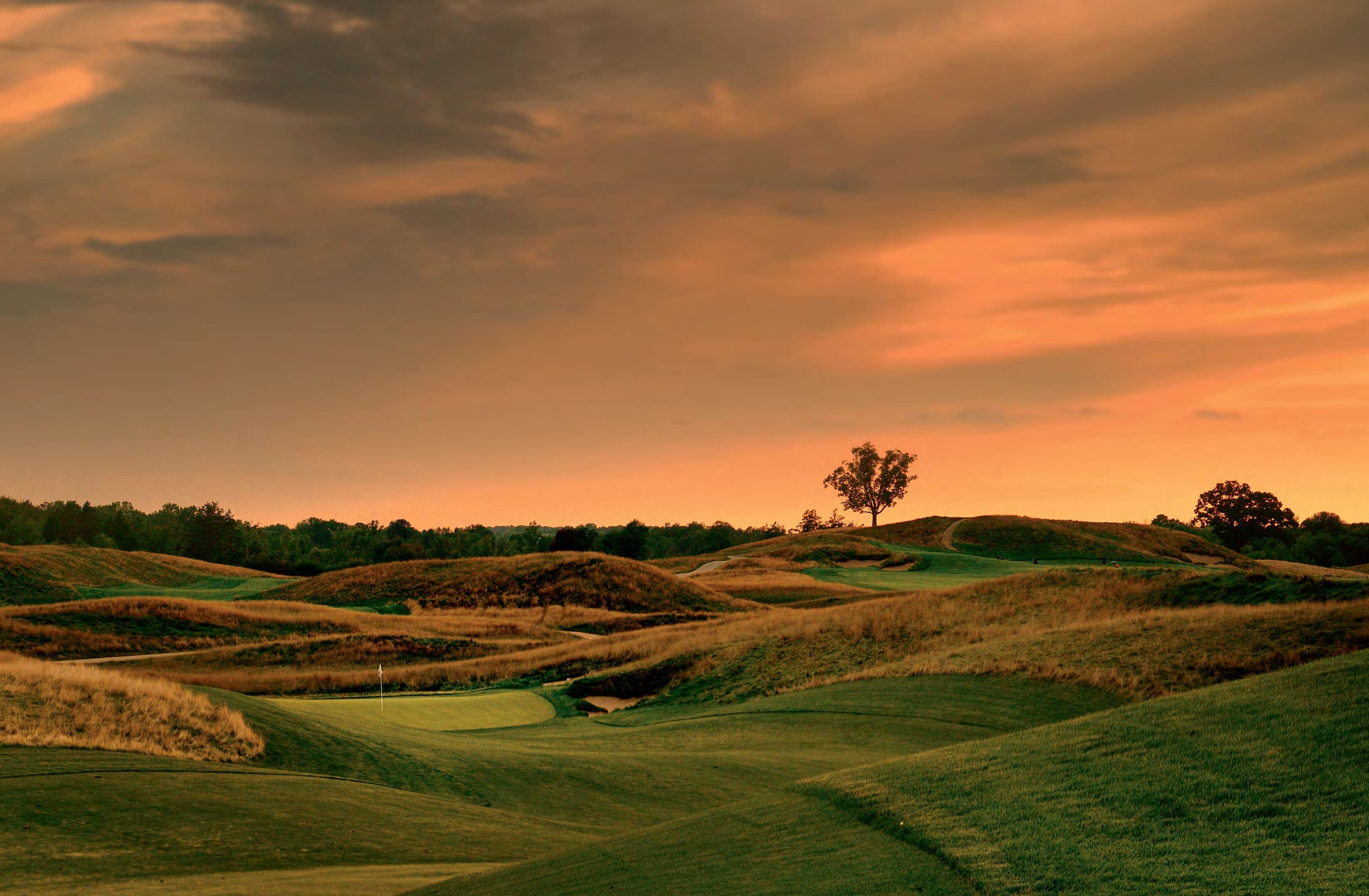 Our Philosophy
I don't care how much money you spend," Dana says. "You can't outdo God." That sums up our approach to Erin Hills. For better or worse, our objective was to prove that Mother Nature is the best golf course architect of all time.
When Mike and I first saw the land, in June 2000 (Dana made his first visit in 2001), it was an overgrown, rolling pasture with several sections covered in dense trees. Yet we could see, even then, its glorious natural contours. This was our opportunity to emulate Sand Hills Golf Club, the brilliant minimalist layout by Bill Coore and Ben Crenshaw in central Nebraska, easily the most natural course in America. We wanted to move as little earth as possible, make it memorable, walkable, with holes no one had ever seen or played before. (Some would say we went overboard in that last regard.)
We were also determined to build it efficiently and inexpensively, and we did. Erin Hills was built for less than $3 million, about a third of that devoted to irrigation. A ton of money was subsequently spent on other aspects of Erin Hills, but the course itself was two point nine eight.
Once we finally settled on our routing – 18 holes plus a bonus, a par-3 Bye hole – Mike suggested minimally invasive construction. We mowed down existing grasses, sprayed the stubble with herbicide, slit in irrigation and seeded right into the mat of dead vegetation, preserving nearly every ridge, wrinkle, hump and hollow. We cored out areas for greens, which were constructed of pure sand, and hauled the soil offfor use elsewhere, mostly in creating landforms for tees. We used a bulldozer sparingly, mainly to carve away small portions of four holes.
It Took a Village
What I learned from the experience is that golf architects really get too much credit. Architects develop concepts, but it takes a lot of people to build a golf course. At Erin Hills, we had contractor Bill Kubly, a Wisconsin native whose firm is considered among the best in the business. (Coincidentally, the barn from his great-grandmother's nearby farm was reassembled next to the practice range and now serves as a caddie shack.) Kubly's group included project manager Curt Grieser, construction chief Steve Posler (who taught me plenty; sadly, he died in 2014 at 47), Paul Kiekhaefer, Chris White, intern Brendan Dolan and about a dozen labourers, mostly green-card Guatemalans. There was also Hurdzan/Fry associate Jason Straka, who was instrumental in several early routings. There was Jeff Rottier, the original superintendent, and his assistant (now head superintendent) Zach Reineking, both lured from world-class Whistling Straits to grow in a fescue-based golf course on a minuscule budget.
There was our primary shaper, Rod Whitman. Rod is an outstanding golf architect (Cabot Links in Nova Scotia being his masterwork) who was between jobs in 2005. An artist on a bulldozer, he made sure our greens tied into surrounding grades and our artificial tee boxes looked like glacial formations. He also trained our utility infielder, Robert Ortega, into becoming an efficient dozer operator. I shouldn't leave out freelancer Chris Hunt, who ran a mini-excavator, a tiny steam shovel-like contraption, digging most of our bunkers.
There was also our general manager-to-be, who looked like every mousy accountant ever portrayed in the movies. He had quit his job as a software programmer to pursue a dream of running a golf course. He'd located the land and talked a businessman into buying it, lobbied to have Doak design it, and when we got the job, became our champion. He shepherded every regulatory permit to a successful conclusion, participated in most discussions about design and made sure everyone got paid on time. He was eager to run the club once it opened, until, on the cusp of completion, he went home one night and, for reasons unknown, killed his wife. He subsequently pleaded no contest to a charge of reckless homicide and is now serving a lengthy term in a Wisconsin prison. I mention him here because he was essential in the creation of Erin Hills, but decline to state his name out of respect for his children, who are now adults.
You can read up to 3 premium stories before you subscribe to Magzter GOLD
Log in, if you are already a subscriber
Get unlimited access to thousands of curated premium stories, newspapers and 5,000+ magazines
READ THE ENTIRE ISSUE
June 2017