The King For Eternity
Golf Digest South Africa
|
December 2016
Arnold Palmer's Impact On Golf Will Live Forever.
He looked like an athlete, a prizefighter, a middleweight. He opened golf's windows and let in some air. He lifted a country club game, balanced it on his shoulders, carried it to the people, and made it a sport. He won big. He lost big. People who didn't follow golf followed him. People who hated golf loved him. He was photogenic in the old newspapers. He was telegenic in the new medium. He was the most asked question called into the night desks on weekends: "What did Palmer do today?" From Pittsburgh, he was loamy meadows and smoky skies, river valleys and steel mills, like the plant where his father, Milfred, sometimes worked until just in front of the Depression, Milfred took a job as green keeper and pro (mostly green keeper) at Latrobe CC. Nobody addressed him as Milfred, except Doris when she was of a fanciful mind. To most, he was Deacon. A few said Deke. Arnold called him Pap.
From Pap, Arnie learned many important things, like how to grip a golf club and integrity. But Doris' contribution was what made all the difference. She was as light and delicate as a scarf, but ready company and a natural communicator. She liked people, and they liked her. Deacon was always prodding his son to be tougher and try harder and succeed more. But whatever the boy did pleased his mother, provided he was kind.
Nobody had to teach him to love golf. As Peter Dobereiner wrote, "Arnold did not catch the golf bug; he was born with it like a hereditary disease."
He started to play at the age of 3 and turned pro at 7 when Latrobe member Helen Fritz offered him a nickel to hit her drive over a ditch. After adjusting the cap pistol strapped to his hip, he took a whirling cut that brought to mind a revolving lawn sprinkler. Mrs Fritz's ball floated down like a paratrooper onto the fairway. Every Ladies' Day thereafter, he was available to bash dowagers' drives for five cents. "Some of them," he said, "were slow pay."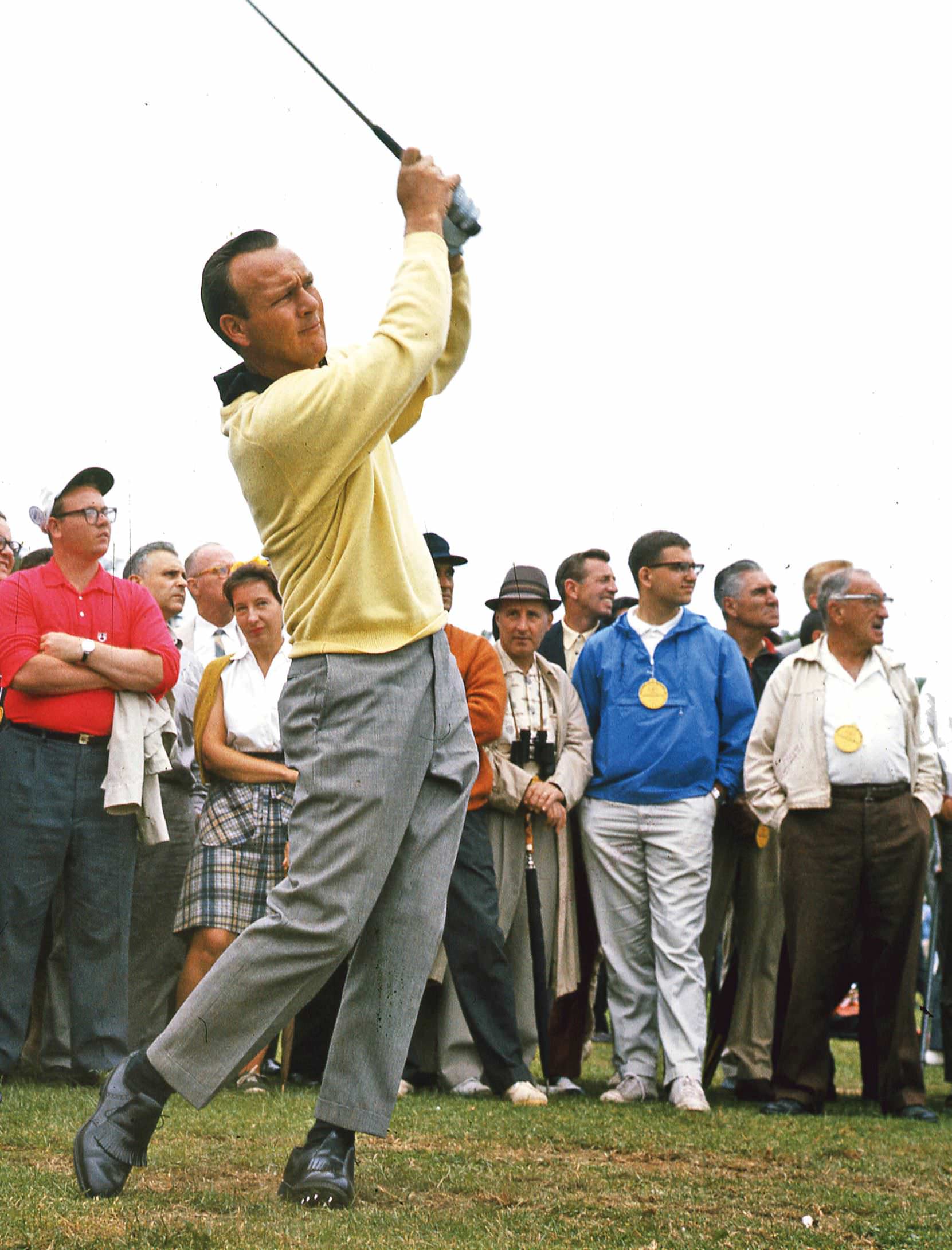 He had a second love as well: airplanes. Whenever he could, he ran down the country club road to Latrobe's tiny airport with its grass runway, no control tower, no instrument landing, no radio direction. He passed his hands over the few biplanes parked there and imagined himself an aviator. He sat in the flight room by a pot-bellied stove and listened to the pilots' "by-gosh and by-God" adventures.
He went to Wake Forest College in North Carolina but couldn't stay. A golf teammate accompanied by a basketball player drove to a dance in Durham and never made it home. The golfer was Bud Worsham, Arnold's best friend, whose brother Lew won the 1947 US Open. Undeservedly but understandably, Palmer blamed himself for the accident, for declining their offer to join them. Had he accepted, he reasoned, he might have been at the wheel on the way back. Finishing the semester in a heart-broken fog, he dropped out of school and joined the Coast Guard.
He spent three years guarding coasts and honing his game. For a time he sold paint supplies in Cleveland. The US Amateur brought him back on course. He won it in 1954. That same year, Arnold successfully defended his Ohio Amateur Championship outside Toledo, where late one day he had the range to himself, knocking down 9-irons in the rain. Only one spectator stood watching, a 14-year-old boy named Jack Nicklaus.
In December 1954, Arnold Palmer and Winifred Walzer eloped. To Winnie, he was Arn. The next April, they pulled up at their first Masters in a dusty and dilapidated old Ford hitched to a small trailer. Palmer tied for 10th, good for $696. Winnie told him she loved him, she'd always love him, she'd follow him to the ends of the earth, but the trailer had to go.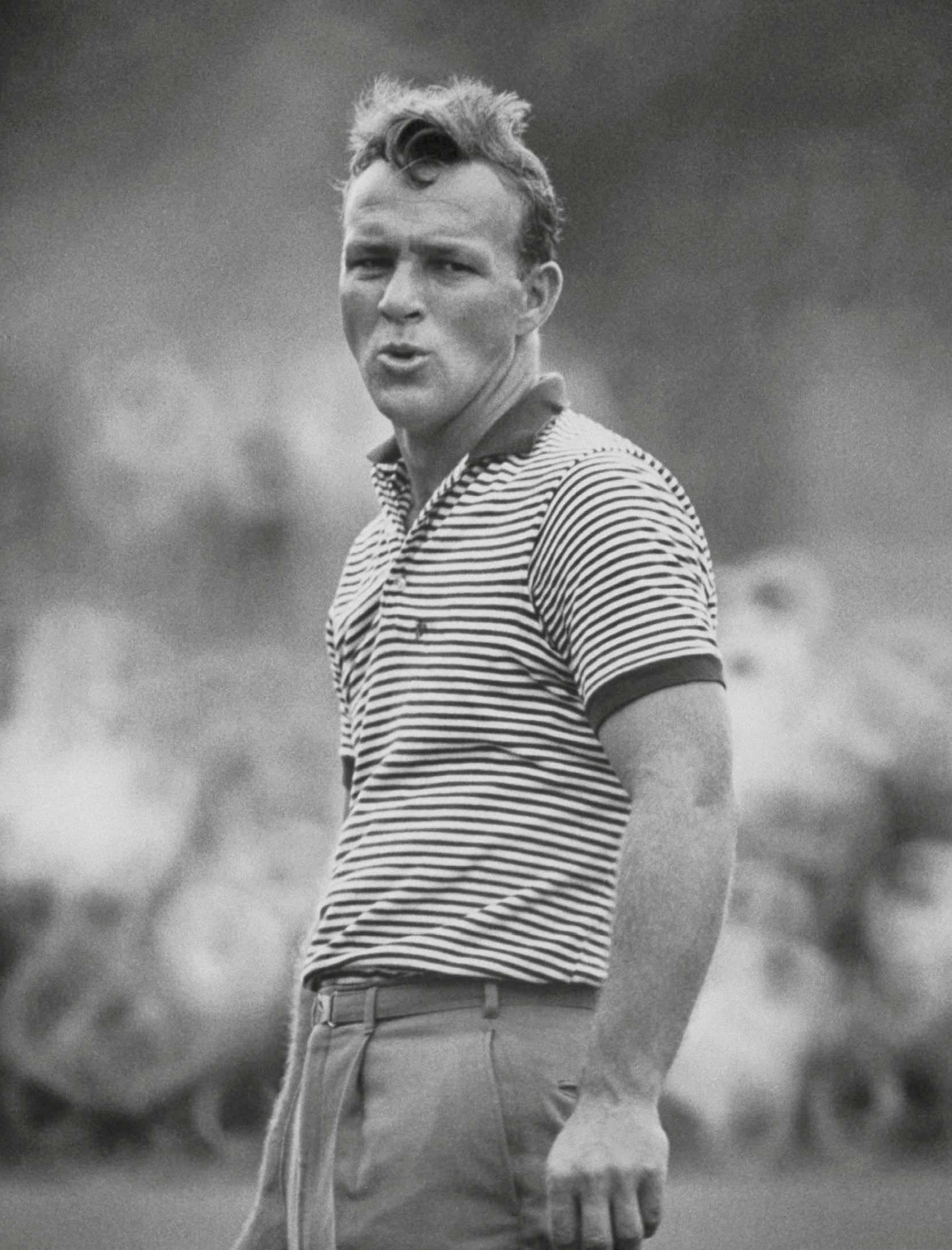 Though he won the Masters in 1958 and 1960, Palmer didn't formally become Palmer until the 1960 US Open near Denver. There were other applicants, including Mike Souchak, a muscleman himself, and Ken Venturi, the betting favourite to succeed Ben Hogan atop golf. Hogan's favourite, too. "Hogan never called me by my name," Palmer said coldly. "Never."
Souchak led the first round by a shot, the second by three and the third by two, leaving Palmer a full seven strokes and 14 players behind. But in the final round he drove Cherry Hills' 346-yard, par-4 first hole and went out in 30, smoking everybody (while smoking L&Ms). His ultimate 65 was good for a two-stroke victory over the 20-year-old amateur, Nicklaus. They had begun.
A month later, with the Masters and US Open in pocket, Palmer felt obligated to make his first bid for an Open Championship, in the Centenary Open at St Andrews. Following local caddie Tip Anderson's nose (a veiny, purple masterpiece), he lost by a stroke to Australian Kel Nagle. But Palmer and Anderson won the next summer at Royal Birkdale and the summer after that at Troon.
After taking his third Masters in 1962, he was defeated by Nicklaus over 18 extra holes in the US Open at Oakmont, just down the road from Latrobe. Jack's famous concentration was so good that week that he didn't hear anyone in the crowd say, "Miss it, Fat Guts."
Palmer, Nicklaus and Gary Player, dubbed The Big Three, flew the world for a while, Arnold at the controls. Leaving an exhibition in Seagraves, Texas, Nicklaus and Player had to hold onto each other to keep off the ceiling. They were all over the sky. "I had Gary crouching under his seat," Palmer said. "I shouldn't laugh. But it wasn't always hard-nosed stuff, was it? We had some fun."
You can read up to 3 premium stories before you subscribe to Magzter GOLD
Log in, if you are already a subscriber
Get unlimited access to thousands of curated premium stories, newspapers and 5,000+ magazines
READ THE ENTIRE ISSUE
December 2016