The Class Of 97
Golf Digest South Africa
|
April 2017
How Tiger's 12-stroke Win 20 Years Ago Changed The Masters + Golf
EVERYBODY REMEMBERS HOW IT ENDED, but nobody can say exactly when it began. Some start the clock the week before the 1997 Masters,when, playing a practice round with Mark O'Meara,Tiger Woods shot 59 at Isleworth while neglecting to birdie two of the par 5s. On the plane ride to Augusta from Orlando, the friends got to talking:
"Do you think it's possible to win the Grand Slam?" 21-year-old Woods asked 40-year-old O'Meara, then 0 for 54 in major championships. Mark looked at Tiger and thought, You're the first guy since Nicklaus even to ask the question, but didn't say that out loud.
"Unrealistic," O'Meara replied after a long moment. "I think it's possible," Woods said.
The tournament itself – 72 holes as impactful as any ever played – commenced April 10 and climaxed April 13, 20 years ago, kicking off on a blowy Thursday when flying pine needles punctured the air and the first 30 players were immediately whooshed over par. Three victories into his pro career, but still the holder of the US Amateur title, Woods was paired, per tradition, with the defending champion, Nick Faldo. Tiger went out in 40. So, the story might open with his comeback, the birdie at 10, or perhaps with something that happened the day before, Seve Ballesteros' 40th birthday, when Woods played half a practice round alongside Ballesteros and Jose Maria Olazabal. Breaking off from the Spaniards to try "a few little things" Seve had showed him, Tiger said that evening, "He's amazing around the greens. There are some things you can learn only from another player."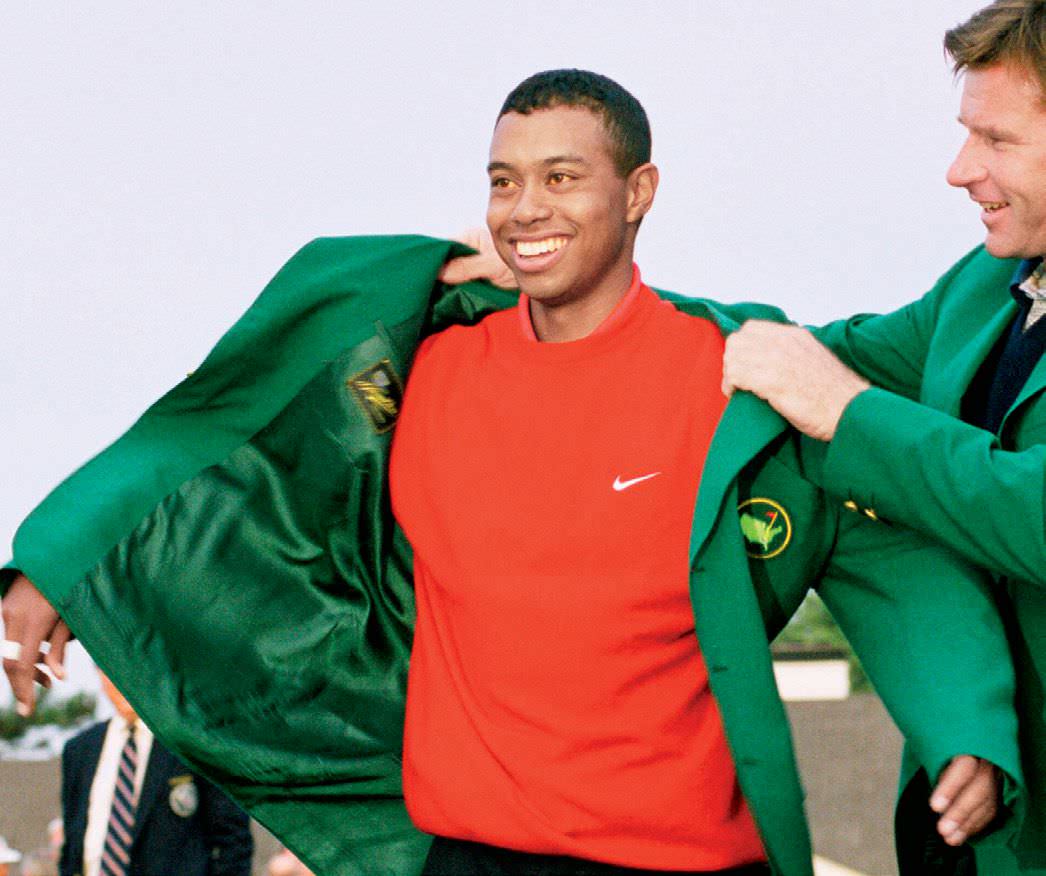 On the property but not in the gallery, preferring to watch on television, Earl Woods saw Tiger chip in at 12 to revive his first round. Being more sentimental than his son, Earl wondered if that wasn't one of those little strokes of genius courtesy of Seve. "C'mon, Pop," Tiger chided him later, "don't get carried away."
Recuperating from open-heart surgery, Earl was napping on the couch at the house they were renting in Augusta, and Tiger was reluctant to stir him. "Daddy," he whispered finally, which startled Earl. Tiger almost never called him that anymore. "How do you like my stroke?"
"I don't," Earl replied in that deadpan, singsong voice that sometimes made Tiger laugh, but not this time.
"What's wrong with it?" "Your right hand is breaking down just slightly on the takeaway."
Earl went to bed and Tiger continued putting on the carpet.
They were sitting together the year before – or maybe it was the year before that – at the Golf Digest house in Augusta, balancing paper plates of barbecue and beans on their knees, eavesdropping on a discussion of Opens and Invitationals in golf. "Invitationals," Tiger said under his breath, not bitterly, just matter-of-factly, "were the ways around the Opens."
Largely depending on how much homework he brought from Stanford (University), Woods made and missed his two amateur cuts at Augusta. Staying under a sun-streaked cupola in a clubhouse garret known as the Crow's Nest, Tiger was unable to sleep ("I've never been any good at sleeping," he said), getting up in the middle of the night to prowl the unfamiliar corridors and commune with the well-known ghosts. "The shadows there roll all around the walls," he said. "That attic is haunted."
Afraid to switch on any lights, Tiger stumbled into what turned out to be the Champions Locker Room. He sat in the dark in front of 1956 winner Jackie Burke's locker and reviewed the journey.
Woods was born in 1975, the year Lee Elder broke the four-decade-long colour line at the Masters. In 1974, chairman Clifford Roberts greeted the press with the hope that former Augusta caddie Jim Dent would soon win a PGA Tour event and become eligible to play in the tournament, a criterion established in 1972.
Roberts and Bobby Jones might not have been any more bigoted than the average American born in 1894 or 1902, but neither was a champion of affirmative action. They weren't alone in that. The Professional Golfers' Association of America didn't scrub the hateful phrase "professional golfers of the Caucasian race" out of its Constitution until 1961, making the saddest line in a media guide this one after Charlie Sifford's name: "turned professional-1948; joined PGA Tour-1961."
Of course, Masters champions as a group could have invited Sifford or anyone else to compete in the tournament – they controlled one slot. In 1969, when 46-year-old Sifford followed up his Greater Hartford Open title of a couple of years earlier by winning the Los Angeles Open, '59 Masters champion Art Wall tried marshalling support for Sifford among his colleagues. Charlie received just a solitary vote: Wall's.
You can read up to 3 premium stories before you subscribe to Magzter GOLD
Log in, if you are already a subscriber
Get unlimited access to thousands of curated premium stories, newspapers and 5,000+ magazines
READ THE ENTIRE ISSUE
April 2017