Rule The Short Game!
Golf Digest South Africa
|
Aug 2018
4 steps to developing consistency and touch around the greens.
My first year as a head pro, I gave a clinic one afternoon on chipping. After we finished, a student came up to me and said, "I didn't like that. You never told us what club to hit on those shots." Even though I was a novice teacher, I got it right that day. I could have told her what I would do in those spots, but she would have tried to memorise that and not discover it for herself. The right way depends on the golfer - the shots you like, your comfort level in different situations, the clubs you have confidence in. It's not one size-fits-all. In this article, I'm going to give you a few mechanical keys for playing around the greens, but then encourage you to try different variables that affect the shots you hit - variables that alter trajectory, distance, spin and roll. So it's part mechanics and part feel. If I gave you only mechanics, you'd be a robot and not very good at reacting to situations on the course. If I said it's all feel, you'd have no starting point - no structure. My goal is to get you started, then set you on a path to self-discovery. A great short game is not given; it's learned. Learned by practising a few musts, yes, but mostly through experimentation. Let me put a bow on my story. Months later, the woman came back and said she understood what I was doing. She had developed a system for picking clubs and playing shots. She owned her short game - and so will you.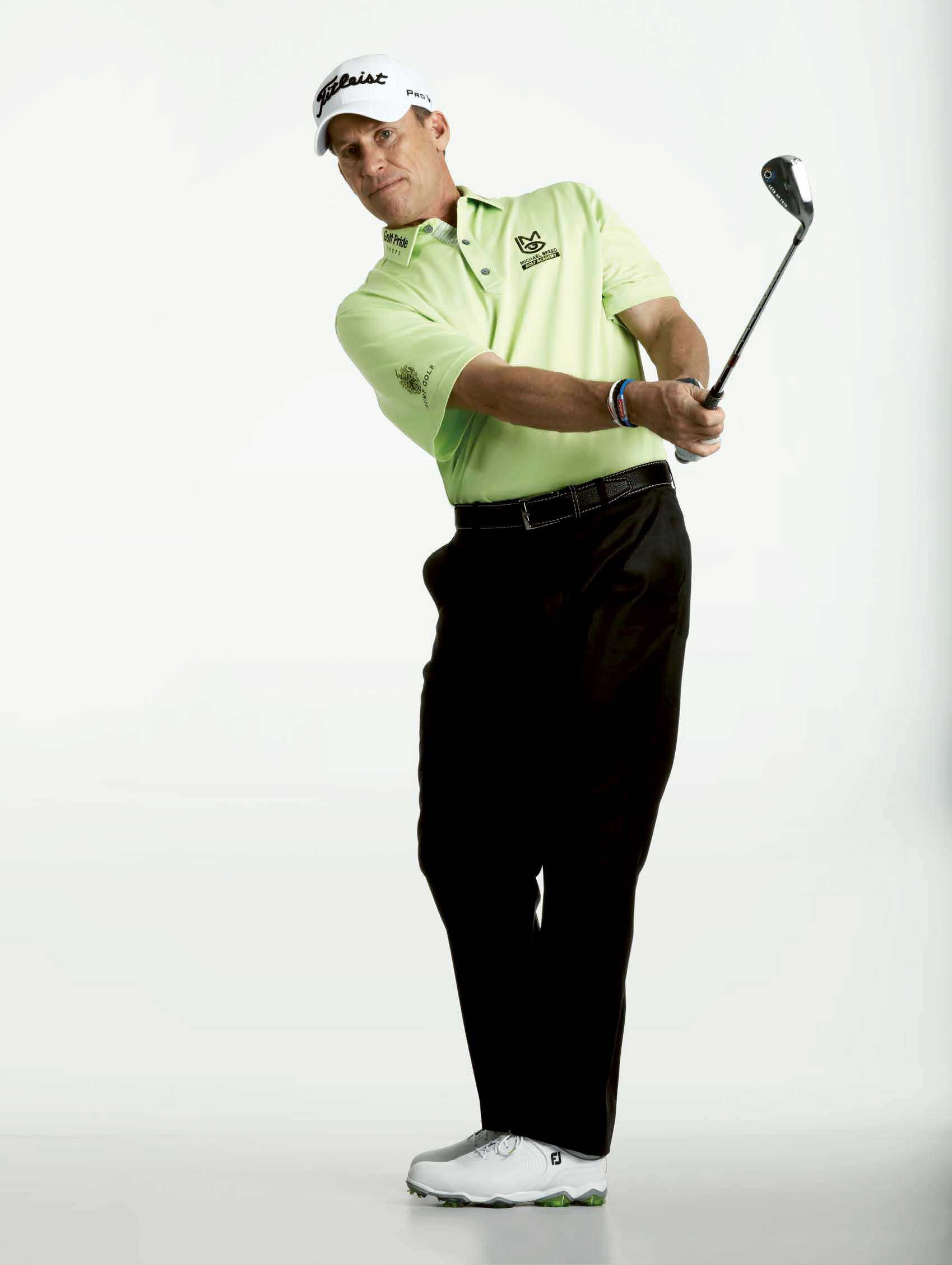 1 SWING THE HANDLE TO THE HIP

THE FIRST SKILL to learn in the short game is swinging the grip end of the club to the left through impact. This might seem oddly simple, but it's absolutely critical. Swinging directly towards the target, which so many amateurs do, causes poor contact because the low point of the swing comes behind the ball. It also causes deceleration, because the club runs out of room going straight. Poor contact and deceleration are killers around the green.

Swinging the handle to the left moves the low point of the swing forward, so you hit the ball and then the ground.

It also helps you make contact with the centre of the face. And then there's acceleration. You're creating more space for the club to travel. Swinging left is the master move of the short game.
You can read up to 3 premium stories before you subscribe to Magzter GOLD
Log in, if you are already a subscriber
Get unlimited access to thousands of curated premium stories, newspapers and 5,000+ magazines
READ THE ENTIRE ISSUE
Aug 2018