Reed Vs Rory
Golf Digest South Africa
|
September 2018
AFTER THE HEROICS & HISTRIONICS AT HAZELTINE, THESE TWO (& THE FANS) ARE HOPING IT CAN HAPPEN ONE MORE TIME
DAVIS LOVE has all sorts of mementos from the 2016 Ryder Cup scattered around his house. There are two, though, that he probably enjoys looking at more than any of the others. One is the ball that Ryan Moore played on the 18th hole of his singles match with Lee Westwood. When Westwood conceded Moore's one-foot par putt shortly after 4 o'clock on that bright October Sunday in Minnesota, the Ryder Cup returned to the United States. Moore was instantly surrounded by his teammates and never bothered to pick the ball up. Love picked it up for him. "In 1993, when I made the putt at The Belfry that clinched retaining the cup, I never got the ball from the hole because I was mobbed, and then I went to shake hands with Costantino (Rocca)," Love says. "I always regretted that. I wanted to make sure Ryan got that golf ball." But when Love tried to hand the ball over to Moore, the new hero shook his head. "You keep it, captain," he said. "I want you to have it."
The other cherished memento is even smaller than Moore's golf ball. It's the tee that Patrick Reed used to hit his drive at No 18 earlier that Sunday during his epic singles match with Rory McIlroy.
"As soon as he hit it, he started walking down the fairway with this strut in his step like he knew he'd hit it 50 yards past Rory," Love says, laughing. "I just went over and grabbed it. I wanted something to remember that match by – one way or the other.
"I knew Rory had hit it way past Patrick," Love says, "but it didn't matter. He wasn't going to let the match get away. He knew it; Rory knew it; I knew it."
McIlroy had, in fact, hit his tee shot 30 yards past Reed. As Love says, it didn't matter. Reed hit his second shot to 10 feet and made the birdie putt that clinched the match.
McIlroy, who had hit his second shot to six feet, knew Reed wasn't going to miss the putt. "He hadn't missed all day," he said. "Why would he miss that one?"
When Love told Reed later about picking up the tee, Reed laughed. "I know," he said. "I saw you."
To this day, Love has no idea how it was possible for Reed to see him. "He was 25 yards up the fairway, practically running. He'd have made a great point guard with that kind of peripheral vision."
Although Sergio Garcia and Phil Mickelson would later halve a superb match – each shot 63 – it is the ReedMcIlroy duel that those who were at Hazeltine that day remember as if it ended 15 minutes ago.
"Tiger was walking with them, and he had his radio open," says Jim Furyk, who will captain this year's American team outside Paris beginning September 28. "We would hear this massive cheer come through the radio, and then he'd have to wait at least a minute, maybe longer, to talk to us because it was so loud."
At one point, Woods, who has put on some shows of his own, said, "You guys won't believe what I'm seeing right now."
THE MATCH THAT ALMOST WASN'T
The Americans had a 9½-6½ lead at the end of Saturday's fourball matches. But everyone on both sides remembered Medinah in 2012, when the US team had led, 10-6, going into the singles matches.
Love had been the US captain that year, too. Late that Sunday night, when he went to the European team room to congratulate captain Jose Maria Olazabal and his players on their victory, his good friend Darren Clarke had taken him aside, put an arm around him and said, "What the hell were you thinking?"
Europe had, as Love now puts it, "loaded the boat," putting its best four players out first, knowing it needed blue on the board early. Love had put out a more balanced lineup. Before you could say, Miracle at Medinah, Europe won the first five matches and went on to retain the cup.
"What I learned that day was, I had spent months thinking about the pairings for the first two days," Love says, "and I did a good job with it. But I spent maybe an hour or two thinking about Sunday's lineup, and that's 12 matches. When they asked me to captain again, I vowed not to make the same mistake."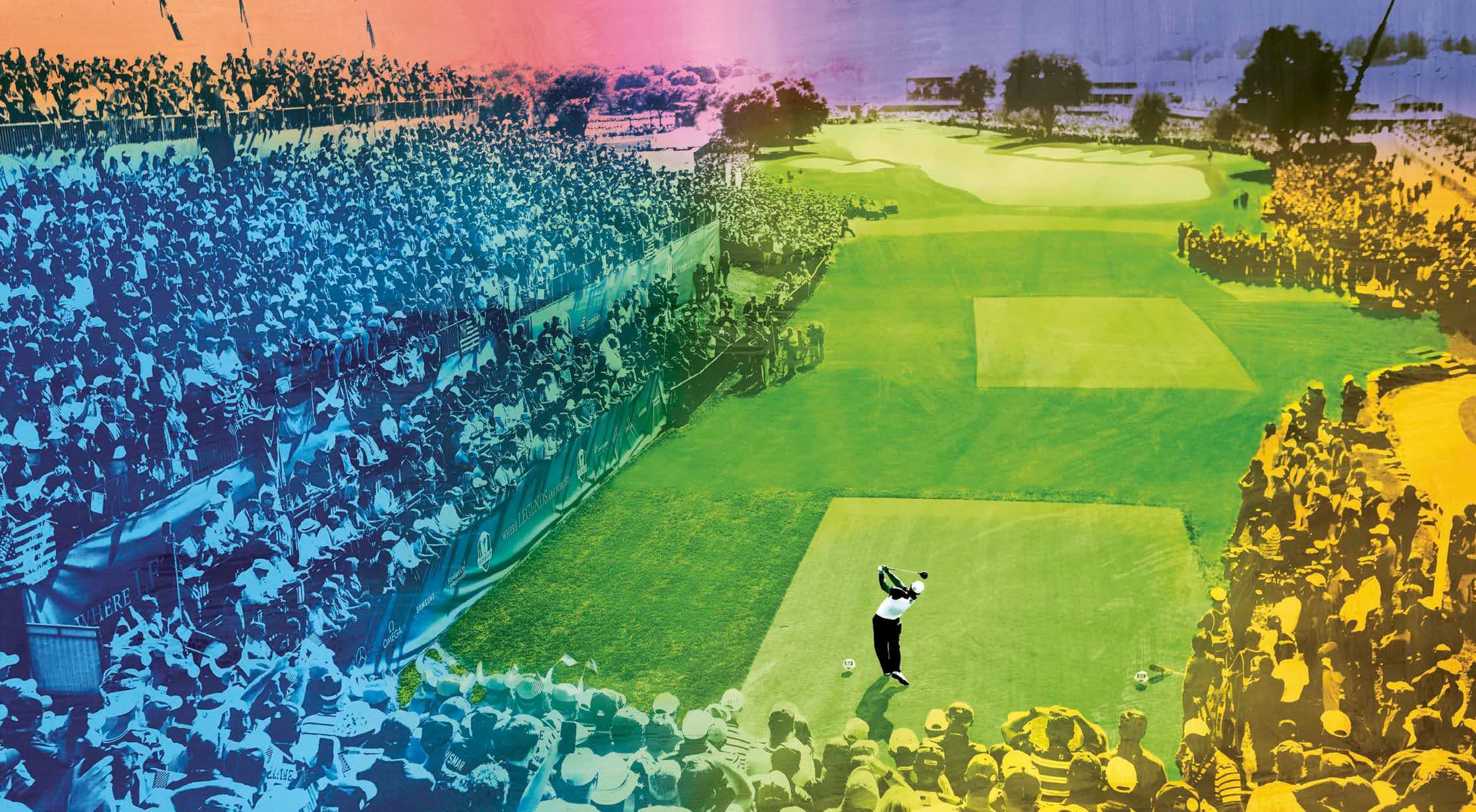 After the matches ended on Saturday at Hazeltine, Love sent his five vice captains – Woods, Furyk, Tom Lehman, Steve Stricker and Bubba Watson – to the back of the Hazeltine locker room to start putting pairings together. He sat in the club's dining area – the US team room – with his players to talk to them about the next 24 hours.
By the time he walked in to where his assistants were waiting, Love was having a bit of a panic attack. For months the plan had been to load the boat on Sunday – whether leading or trailing. A fast start was imperative to either keep spirits high, among players and the rabid crowd, or to get them going.
You can read up to 3 premium stories before you subscribe to Magzter GOLD
Log in, if you are already a subscriber
Get unlimited access to thousands of curated premium stories, newspapers and 5,000+ magazines
READ THE ENTIRE ISSUE
September 2018