North West Ireland
Golf Digest South Africa
|
May 2018
For the golfers who love the remote parts of Ireland, and seaside links in Giant Dunes.
THE MANY GOLFERS WHO VISIT IRELAND ARE GENERALLY THERE TO PLAY a bunch of "bucket-list" courses, so it's surprising to see just eight of their courses in the Golf Digest World 100. Ireland has been short-changed when you consider that Scotland has 16. But those of us who love playing golf in Ireland will be delighted by this ranking, because so many of their undiscovered gems will remain just that.
One area of Ireland where coachloads of golfing tourists are less likely to be found is the North West, and it was to the remote west coast community of Belmullet in County Mayo that we drove from Dublin last June to begin an intensive golfing week.
Here, close to the Atlantic Ocean, mid-summer can feel chilly, even on a sunny day, for South Africans used to warmer climes. Our main street hotel, the Talbot, was a comfortable refuge following an early evening stroll around the small town. It was a smart, trendy establishment, serving wholesome food and drink, busy on a Sunday evening.
PGA Tour golf was showing on a big screen in the pub. We may have been in the back of beyond, but there was no sense of isolation in our surroundings.
One of the charming features of golf in North West Ireland is the remoteness of many of its links. In the main they are in quiet, scenic locations, usually on back roads, and that's part of the fun of playing them. The courses huddle against the prevailing winds on wild lonely coastlines, or beautiful bays, away from most human habitation. The Carne links at Belmullet is no exception, although we were surprised by how many holiday cottages were on the peninsula. And there was a fair-sized supermarket nearby.
Ireland is unlike Scotland in that several of the courses in the west are relatively new. Investment in them was mainly done to attract wealthy American tourists to poor west coast communities, not for the pleasure of locals. Yet, thanks to the ancient terrain on which they were built, they look as if they have been there for centuries. Carne is one such links. It was opened for play 25 years ago, the last work of Irish course architect Eddie Hackett, who was in his 80s when he completed it.
Hackett was the catalyst in creating new courses on undeveloped linksland at a time (1960s to 1990s) when there was little money for such ventures in Ireland. He designed or remodelled some 85 courses, and has been called the unsung hero of Irish golf.
A BRISK PACE
One of the rewards of golf in the North West is experiencing a seemingly endless sequence of spectacular golf holes plunging through big dunes in a beautiful setting; another is the brisk pace of play and empty holes ahead of you. And when locals are pushing from behind in a hurry it's best to let them through. Occasionally you bump into a slow fourball, but they soon wave you on.
Carne's front nine is nice enough, but its reputation as a course ranked No 16 by Golf Digest Ireland was built on the back nine. Nine fabulous holes tumble over and through the coastal dunes, like the big dipper at an amusement park. The fairways are wide, but in the wind it is all too easy to miss them, and see your ball plunge down the steep slopes of a dune, as at the splendid par-4 17th.
The dunes are so plentiful that development was begun on a second course, as they did at Ballybunion, but Carne does not get enough visitors to justify 27 or 36 holes. The new holes are now out of play, yet can be clearly seen heading off into the rugged terrain.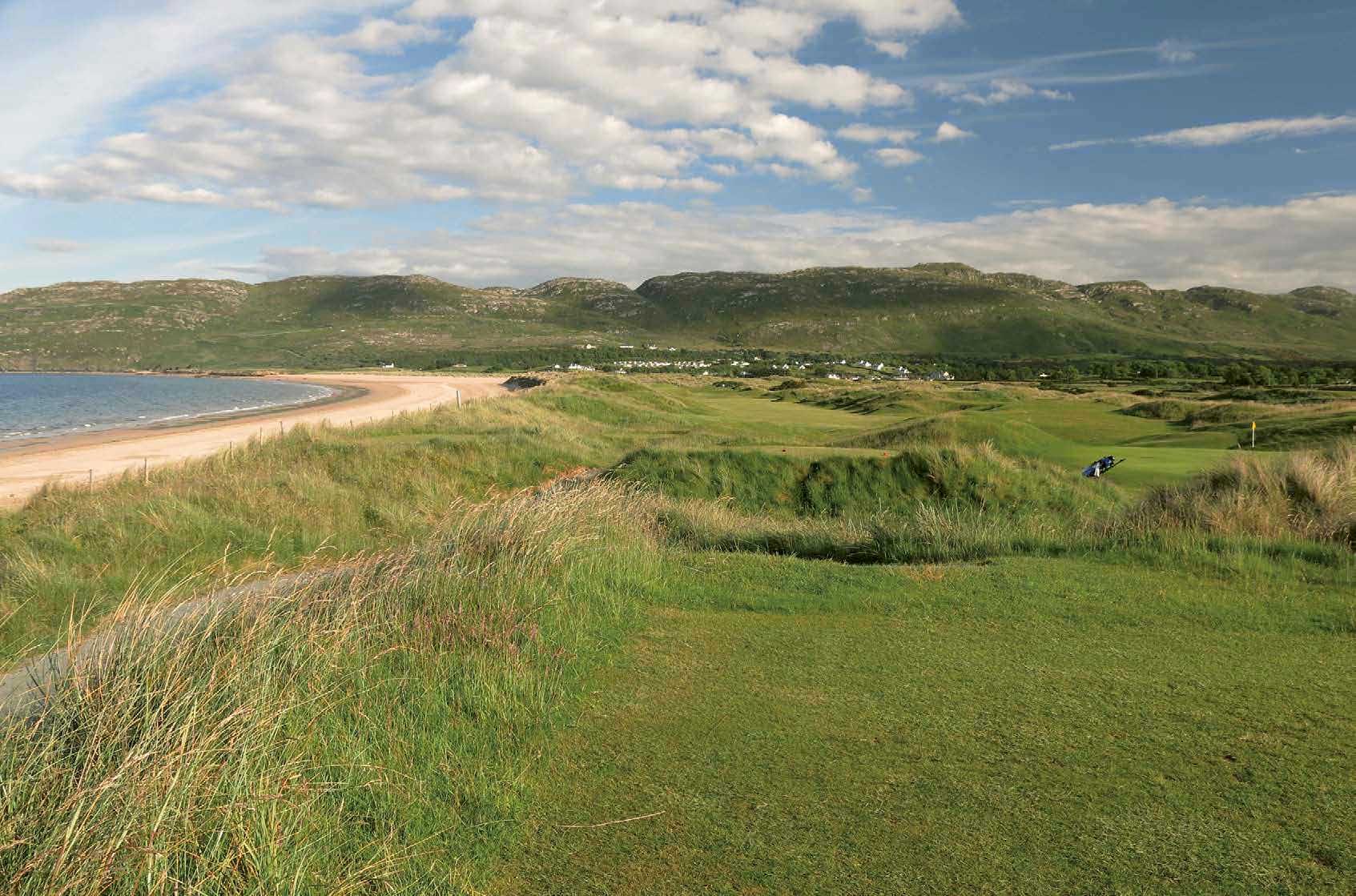 From Belmullet, travelling along the Wild Atlantic Way, it's an hour's drive to another remarkable links, Enniscrone. It possibly surpasses Carne in terms of beauty and giant dunes. Arrival at the clubhouse gives you no idea of what lies ahead. Flat golf holes lie in abundance around you. But don't be dismayed, this is a 9-holer for less intrepid locals. The golf club celebrates its centenary this year, but the Dunes Course is a 1970s creation that has been extensively altered since then.
You can read up to 3 premium stories before you subscribe to Magzter GOLD
Log in, if you are already a subscriber
Get unlimited access to thousands of curated premium stories, newspapers and 5,000+ magazines
READ THE ENTIRE ISSUE
May 2018