All In
Golf Digest South Africa
|
September 2016
After some Fragile Moments Jason Day turns inspiration into obsession.
THERE'S AN EASY "HI, MATE" OPENNESS AND HUMILITY TO JASON DAY. The 28-year-old Australian calls himself "a boring person," equating golf 's other 20-somethings to "the popular kids in school . . . I'm just the nerd in the back." Day's attempt at a recent press conference to explain his combination of power and touch – "Jordan Spieth and Rory McIlroy had a baby, and I was it" – was slightly, though charmingly, off. It's why he lets his wife, Ellie, do his tweeting. But Day's warmth is the reason his ascension to World No 1 last September, shortly after winning his first major championship, at Whistling Straits, has been a popular one in the caddie yards, equipment trailers and tournament offices of professional golf, and especially among the tight group of players and families who, like the Days, regularly travel and try to normalise tour life in a luxury RV. "Jason has a sweet nature that's pretty laid-back, even when he's got to be intense," says fellow Aussie and friend Geoff Ogilvy. "Most players, especially the really good ones, aren't like that."
Day is unlike his peers in another, seemingly opposite way. From age 10 to 13 in a rough side of Rockhampton, a Gold Coast town north of Brisbane, Day got into a lot of fistfights. Though many took place in schoolyards, they were still the gasping, desperate kind that ended when one party quit or got hurt, although the stress of a quick rematch could loom.
It's not the background of most professional golfers. As Lee Trevino, a brawler in his public golf years in Dallas and El Paso, told Golf Digest's Guy Yocom, "Think twice before throwing the first punch, because you're making a big commitment." It's true that the first time Byron Nelson saw Ben Hogan, the fellow 13-year-old was boxing against another Fort Worth caddie named Joe Boy. Chi Chi Rodriguez fought for sodas in the streets of San Juan, Ian Woosnam and Fred Funk boxed as kids, and Esteban Toledo was once a talented professional fighter. But these days, fighting has pretty much been drummed out of golf.
Day fought mostly as a result of the violence in his home. Earlier this year, he revealed on David Feherty's television show that his father, Alvyn, was an alcoholic who physically abused Jason and his mother, Dening. Not long after Alvyn's 6-year-old son showed immediate talent and enthusiasm for hitting shots with a 3-wood recovered from a garbage dump, the father began taking Jason to local junior tournaments and applying an extraordinary pressure to perform. At 11, Day says, "If I played bad golf, he'd beat me up."
When Jason was being bullied in school, or, as the only Asian kid in his class (his mother is Filipino), was taunted with racial slurs, he dreaded his father finding out. "He'd tell me, 'If you don't fight that kid tomorrow, I'm going to beat you up when you get home,' " Day says. "So I'd get in a fight."
Alvyn died of stomach cancer when Jason was 12. Not surprisingly, the leftover turmoil and anger within his son, now without a strong authority figure, led to an aimless period of drinking and more fighting.
Day says he doesn't remember much about those days. "Maybe I've blocked it out," he says. "I look back on the influence my dad had on my life and career, and I just try to take the best parts of what he had." Although on "Feherty" he said, "Every now and then I think about him and absolutely hate him."
But Day recalls, and sometimes draws on, the sensations of being in those early fights. "Anything can happen, so you have to control your attitude and stay strong," he says. "Another person is trying to hurt you, and you're trying to hurt them, so if you make a mistake, you're in trouble. My dad was the way he was, but he also gave me a motto: never say die. Just to keep pushing and pushing, fighting until the end. He put it in my head that you're always going to fight, and you're always going to beat them. At the same time, my mother, who is the hardest worker I know, told me that the best thing about me was that I never give up. If I have an extra gear, that's where it comes from."
Although he hasn't been in a fight since he was 13 – "I would suck at it now" – Day knows there is a hardness from those days deep within. He accessed it in winning the WGC-Match Play in 2014 and 2016, and in his insistence during those mano-a-mano battles on making opponents putt short ones that might normally be conceded.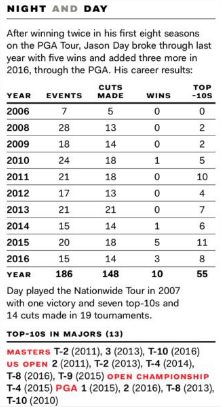 The increased self-awareness that has been part of Day's growth as a player is reflected in a lexicon that clearly sees tournament golf as a psychological battle. He favours terms such as "fight or flight," "instant" versus "delayed" gratification, "being comfortable with being uncomfortable," avoiding "self-sabotage," and the need to "walk towards the fear" to describe his feelings and thoughts during competition.
You can read up to 3 premium stories before you subscribe to Magzter GOLD
Log in, if you are already a subscriber
Get unlimited access to thousands of curated premium stories, newspapers and 5,000+ magazines
READ THE ENTIRE ISSUE
September 2016