Thomas Müller - The Modest Assassin
Eight by EightWinter 2015
Thomas Müller can't beat you with ball control, pace, or dribbling. But he will beat you.
GERMANY FELL IN LOVE WITH THOMAS MÜLLER on June 27, 2010—the day of the memorable World Cup encounter between old rivals Germany and England. Deep into the second half, the 21-year-old attacking midfielder, who a year earlier had been a regular for Bayern Munich reserves in the third division, coolly finished off a picture-book counterattack to make it 3-1. Three minutes later, England were hit on the break again. And again it was Müller who put the last pass away from close range for a 4-1 final.
But those goals weren't the reason Germany fell in love with the young man. That happened after the game. Müller was on German television, flashing his goofy but endearing smile. At last, the interviewer congratulated him once more on an outstanding performance and indicated the player was now free to join the festivities in the dressing room.
"Can I say 'Hi' to someone?" Müller asked. Startled and amused, the reporter said yes, sure. Trying to locate the camera, Müller said, "I just wanted to send greetings to my two grandmas and my grandpa. That's long overdue." Then he waved into the camera like an overjoyed schoolboy who's just won a spelling contest and knows his grandparents will be proud of him.
Needless to say, the next day the phone in the village of Pähl, 25 miles south of Munich, rang off the hook. Finally, the Süddeutsche Zeitung newspaper got hold of 81-year-old Erna Burghart, one of Müller's grandmas. She said she always lit a candle when Thomas played but had forgotten this time, which is why she was slightly surprised he'd scored nonetheless. Asked about the greetings on live television, she replied: "Nice, wasn't it? Such a sweet boy."
"I hadn't planned this. I couldn't, because I didn't know I'd be scoring two goals and giving postmatch interviews," the sweet boy told Eight by Eight in an exclusive interview. Müller was relaxing in a hotel room in Frankfurt, where the national team had come together to prepare for a Euro 2016 qualifier in Dublin against the Republic of Ireland. "It was spontaneous. And I underestimated the whole thing. I had been part of the circus that is professional football for only one year and didn't have much media experience. My grannies were besieged by the press. I just hadn't considered that they might become the center of attention because of all this."
Müller's gesture endeared him to the public. Amid the frenzy, the madness, and the parade of inflated egos in a massive global event like the World Cup, saying hi to your grannies seemed so, well, normal. And indeed today, five years and many trophies later, it's still the first thing everyone remarks on when talk turns to Müller: He seems so normal. From his name—statistically the most common in Germany, which is why "Thomas Müller" is sometimes used to describe the ultimate average guy—right down to his looks.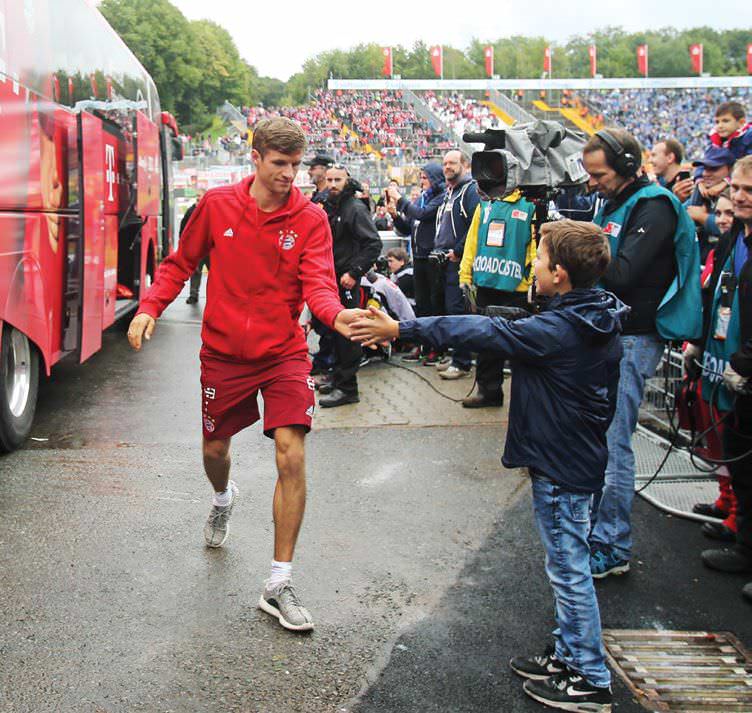 Müller is the first to admit he has spindly legs and the sort of chest his former teammate Bastian Schweinsteiger described as a "chicken breast." His wife is not a model but an amateur dressage rider (and "a local girl," as grandma Erna proudly told the press). Müller sports a nondescript hairdo and doesn't have a single tattoo. When I asked him if there isn't a lot of pressure in the dressing room to adopt the now-universal look, he said, "No, not at all. And even if there would be pressure, I'd be able to withstand it." Then he added, "See, I just don't give a lot of thought to these things. I just try not to pretend to be something I'm not."
You can read up to 3 premium stories before you subscribe to Magzter GOLD
Log in, if you are already a subscriber
Get unlimited access to thousands of curated premium stories, newspapers and 5,000+ magazines
READ THE ENTIRE ISSUE
Winter 2015