The Confession of Arian Foster
ESPN The Magazine
|
August 17,2015
The Pro Bowl running back doesnt believe in God. Now, for the first time publicly, he's ready to share why.
Life's biggest questions are leading me through a narrow street in a stately Houston neighborhood, where haunting piles of home furnishings - cabinets, carpet, curtains - lie on the north side of the street in mud-streaked abandon. Meanwhile, the south side, unharmed by the torrential rain, looks as if it took up arms and ravaged the other. The difference is so stark, so precise, that some might be tempted to invoke divine intervention.
But if a just God intervened to spare the folks on the south side, why would he beget fires-of-hell vengeance upon those who happened to purchase a home on the other side of the street, where the floodwaters flowed over the curb, across the lawns and through living rooms and kitchens?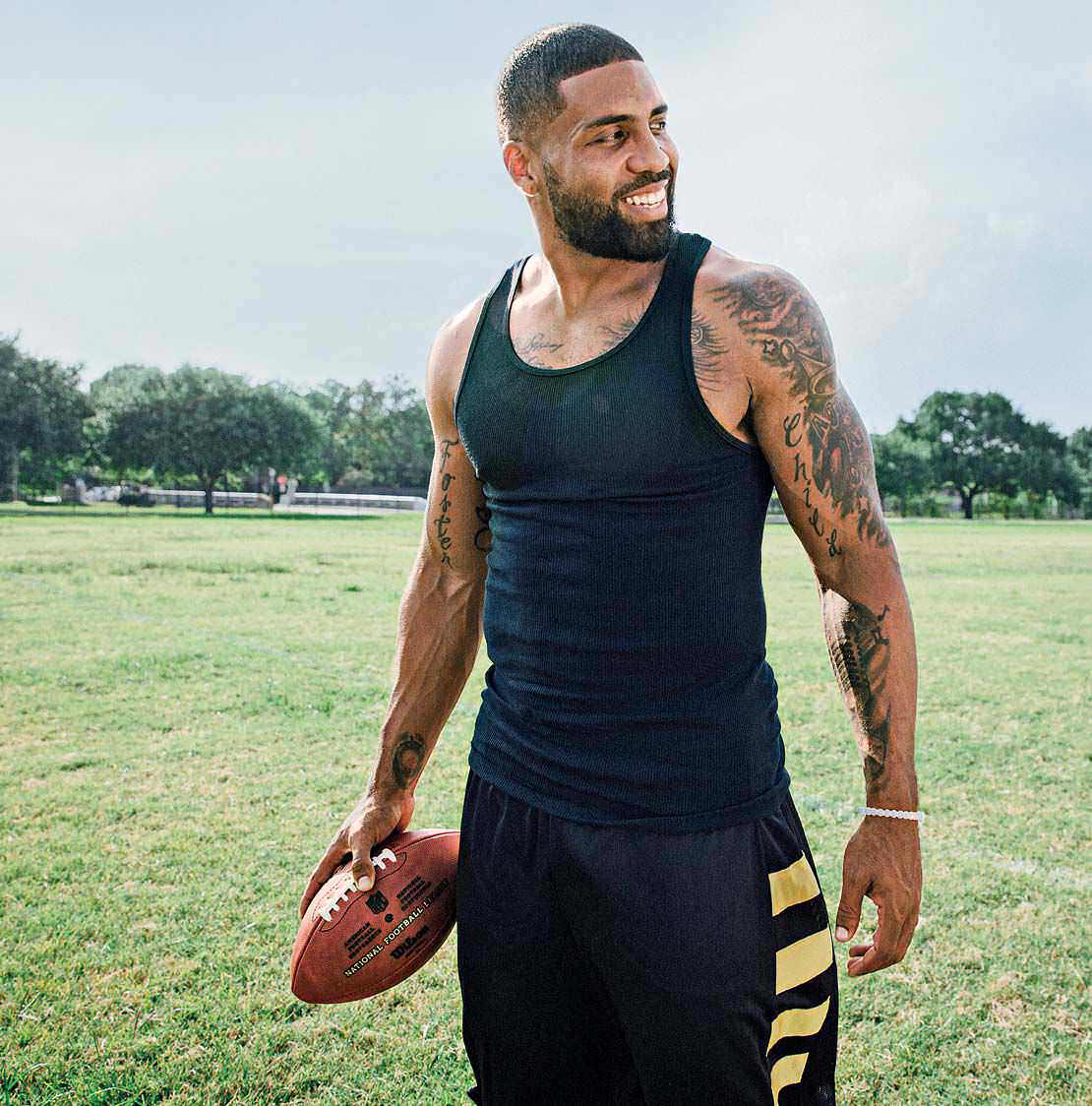 And is it blasphemy to even ask?
In a room toward the back of a home on the dry side of the street, Arian Foster ponders such questions. Given the reason I'm here, he laughs at the notion of celestial involvement in the water's path. Where some might see the hand of God, Foster sees physics and engineering, the slope of the road and the elevation of the homes in relation to a swollen runoff canal that bisects an arterial a few hundred yards away.
Science and faith. They've brought us to this place, where Foster is ready to tell the story he's been leading toward for as long as he can remember.
THE HOUSE IS a churn of activity. Arian's mother, Bernadette, and sister, Christina, are cooking what they proudly call "authentic New Mexican food." His older brother, Abdul, is splayed out on a room-sized sectional, watching basketball and fielding requests from the five little kids—three of them Arian's—who are bouncing from the living room to the large playhouse, complete with slide, in the front room. I tell Abdul why I'm here and he says, "My brother—the anti-Tebow," with a comic eye roll.
Arian Foster, 28, has spent his entire public football career—in college at Tennessee, in the NFL with the Texans—in the Bible Belt. Playing in the sport that most closely aligns itself with religion, in which God and country are both industry and packaging, in which the pregame flyover blends with the post-game prayer, Foster does not believe in God.
"Everybody always says the same thing: You have to have faith," he says. "That's my whole thing: Faith isn't enough for me. For people who are struggling with that, they're nervous about telling their families or afraid of the backlash … man, don't be afraid to be you. I was, for years."
He has tossed out sly hints in the past, just enough to give himself wink-and-a-nod deniability, but he recently decided to become a public face of the nonreligious. Moved by the testimonials of celebrity atheists like comedian Bill Maher and magicians Penn and Teller, Foster has joined a national campaign by the nonprofit group Openly Secular, which plans to use his story to increase awareness and acceptance of nonbelievers, especially in sports. The organization initially approached ESPN about Foster's willingness to share his story, but ESPN subsequently dealt directly with Foster, and Openly Secular had no involvement.
It's difficult to imagine that any current or former teammate of Foster's will be surprised to learn that he does not believe in God. He openly discusses religion in the locker room, and opposing players often introduce themselves by saying, "I hear you're different." And yet he's spent six years in the NFL shielding his non-belief from the public out of fear of being misinterpreted or— even worse—mislabeled. "This is unprecedented," says Todd Stiefel, chair of Openly Secular. "He is the first active professional athlete, let alone star, to ever stand up in support of gaining respect for secular Americans."
The language of the unburdening, of the coming-out, is telling. The politicization of religion, and the religionization of politics, has created a feeling of marginalization among those who don't believe. Religion has become so entwined with the culture of sports that it has become its own language. Open Christianity is a subtext that draws players toward one another, even if they've never met, as if a single shared belief grants membership to the club.
Foster, who has run for more than 6,000 yards and been named to the Pro Bowl four times, understands the sensitivity of the topic and how telling his story might be perceived negatively within the conservative, image-obsessed league. "They're going to stay away from anything taboo,which makes sense," Foster says of the NFL. He also acknowledges the possibility of backlash in heavily evangelical Houston, home of Joel Osteen and the city that helped put the mega in megachurch. "You don't want to ruin endorsements," he says. "People might say, 'I don't want an atheist representing my team.' Now, though, I'm established in this league, and as I'm digging deeper into myself and my truth, just being me is more important than being sexy to Pepsi or whoever. After a while, what's an extra dollar compared to the freedom of being you? That's the choice I made."
Foster was raised Muslim in Albuquerque, New Mexico. "Prayed five times a day, facing east," Foster says. His father, Carl—"a free thinker, very intelligent, knows the Bible front and back," Arian says—pushed him to ask questions and challenge convention.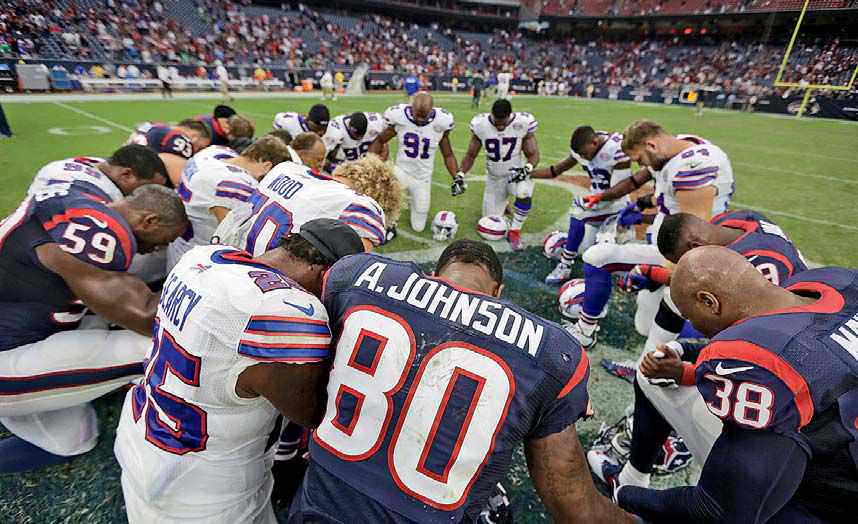 It's a unique relationship. When high school coaches in Albuquerque wanted to move Arian from running back to defensive end for his junior year, Carl Foster wouldn't hear of it. A former college wide receiver, already disenchanted by what he felt was the mishandling of Abdul's football career, Carl arranged with his boss to reduce the travel for his job in the hospitality industry so he could move to San Diego with Arian for his final two years of high school. Carl and Bernadette were divorced, and Arian was using drugs and doing so poorly in school that he was unable to play basketball in his sophomore year. "I needed to get out of there," Arian says. "Not a good scene." Carl enrolled Arian in San Diego's Mission Bay High School and rented what he calls "a one-room shack" four blocks from the beach for $1,200 a month. Father and son awoke most mornings before 5 and headed for the beach, where Arian would train in the sand under his father's tutelage. "I lived literally four feet from my son for two years," Carl says. "He slept on one side of the room and I slept on the other."
Arian felt he was living a lie every time he knelt to pray. His prayers carried intensity only when he faced turmoil. If you can just get me out of this jam. It was meaningless and dishonest; he didn't believe there was anything or anyone out there capable of helping him. He read the Bible and the Quran in search of evidence that would override his skepticism. The concept of an omnipotent being nagged at him. Why is this relationship so one-sided? Why would a loving God create evil? Why would he allow eternal damnation? Foster felt like "a contestant in his game show." During his time in San Diego, elbow to elbow in that room with his father, he inched closer to releasing his secret. Discussion followed discussion, and still Arian could not be convinced. There was backlash to consider then too: Carl Foster might have been an open-minded, well-read man, but religion was important to him. Finally, toward the end of his junior year, Arian summoned the courage to tell his father he did not believe—only to see his father nod knowingly and say, "Go find your truth."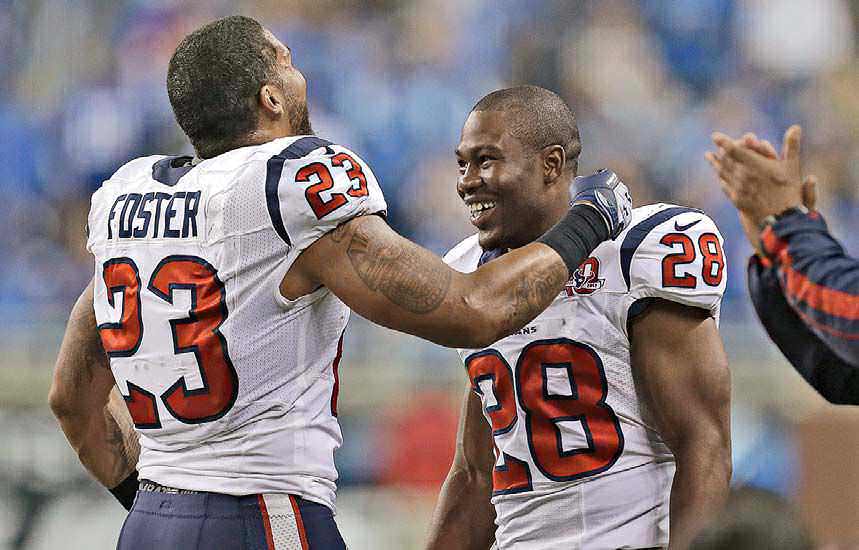 "It was a proud day," Carl says. "We raised our kids to be free thinkers. We wanted them to be their own people."
Arian thought college should be an adventure that demands adaptability and invites discomfort. He verbally committed to Oregon during a 2,000-yard senior season before changing his mind and choosing Tennessee, partly because he kept hearing local coaches say he'd never be an SEC-level running back. ("My rebellious ass," he says.) Foster says he believes he was the only member of the team who did not identify as either Christian or Catholic, which made him a source of speculation and misconception. His views, and his eagerness to share them, engendered an emotion that angled toward fear. He says his contrarian side sought out religious arguments with fundamentalist teammates, who would often attempt to dismiss the discussion by insisting, "Well, you must believe in something." He pressed, telling them no, he believed in nothing, not Allah or God or the divinity of Christ. He wielded his defiance like a sword, reveling in the discomfort it generated. If he alienated teammates with his willingness to be different, all the better. His verbal ferocity was all rawness and sharp edges, and it allowed people to project upon him their worst fears.
You can read up to 3 premium stories before you subscribe to Magzter GOLD
Log in, if you are already a subscriber
Get unlimited access to thousands of curated premium stories, newspapers and 5,000+ magazines
READ THE ENTIRE ISSUE
August 17,2015