Steven Gerrard Is Out To Prove Himself In LA
ESPN The Magazine
|
August 17,2015
Legendary midfielder Steven Gerrard hung up his Liverpool boots after 17 years with the Reds. Now, in all white for the LA Galaxy, he's out to prove himself all over again.
Steven Gerrard takes his seat in the front row of a private box at StubHub Center in Carson, California, and settles in to watch his first game as a stateside member of the LA Galaxy. It's July 4, and the stadium is sold out, 27,000 strong and festive. The LA Riot Squad, one of the team's more notable supporter groups, has been well refreshed by a truckload of beer Gerrard bought for its tailgate—veteran move, that—accompanied by a hand-signed letter: "I look forward to meeting you at tonight's match." Gerrard is more than getting his wish. This isn't Anfield, and he is essentially sitting in the crowd, separated only by a low block wall.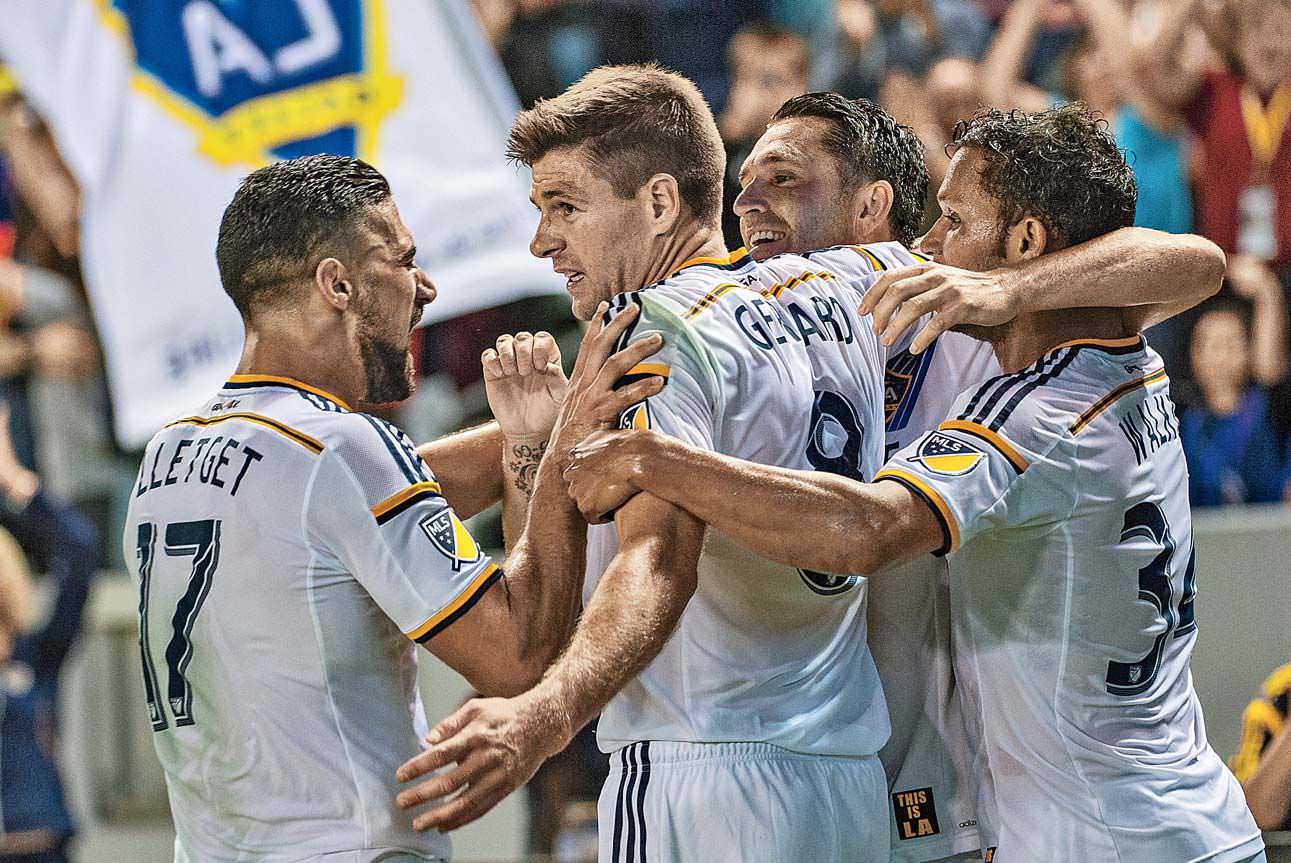 ​A steady stream of fans stops by for autographs and pictures; a few of them are already wearing Gerrard's No. 8 in Galaxy white. "That's a bit of a gamble," he says. "They haven't seen me play yet." He points to one fan in particular: "He'll be back wearing his Robbie Keane jersey next week."
Gerrard is a soccer legend, a standard-bearer for Liverpool and for England. In a season of marquee signings for Major League Soccer— Juventus' Andrea Pirlo and Manchester City's Frank Lampard to New York City FC, Chelsea's Didier Drogba to the Montreal Impact—he's arguably the biggest, in part because he has worn only one club jersey his entire career. He's been lifted out of a safe no one believed could be cracked. But he's still taking tentative first steps in LA, a city he had never visited before signing his 18-month contract with the Galaxy. "I feel like a kid on the first day of school," the 35-year-old says. The jet lag has slowed him, and the traffic has left him off-balance, and he's watching the game he loves played by strangers. (Keane, a former teammate at Liverpool, is a notable exception.) He can't take the field before the MLS transfer window opens on July 8, so here he sits, a spectator, while the rest of the Galaxy take on Toronto FC. "I'm not a good watcher," he says.
Gerrard, as it turns out, is an excellent watcher. He sees soccer differently, sees it from the inside even from the outside. From the opening whistle, he points urgently to open men, curls his fingers to shape the ball, exhorts and admires and admonishes each side, nearly equally. "He's a good player, No. 10," he says, referring to Toronto's Sebastian Giovinco, the dangerous Italian forward who transferred from Juventus this season. The Galaxy earn an early penalty, and when Keane steps up to the spot, Gerrard can't help guessing along with the keeper. "I think he's going to reverse it, toward me," he says. Keane fools even his old friend, going right and just under the bar for a 1-0 lead.
When Liverpool manager Brendan Rodgers told Gerrard he'd see fewer and fewer starts, and after the club danced around signing him last year, he began looking for a new home for the first time in his life. He received offers from Premiership sides and clubs across Europe, but he couldn't stomach the idea of playing against Liverpool. His agent, Struan Marshall, was talking to Galaxy president Chris Klein when Klein—"It was almost kind of a joke," he says today—asked about Gerrard's plans. To Klein's surprise, Marshall replied: "You know,I think we could have something."
The team quickly put together a reported $9 million offer for a season and a half of work.Gerrard did his version of due diligence, calling a number of friends who had made the move to MLS, including Keane, Thierry Henry and David Beckham, another celebrated LA import. (Gerrard says the first question he received upon his arrival in Los Angeles was more of a statement: "You're not as good-looking as Beckham, are you?") Beckham—more famous but perhaps further past his prime when he made his move to California at age 32 in 2007—was emphatic: "Go for it, you'll love it," he told his former England teammate. "That was it," Gerrard says.
Now, from his perch in the suite, he burrows deeper into the layers of the American game. He's taking careful note of the time that players have with the ball, the distance from the front to the back, the movement of the midfielders. "We're quite high and aggressive," he says, monitoring the Galaxy's forward lines. "The important thing now is not to concede. Just frustrate them." Galaxy midfielder Sebastian Lletget makes a run, and Gerrard shifts to the edge of his seat: "Can you? In the box! In the box!"
He is asked whether he'll be as commanding on the field as he is from the stands, or whether he'll take time to introduce himself to his new team before he starts issuing orders. "I'll be what I've been since I was 17 or 18 years old," he says. "I'm not going to change. It'd be naive of me to watch this and think, 'This looks easy.' But I'll be fine."
The Galaxy's A.J. DeLaGarza blocks a shot and Gerrard claps his hands like a fan. "Superb defending," he says. LA counters and Gerrard starts shouting, "Change it! Change it!" He is struck by the play of his fellow midfielder Juninho, the tiny, quick Brazilian. "Oh, he's a lovely little footballer," Gerrard says. "Do you see the way he's looking over his shoulders? He's already done the work before the ball comes." Toronto's Giovinco manages to loft a high shot off a broken play and Gerrard again takes note. "He's very clever. Have to watch him. Not many players have that sort of vision."
Giovinco isn't the only one to have earned an admirer tonight. A stumbling fan in an Iron Maiden T-shirt, blinded by both drink and possibility, makes his way to the wall in front of Gerrard. "I love you, Stevie," he slurs. Gerrard's wife, Alex Curran, is sitting behind him, and he turns to look at her, a little wide-eyed. He's fast realizing that while he won't be nearly as conspicuous in LA as he is in Liverpool, he'll be more accessible. Los Angeles won't abide reverence's limits.
You can read up to 3 premium stories before you subscribe to Magzter GOLD
Log in, if you are already a subscriber
Get unlimited access to thousands of curated premium stories, newspapers and 5,000+ magazines
READ THE ENTIRE ISSUE
August 17,2015