Michigan vs Ohio State - Natural Born Rivals
ESPN The Magazine
|
August 17,2015
Jim Harbaugh and Urban Meyer have long been destined to lead the games most storied rivalry. But even they're surprised to learn of their remarkable shared history.
Brett Forrest, illustration by Butcher Billy
You don't have to travel to Ann Arbor to catch the Jim Harbaugh show. If you live near a high school football field, Harbaugh will come to you. In June, the new Michigan coach toured the country, stirring excitement and controversy equally by orchestrating nine prep camps in six other states. Who would've known that Michigan football has struggled for nearly a decade? Like a magician with a silk handkerchief fluttering from one hand and a coin palmed in the other, Harbaugh has induced the public to focus on the wrong object: himself. His sleight of hand has been so deft that you might believe for a moment that Michigan, and not Ohio State, won college football's first-ever playoff.
But if you do find your way to Ann Arbor, you'll realize how Harbaugh has re-energized college football without coaching a game. Here at Schembechler Hall, a gallery of artifacts eulogizes rosier days—cable-knit jerseys in maize and faded blue, trophies and Tom Harmon's tattered-and-torn No. 98. No séance will raise these departed souls. But there isn't a coach who understands the spirits of this program as well as Harbaugh, nor one as willing to risk his reputation to revive it.
On this afternoon in June, shortly after returning from his tour, Harbaugh is speaking quietly with a prep tight end from Massachusetts. Over the recruit's left shoulder, he detects a reporter with a notepad loitering outside his office. His eyes widen, possibly in recognition of colliding forces. Recruiting. Publicity.And the curtain lifts.
"Gimme the ball!"
Harbaugh jumps to a stance, knees flexed, arms out. He backs his rear end into the recruit's hip, bumps him off balance, boxing him out. "Basketball's great for a tight end," he says. His voice carries down the corridor. "Catch the ball. Get some reps." He raises his hands and calls for a pass.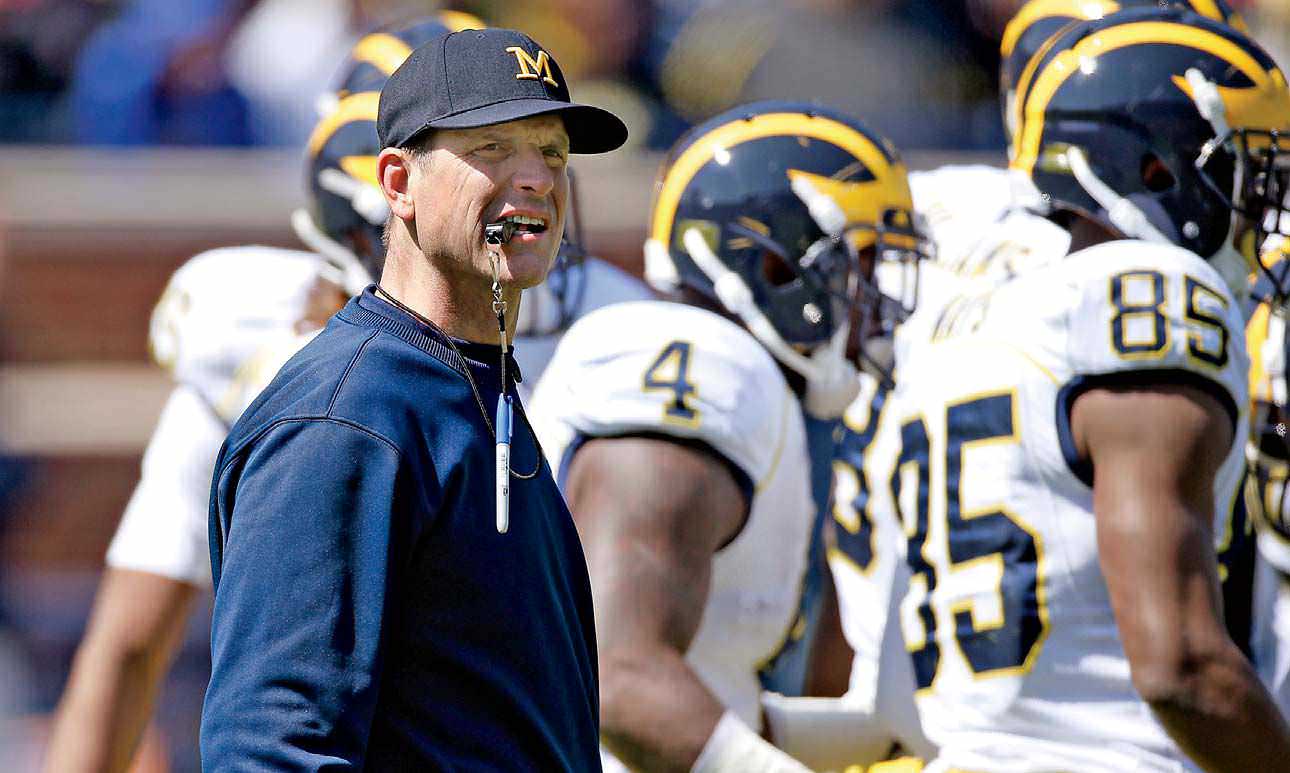 No one is sure what to do. Not the kid.Not his parents. Not Harbaugh's assistant coaches, mustering to the sound. They all stare, as one does at a man up onstage courageously risking foolishness in search of inspiration. Suddenly, as if scripted, another recruit appears.
"Hey, you play basketball?" Harbaugh yells. He leaps toward the new recruit, posting him up. "Wait," the kid says, confused. "Are you on offense or defense?" Harbaugh's neck swells. "I'm getting the ball!" he says. There is no ball. This fact now self-evident, Harbaugh ultimately straightens, fixes his eye on some distant object, then ambles onward to further duty. (The tight end, three-star recruit Sean McKeon, enjoyed the display enough to commit the next day.)
Detractors claim that Harbaugh plays to effect. At a camp in Alabama, for instance, he trotted the fields bare chested, jumping into the fray with potential recruits. Others say that Harbaugh is insensible to the ever present lenses. Still a third option exists:Maybe he is a performer by disposition.
"I'm about as transparent as a baggie,"Harbaugh says. What isn't so clear, though, is why Jim Harbaugh has become the provocateur of football coaching. But that he is. Before the arrival of Harbaugh, there was no personality strong enough to compete with Urban Meyer. A new, intensified period in the program has begun just as when Bo had Woody and Fielding had Knute, the balance of power in college football is once again poised to shift to the Midwest.
Later in his office, after posting up the prep, Harbaugh is present, though little more, his eyes darkly leveled on a greater burden. He sits against a backdrop of winged helmets and stray mementos (one plaque advises simplicity: just coach the team), declining to concede anything about the importance of beating Ohio State, much less Meyer. "It could be a nameless, faceless opponent," he says.
Harbaugh and Meyer met for the first time at an annual Big Ten coaches meeting in February, and they're still learning to become rivals. But dig deeper into the record books and a shared history unfolds along the Ohio-Michigan border a history that might indicate where this rivalry is headed.
NOVEMBER 1986, DAYS before facing Ohio State, Michigan's senior quarter back Jim Harbaugh: "We're going to play in the Rose Bowl this year. I guarantee it. We'll beat Ohio State, and we'll be in Pasadena Jan. 1."
"I was sick as a dog," Harbaugh says, remembering that trip 200 miles south to Columbus. "Hundred-and something [fever]. Got food poisoning. Just all night throwing up. I think I slept an hour."
The next afternoon, ignorant of the opposing quarterback's sickly feeling, a graduate assistant for the Buckeyes was just happy to be part of the rivalry. It was the first year in college coaching for Urban Meyer, a 22-year-old Ohio kid on the staff of Earle Bruce.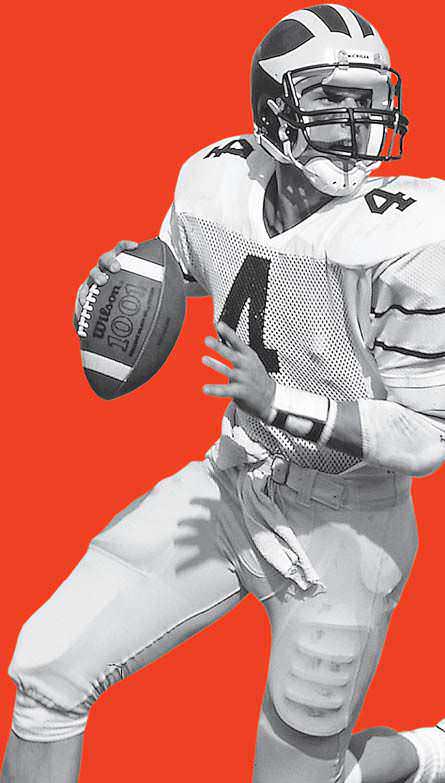 "I was a GA by pay but full-time by responsibility," Meyer recalls. "They were having a good year, but they lost to Minnesota. So all we had to do was win and we go to the Rose Bowl. … I can't tell you my phone number or address, but I can tell you all the plays."
Especially the one that provided the margin. In the fourth quarter, Harbaugh handed the ball to seldom-used tailback Thomas Wilcher. A Detroit product, Wilcher had found greater success in the high hurdles, winning an NCAA championship. But on this day, he didn't need to leap, simply plowing the ball seven yards over the goal line to put the Wolverines up 26-17. They would hold on for a 26-24 victory.
IN THE JUNE drizzle, Wilcher attends to the sidelines of Dakota High School in the Detroit suburb of Macomb. More than 1,000 prospects looking for scholarships clap in unison. The Sound Mind Sound Body camp might be the country's best gathering of recruits and coaches.
Meyer will be here. Harbaugh too. And Michigan State's Mark Dantonio, and Brian Kelly from Notre Dame, as well as Penn State's James Franklin.
Dressed in a green pullover and baseball hat, Wilcher is too stout these days to clear a hurdle, but he still finds himself central to the fortunes of Michigan and Ohio State. Wilcher is the coach at Cass Technical High School, and although Detroit might no longer be the factory town it once was, Cass Tech stamps out top preps with industrial regularity. Players have generally rolled off the line to Ann Arbor, but the recent rise in Columbus has altered the supply chain, placing Wilcher squarely between Harbaugh and Meyer.
Last year Cass Tech running back Mike Weber was considered the best recruit in Michigan, a 5-foot-10, 210-pound bruiser with elite speed. "Mikey's heart was at Michigan," Wilcher says. Weber committed to previous UM coach Brady Hoke,but when last season disintegrated in Ann Arbor, Weber reconsidered.
Wilcher walks the fields coaching the kids. He passes Dantonio, who won the Rose Bowl in 2014 and this year's Cotton Bowl yet still is drowned out by whatever fuss Michigan happens to make. Dantonio's scowl of the disregarded is deepening. Wilcher keeps walking, past Kelly, who stands under a tent, out of the rain, where he endures a shower of questions from a few website guys with a camera:
"Would you rather be a dragon or ride a dragon?" one of them asks.
"Ride a dragon," Kelly says, his face enduring.
"Taylor Swift or Ariana Grande?" "Taylor Swift."
Kelly and his colleagues must play along in this paddock session of modern coaching, lest they appear distant, out of touch. They have to seem like kids but adults also. Although it is possible that 51-year-old Harbaugh enjoys listening to Lil Wayne, perhaps there is more to his gift of a personalized Michigan jersey, which former QB Denard Robinson handed off to the rapper before a recent Detroit concert.
Wilcher continues his rounds, passing Buckeyes cornerbacks and special-teams coach Kerry Coombs, who looks like a living flag of Ohio State, scarlet golf shirt, head of gray hair. During Meyer's first season in 2012, there were only two players from Michigan on the roster. He knew well the Wolverines' long held practice of poaching talent from Ohio. So he charged Coombs with returning the favor. "It was strategic," says Coombs, a longtime Ohio high school coach. "How can you ignore a bordering state if they have great football players?" The first time Coombs flew into Detroit, also in OSU gear, the attendant at the rental counter claimed he had run out of cars. On Dec. 8, two days after Ohio State had won the Big Ten title, Coombs, Meyer and running backs coach Stan Drayton visited Cass Tech to sell Wilcher and Weber on Columbus. Weber quickly committed. His pledge was solid—for 20 days until Michigan hired Harbaugh. "Mike's family told him to listen to what Harbaugh had to say," Wilcher says. "He liked what he said. He couldn't sleep. He couldn't eat. It's the effect that Harbaugh brought to the table."
You can read up to 3 premium stories before you subscribe to Magzter GOLD
Log in, if you are already a subscriber
Get unlimited access to thousands of curated premium stories, newspapers and 5,000+ magazines
READ THE ENTIRE ISSUE
August 17,2015