Michigan State, All Grown Up
ESPN The Magazine
|
October 12,2015
Since being called "little brother" by a Michigan running back eight years ago, Michigan State has put a whuppin' on its rival. Now, with another trip to Ann Arbor looming, the Spartans are closing in on the one goal that will finally put the perennial underdogs over the top - a national title.
Lansing, Michigan, is still an Oldsmobile town.
The good folks here build Chevrolets now. Not just any Chevys, mind you. Camaros. They also manufacture SUVs for Buick and GMC. The preferred vehicle, though, remains a brand name that hasn't put a new car on the road since April 29, 2004. That's when the last, burgundy Alero rolled off the line at the assembly plant down on the Grand River founded by Ransom Olds himself.
More than a decade later, five short miles away in East Lansing, Oldsmobiles surround Spartan Stadium like a moat on game days. Parking lots are dotted with 88s, 98s and 442s. The PA announcements are of another era: "Michigan license plate THR-892, you left your headlights on. It's a green Oldsmobile Bravada …"
Even this particular game day has the feel of the old days—or perhaps a new era, depending on your perspective. It's half an hour before the noon kickoff against Air Force, and the Spartans are just a week removed from a 31-28 win over then-No. 7 Oregon. A 40-something who refers to himself as Big Bill is standing in a Chestnut Road parking lot alongside his Lansing-born automobile, holding court to the encouragement of the green-and white masses as they march toward the gates.
"Mine's starting to rust out," he proudly declares, pointing to an '87 Calais, silver with a Sparty green interior. "But both my parents worked on these cars, and I'll drive it until the damn thing catches fire. Those big Detroit brands are flashier. But Oldsmobile was born in Lansing. It's old. It's Olds. But it's ours, and we don't give a damn what you think. That's how we do it here."
Big Bill is not MSU coach Mark Dantonio, but he might as well be. Big Bill's Calais isn't literally MSU football, but figuratively it is. And Big Bill's defiant jab toward Detroit and the brand names wasn't necessarily a shot at the big blue school in Ann Arbor. But yeah, it kind of was.
After decades of Big Ten irrelevance and too many Saturdays spent telling stories of dusty national title trophies (the newest of the six MSU claims is from Duffy Daugherty's fabled '66 squad), the Spartans are squarely in the middle of the College Football Playoff conversation. That might come as a surprise, but it shouldn't. Since 2010, MSU has won 11 games four times, including two Big Ten titles, a Rose Bowl and a Cotton Bowl. The past two seasons have ended with top-five AP rankings, the first since '65 and '66. After their 35-21 win over Air Force, the Spartans will ascend to No. 2, with only Central Michigan, Purdue and a trip to Rutgers in their way before the bitter rivalry game at Michigan on Oct. 17. Five weeks later, they travel to Ohio State.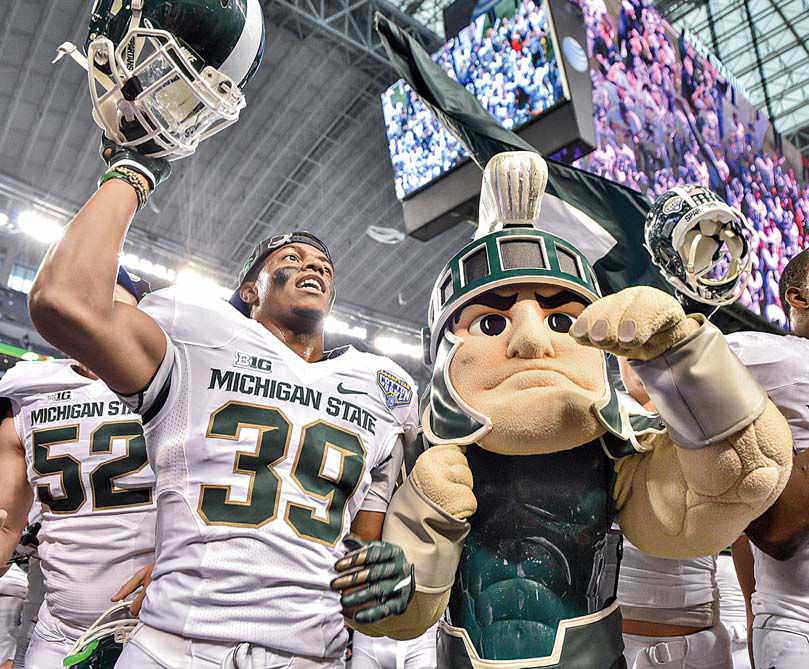 Yet despite the recent success, MSU undoubtedly continues to trail those two in the public eye and in the view of recruits. The Buckeyes have been on the rise since Urban Meyer's first season in 2012, as well as No. 1 in the polls since winning the inaugural playoff. As of late September, Meyer also had the No. 1 recruiting class for 2016. Meanwhile, the Wolverines, who haven't cracked the AP Top 25 since Oct. 27, 2013, are ranked No. 1 in magazine covers, thanks to the arrival of Jim Harbaugh, who has catapulted UM from 40th in the '15 recruiting ranks to No. 10 this year, two spots ahead of Big Bill's team.
So, yes, Ohio State and Michigan are Chevy and Ford. Michigan State is Oldsmobile. And the Spartans dig being Oldsmobile.
"That's how we do it around here," says fifth-year senior safety RJ Williamson.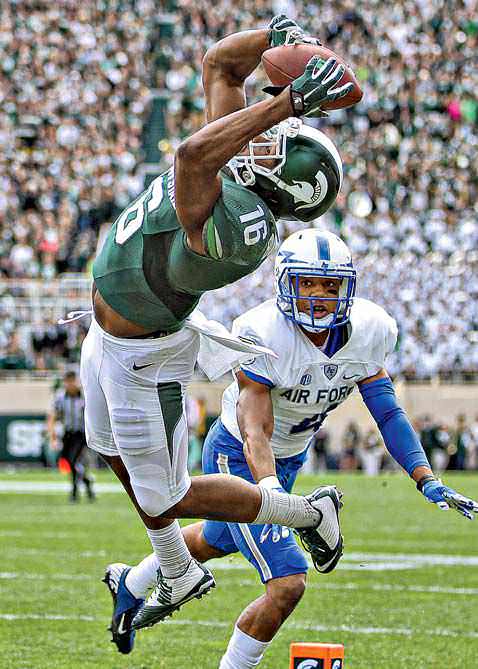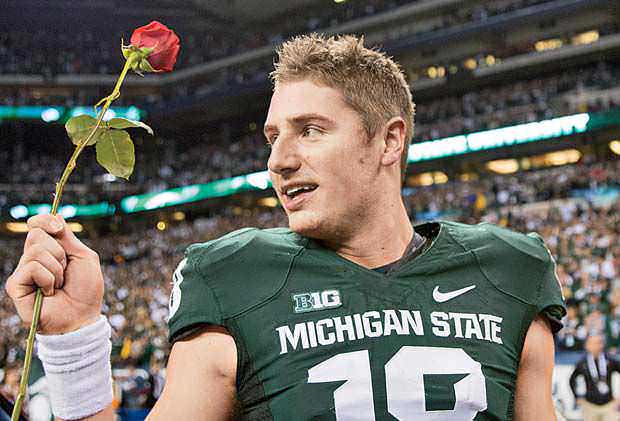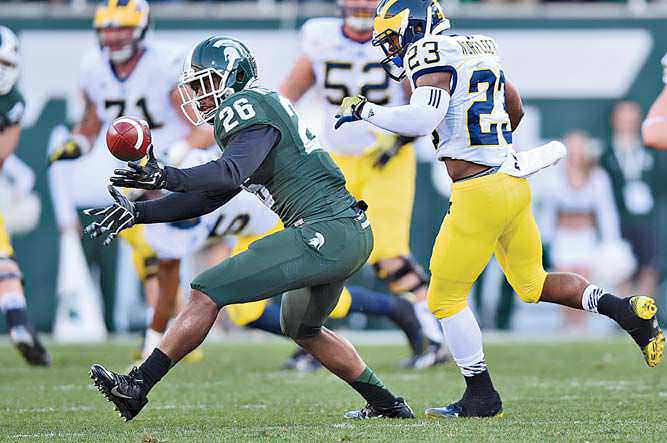 The three-star recruit out of Dayton, Ohio, didn't get an offer from either of the two Big Ten tentpole teams, instead signing on to be a part of Dantonio's program-changing 2011 class, a group anchored by QB Connor Cook and defensive ends Shilique Calhoun and Lawrence Thomas, a Detroit native and the Spartans' lone signee ranked in the ESPN 150 by RecruitingNation.
"People might buy more T-shirts from another school," Williamson says. "The media might send more cameras to cover another team. Other teams might get more votes for the Top 25. But around here, we don't let that get us down. We'd rather operate as the underdog. That's fuel."
You can read up to 3 premium stories before you subscribe to Magzter GOLD
Log in, if you are already a subscriber
Get unlimited access to thousands of curated premium stories, newspapers and 5,000+ magazines
READ THE ENTIRE ISSUE
October 12,2015