For Gay Athletes, What Comes After Coming Out?
ESPN The Magazine
|
November 9, 2015
Not so long ago, it seemed as if it was finally happening, that the revolution of athletes coming out of the closet had arrived and was passing, all within a few short years.
Robbie Rogers had come out and played in MLS. College hoops star Brittney Griner had come out and played in the WNBA. Veteran NBA big man Jason Collins had come out and joined the Nets for their playoff run. Defensive prospect Michael Sam had come out before the NFL draft and been selected by the Rams. • It looked as if we as a society were ready to take a quick leap from having no out gay athletes in major team sports to considering it ordinary. That what had been a thing might suddenly become no big thing. • Except that we haven't seen that. There was no wave of pro athletes coming out. Instead of seeing Michael Sam's sack dance on the gridiron, we saw him on Dancing With the Stars. Now Sam is most famous for something he didn't get to do. And we haven't seen anybody come out in the major pro leagues since. What was a thing is still a thing, which leaves us with a big question: Who hit the pause button?
"For the most part, the gay revolution is over, and now we're in the gay evolution," says Hollywood PR guru Howard Bragman."And evolutions move slower than revolutions."Bragman is in a position to know. He's helped steer Collins,Sam, former NFL player Esera Tuaolo, former NBA player John Amaechi, former WNBA player Sheryl Swoopes and others through their public coming outs. His observation is a reminder that we haven't yet reached the end of the beginning and that what's to come is the hard work of forging not just acceptance or understanding but actual integration.
THE CHALLENGE OF coming out is complicated for athletes who are already juggling more familiar pressures. There's the pressure to perform on the field, to have a full career. There's the pressure of fulfilling expectations—imposed by outsiders or oneself—of how to be the player they always dreamed of becoming. And then, after coming out, there's the pressure of being a public torchbearer for the LGBT community. Suddenly, they must assume the media spotlight, as well as responsibilities to the advocacy community whose needs transcend excellence on the field. Not everyone wants to sign up for that. The rest of us have an obligation to ask ourselves why we would expect them to.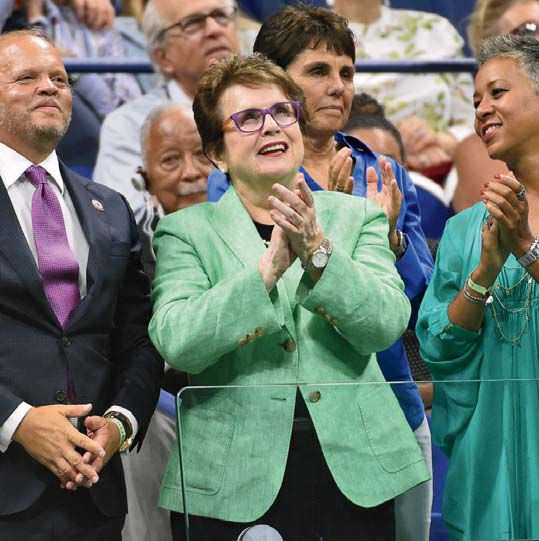 "Athletes watched what happened to Michael Sam," says former big leaguer Billy Bean, who came out publicly in 1999 after his career ended and now works on inclusion efforts for MLB. "And they're asking themselves: 'Are people going to forget that I'm a big league ballplayer, in my fourth year, chasing that big contract, trying to be an All-Star or the team MVP, and now I might be defined by something that has nothing to do with the thing that has been the most important thing to me since I was 8 years old?'"
You can read up to 3 premium stories before you subscribe to Magzter GOLD
Log in, if you are already a subscriber
Get unlimited access to thousands of curated premium stories, newspapers and 5,000+ magazines
READ THE ENTIRE ISSUE
November 9, 2015