Football's Rite of Passage - The Oklahoma Drill
ESPN The Magazine
|
August 17,2015
The Oklahoma drill is a rite of passage, a revered test of will - and everything we've come to fear about football.
LIKE EVERY OTHER football player on the night before practice starts, Blake Bell is far too anxious to sleep. It's a humid summer night almost exactly a year ago, and Bell is kept awake by the impending thunderclap of pads. After three seasons at quarterback for Oklahoma, including eight starts in 2013, the 6-foot-6, 259-pound Wichita native has converted to tight end for his final season. For years, he was protected from any contact in practice, but no longer. Bell remembers the night well: lying in bed, unable to escape the thought that in a few hours his future would be determined by a rare event a senior making his first attempt at the Oklahoma drill, a simple yet savage hitting exercise that signals the dawning of each new football season.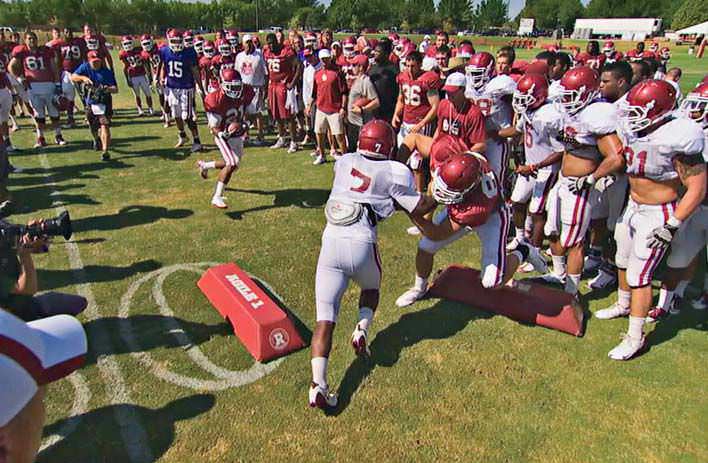 The root of Bell's night terrors is the telltale sign of the Oklahoma: tackling dummies laid down lengthwise on the field to create a narrow alleyway no more than two yards wide. When called out by coaches, three players—a defender, a blocker and a ball carrier must override the alarms of danger and doubt screaming inside their heads and step into the gauntlet, framed by a frenetic mosh pit of teammates. The task is simple: hit faster, hit harder, conquer. The ball carrier crouches in the backfield as his blocker squats and puts his fist in the dirt. Across from him, the defender does the same. A split second of calm passes as the crowns of their helmets nearly touch. The whistle wails. The players explode into each other like runaway trains. Helmets crack. Joints grind. Feral groans and whimpers escape involuntarily. The back looks for a sliver of space, then tries to pile-drive his way to daylight. When one side has asserted its will, usually in just a few seconds, it's over. As Bill Belichick says, the power of the Oklahoma is the way it quickly answers the most essential questions in football: "Who is a man? Who's tough? Who's going to hit somebody?"
"There's only one way through: straight forward or straight back," Bell says. "That makes it a moment of truth, a do-or-die thing, for every player."Especially here in Norman, where the Oklahoma drill was invented some seven decades ago. Since then, it has spread and grown to become an annual rite of passage for players. It's one part time honored tradition, one part skill-building exercise, one part utterly insane, head-on car crash. And there's nothing like it anywhere else in sports, which might be a good thing. In the post-concussion era,the Oklahoma encapsulates the psychological push and pull of the game a secretly thrilling and at times sickening three-second snapshot of everything we love and now fear about football.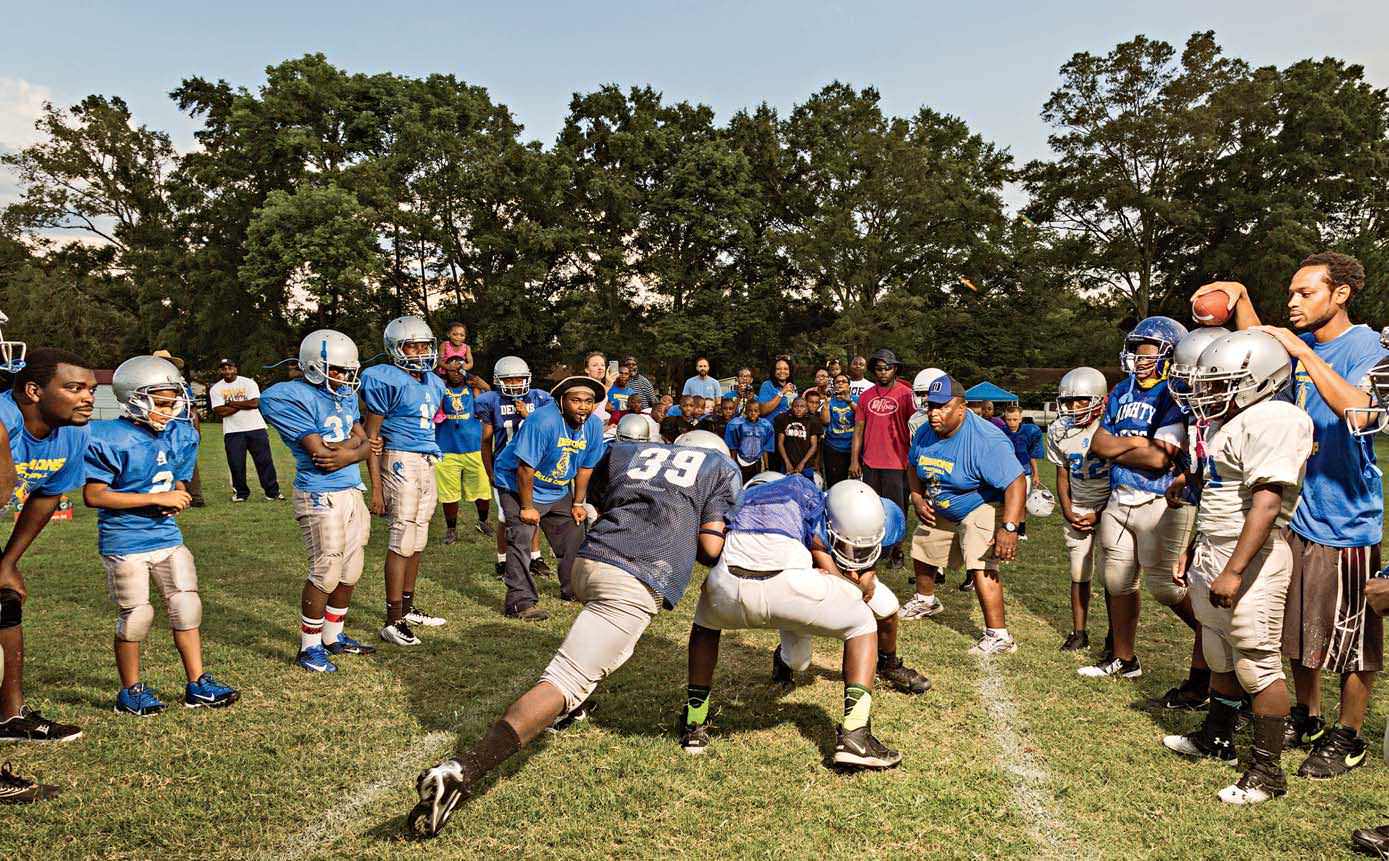 With practice looming the next morning, Bell sits up in bed and grabs his phone. He knows exactly whom to call. In the late 1970s, his father, Mark Bell, was a fast, snarling, contact-craving tight end and defensive end at Colorado State and for five seasons in the NFL with the Seahawks and Colts. Coaches at Colorado State used the Oklahoma as a kind of human cockfight, pitting Mark against his hard-charging twin brother, Mike, a defensive end, to pump everyone up for the true beginning of the season, the first day of hitting in practice. The brothers didn't mind. They loved that the drill was less about technique or talent and more about measuring the willingness to fight.
Thirty years after Mark last stepped into the fire, he knew immediately what the call from his son was about. No two words evoke more pain and pride in former players than Oklahoma and drill.Even before saying hello, Mark, with a twinge of nostalgia in his voice, summed up the drill the best way he knew how. "Time to get your mean on, son."
AT 8:30 THE next morning, Barry Switzer,dressed in golf shorts and a light blue T-shirt, steps out of his home on the edge of OU's campus and strolls down the shady side of Chautauqua Avenue toward the football practice fields. Spry and feisty at 77, the Hall of Fame coach, one of only three men to win a national championship and a Super Bowl, never misses the first day of contact. By the time he arrives, the scorching prairie sun has already cooked the wet, thick grass into something that feels like a microwaved sponge. Switzer, though, snarls at the first person who offers him a bit of relief. "No shade," he says out of the corner of his mouth."Oklahoma drill day. Suck it up."
You can read up to 3 premium stories before you subscribe to Magzter GOLD
Log in, if you are already a subscriber
Get unlimited access to thousands of curated premium stories, newspapers and 5,000+ magazines
READ THE ENTIRE ISSUE
August 17,2015