Chris Paul Will Not Be Played
ESPN The Magazine
|
October 12,2015
Two years after being named NBPA president, the Clippers guard dishes for the first time on Michele Roberts, Donald Sterling and the players looming battle with owners. (Hint: They want revenge.)
A FEW DOZEN of Chris Paul's business associates and family members have gathered at the sleek BOA Steakhouse on Sunset Boulevard in West Hollywood. It's July 2013, and Paul is seated at a table in front of his guests, with his 4-year-old son and 11-month-old daughter taking turns sitting on his lap. In moments, he'll set in motion a course of events that will ultimately change the NBA. He picks up a pen and signs the biggest contract of his life: a five-year, $107 million deal with the Clippers.
Amid dinner and drinks and toasts, Paul rises and speaks, giving thanks. At every seat he's placed a Moleskine journal, with a simple, handwritten message inside. "On the first page, I wrote 'More,' and that was the only thing I wrote in there," he says. "The message was, a lot of times in life we all think that we've done enough or we do enough to just get by, and this wasn't just a challenge to them, it was a challenge to myself, just to do more."
One month later, after Paul quietly put his name on the ballot for union president, the NBA's player representatives gathered in Las Vegas, where they voted Paul to be their leader. The move had been a long time coming.
Two years earlier, in 2011, Paul had felt the weight of the NBA's power—and hadn't much liked the experience. The Hornets, who had been taken over by the league to bail out struggling owner George Shinn, had arranged to trade Paul to the Lakers, but then-commissioner David Stern vetoed the deal. To this day, Paul still doesn't like discussing it. But his older brother, C.J. Paul, characterized it as a wake-up call. Chris, C.J. recalls, began working the phones, getting Stern on the line: "Stern said, 'Go to practice tomorrow and be prepared to play the season in New Orleans.' " Chris, C.J. says, laughed—and called the union.
Paul was sent to the Clippers instead, making him lead dog on a team that would soon become one of the NBA's best. But the situation left a mark. "The league has a power that not many people are aware of," C.J. says. The botched deal "pushed Chris to get more involved in the union, to stand up for player rights." It's mid-September now, a different year, a different restaurant on Sunset Boulevard, inside the Luxe hotel, and Paul is sitting at a small table. He's clearly been here awhile. There's no party and no guest list, just his publicist, Karen Lee, who's seated to his left. We're supposed to meet at 2, and I'm 10 minutes early. In front of him is a salad, half finished.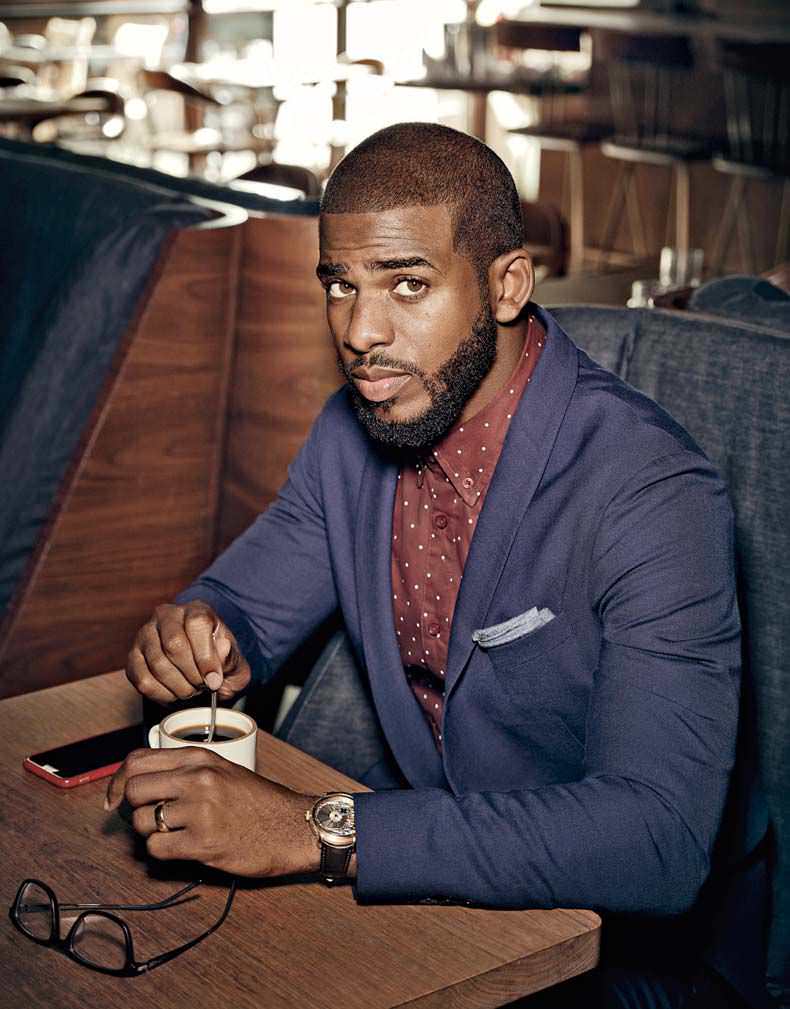 "I hope you don't mind," he says. "I started eating already."
The archetypal union leader is blustery and bombastic, full of righteous venom for management. Paul is not this way. He is quiet, purposeful, poised to deflect. He tenses when asked anything he deems private, addressing issues carefully, even evasively. One could read this as a sign that he's in over his head, doesn't know the issues or is merely a show horse, lending his big name to the cause.
Or perhaps his reticence is canniness, an early strategy in what might well be the most epic sports labor battle in decades. The NBPA recently engaged in the tentative, early stages of negotiations with the league, but owners know what's surely coming—the revenge of players past.
The last time the union negotiated a labor contract, in 2011, it took the equivalent of a forearm to the chin, agreeing to a 7 percent cut in shared revenue after the owners closed their doors for 16 games and threatened to shutter them for the season. Talks were contentious; many players at the time felt owners had cooked the books to show losses that did not exist.
You can read up to 3 premium stories before you subscribe to Magzter GOLD
Log in, if you are already a subscriber
Get unlimited access to thousands of curated premium stories, newspapers and 5,000+ magazines
READ THE ENTIRE ISSUE
October 12,2015