Brandon Armstrong - The Great Pretender
ESPN The Magazine
|
October 26,2015
Brandon Armstrong has blazed an entirely new path to hoops glory by parodying the NBA's finest. But now that he has achieved viral fame, what's next?
IT DOES SOUND like the setup to a joke: Young NBA never-was walks into Atlanta's swankiest mall, buys up all the shoes his entourage can carry. "Hey ... Jeremy!" Brandon Armstrong calls across the store to his friend, roommate and manager. He holds up two size 14 boots, a slate gray and a blue suede. "C'mon, bruh," Jeremy Halbert-Harris answers, bulging his eyes, grimacing and twisting his head clockwise, as if to implore his client to hurry up and arrive at the obvious choice. "Where's my Future hat, though?" Armstrong asks. "Boy," Jeremy says. "The only way you gonna stop wanting a Future hat is when people online tell you how stupid you look in a Future hat."
Armstrong, a guard out of nearby Chamblee, involves all 6 feet, 1 inch of himself in clucking his tongue, slapping at nothing, dismissing his manager. Then he settles back down so the clerk can attend to his feet. Seated, he's more restive than restful, exuding the skittish potentiality of a schoolboy on Friday; it's the kind of barely contained vigor that awaits the introduction of a ball, some rules, the starting shot—anything. This inborn athleticism helped land Armstrong a scholarship at Lincoln Memorial University, where he led the woeful D2 Railsplitters to a No. 1 national ranking. After college, it took his pro career from the D-League to Spain and Australia. As recently as July, Armstrong, 25, was scheduled to participate in EuroBasket's summer league. The $425 fee had even been waived for him. But he skipped his flight. He decided he'd rather make a new comedy video.
Armstrong's childhood best friend, Royal Lee Reed III, returns to the Aldo store, bags in hand. Although the two of them played on the same middle school team back in the day, Royal has since thickened into the sort of man who, when rebounding, rebounds. "I never been this hungover before," Royal tells me, then yawns. "I should've stuck to my Hennessy. Dude had me drinking champagne in the club last night."
The crew was out late celebrating the success of another viral video—Armstrong parodying the play of Spurs star Manu Ginobili. Perhaps you saw it. Perhaps because you're one of Armstrong's million-plus social media followers, or perhaps because your feeds were cluttered with links to sites that had embedded his video. In any case, Ginobili watched it. He tweeted a nine-emoji hieroglyph in response, adding, "Great job man! Loved it!"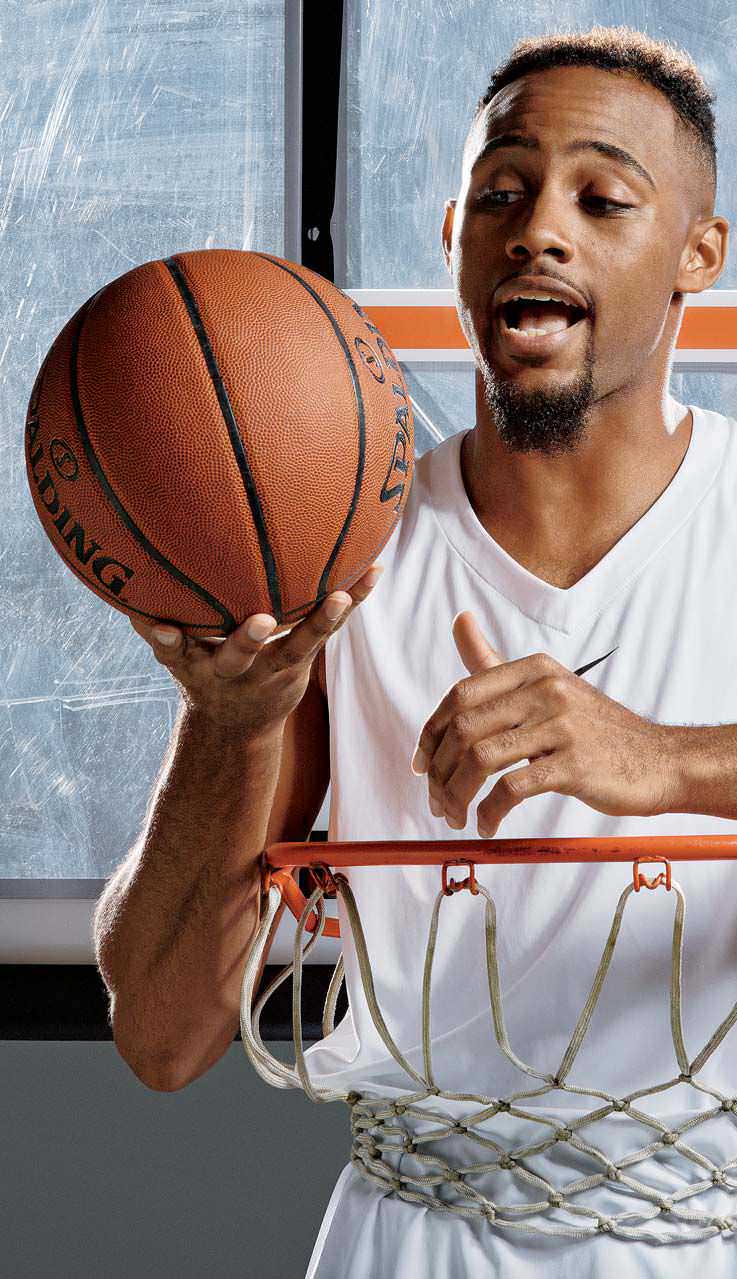 It was one of Armstrong's least favorite videos so far, truth be told. He didn't think it particularly funny. And, as if to corroborate this, it was doing nowhere near the numbers of his Kobe Bryant parody (33,000 retweets) or his Russell Westbrook vid (21,000 retweets), the first of his uploads to go viral. It was hilarious, the way he captured Westbrook's righteous indignation at not getting properly dapped up after every basket. Armstrong shot that video two months ago, when he decided to give up on the hoop dreamer's usual path and focus instead on his social media career. If this too sounds like the setup to a joke, consider that Web celebrity PewDiePie, a 20-something Swede who films himself playing video games, reportedly pulled in $7.4 million from advertising and sponsorships last year. PewDiePie's homemade music video for his pug dog drew more eyeballs than every single game of the NBA Finals.
Armstrong and Jeremy approach the counter with their intended purchases. Jeremy played wide receiver at Morehouse, yet next to Armstrong he looks decidedly earthbound. "Bruh," Jeremy says while the two of them are being rung up, before hoisting his phone above his head, tilting its front-facing camera downward—the Vine-ing posture—and ad-libbing a funny dance to the store's Euro disco. Armstrong looks up from his wallet, sees what's happening and immediately mirrors Jeremy's moves, the rhythm passing into his body as if he'd just grabbed a violently shaking pole. It is uncanny.
This is what's most striking about Armstrong's parody videos: He isn't throwing on wigs and parroting speech patterns, like a Darrell Hammond or a Kenan Thompson. Instead, he is using his preternatural gracefulness to inhabit the mechanics and kinesthetic tics of his subjects. You look at Armstrong on video and you see a hyperactive facsimile of Tim Duncan, or James Harden, or Paul Pierce—whomever he's decided to appropriate. He's been cracking up teammates with this capability since he seriously picked up basketball, untutored, in his early teens. "I can just do it," he tells me. "I don't even really have to think about it."
In the food court, we place orders for cheesesteaks. A girl in an oversize Jim Thome throwback squints at us before recognizing Armstrong and discreetly periscoping her phone. "The crazy thing about it," Royal leans over to tell me, "is he's been doing videos like this for years." Since middle school at least, when the two of them would freestyle goofily into the small webcam on Armstrong's old Dell. "You know, his whole dream was he just wanted to play basketball. Sometimes I even think, 'Shoot, this is better than him being in the NBA.' He don't gotta worry about no toll on his body. He opened up his own lane. No one's done this before."
Royal is right, I think. What Armstrong is trying to do is flip a familiar script—the tragedy of the undrafted—by pioneering a new form of physical comedy: the failed-professional-athlete turned-parodist.
As we eat, Armstrong puts his iPhone face up on the table but hides its screen with his wallet. Every so often he pulls the wallet down, slowly, to check the litany of new social media notifications sliding atop old ones, impacting them. "I still play basketball on the regular. Pickup games at Georgia Tech. Yep, yep, yep," he says. His accent is stretched with the taffied inflection of his hometown Atlanta burbs, a bit of a rasp to it when he raises his voice. "But I'm not going back overseas. I may go for the right price. But as of now, it's like, nah."
He tells me that he's received calls from the Pistons, Bucks and Celtics in the past few weeks. "I talked to Steve Kerr," Armstrong says. "They're gonna fly me out at the end of September to shoot videos with the team and also play with them. Shoot some funny videos with Steph Curry and Draymond Green. I wouldn't mind being the 12th man on the bench. You can put me in the game, I'll knock some 3s down. Y'all up by 50, or we down by 50. That's fine."
You can read up to 3 premium stories before you subscribe to Magzter GOLD
Log in, if you are already a subscriber
Get unlimited access to thousands of curated premium stories, newspapers and 5,000+ magazines
READ THE ENTIRE ISSUE
October 26,2015