A Mystery Wrapped Inside An Enigma Shrouded In A Beard
ESPN The Magazine
|
October 26,2015
James Hardens brand? Deeply off-kilter. His on-court game? Ugly and aggressively weird. And in no way is any of that an accident.
JAMES HARDEN SAYS AN INCREDIBLE AMOUNT OF NONSENSE.
I do not mean this figuratively. Whole swaths of his vocabulary are, like the 26-year-old himself, self-made, and conspicuously weird, and inexplicable to everyone but the four friends he's trusted since he was a middle schooler growing up in Compton, California. "Our language evolves," says Camilo Valencia, Harden's point guard at Artesia High and the longest-tenured member of his inner circle. "It's what happens when you play video games and listen to rap music all day."
In their vernacular, for instance, the noun chug means woman. ("We gonna invite some chugs?" is a typical question.) The adjective 'falo, meaning excessively flashy, derives from Buffalo, as in Buffalo wings, as in heat. The expression sah dah-tay, signifying agreement, is actually just a catchphrase from the 2001 film Pootie Tang. That this all sounds impossible for some outsider to decode on the fly is, in fact, the point. "I don't even try, man," says Akili Roberson, Harden's older brother. And for a famously hirsute NBA superstar who cannot plausibly disguise his identity—or his swelling affection for public life—the benefit of a secret language seems self-evident.
It is a viciously humid August afternoon in Houston, and the Rockets guard and I are picking up takeout at the Grand Lux Cafe for lunch. By the time I figure out how to open the passenger-side door and exit Harden's red-and-black Rolls-Royce Ghost, a crowd has begun to swirl around its owner. Harden, it's worth noting, used to wear hoodies out and zip them up all the way to his chin. But this summer—at the mall, at the bowling alley, at the club—the 6-foot-5 left-hander has embraced what his brother dubs his "breadwinner." "Now," Harden says, "it's just, like, There's The Beard! There's that guy with the beard! Mom, Dad, there's The Beard!"
The masses converge. Two stunned Asian fans thank Harden for being their hero. Huddling servers crane necks and unsheathe phones. A chef comes out to hand Harden a card with the URL for a muscle stimulation machine of some kind. A mom holding a baby approaches on behalf of her nervous husband. When the Buffalo chicken rolls and crab cakes arrive, Harden will have posed for photos with 16 people.
Which is what happens when you go from being named sixth man of the year in Oklahoma City three years ago to the first-ever National Basketball Players Association MVP in July … and start dating Khloe Kardashian, one of this planet's more relentlessly famous people … and leave Nike in August to sign a 13-year, $200 million deal with Adidas, globally notarizing your hyperefficient ascension to the top tier of basketball capitalists. "I try to stay level," Harden says. "Even when people are bum-rushing me at Chipotle and I'm trying to order a chicken bowl with extra guac."
That, mind you, is not a hypothetical scenario. Less than 24 hours ago, TMZ posted video of Harden and Kardashian leaving a Chipotle and reported that their to-go bags carried "several chicken bowls, extra guac and water." Add in coverage from People.com, DailyMail.com and the Huffington Post and I counted shots of Harden from no fewer than five different phones inside the restaurant, including one positioned behind the counter.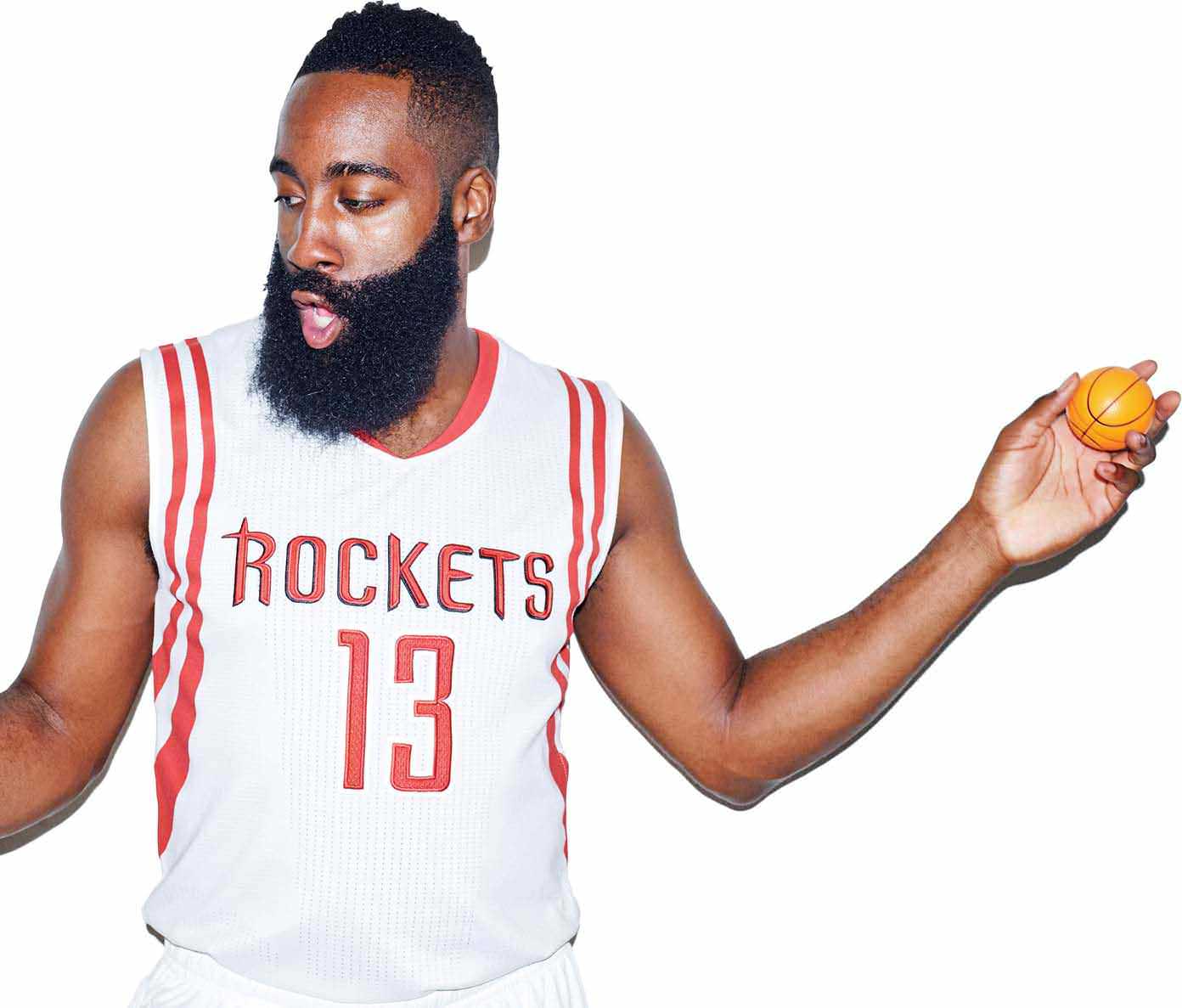 Back at the Grand Lux, Monja Willis, Harden's mother, arrives in time to watch the end of today's impromptu photo shoot. Since retiring in 2009 after nearly three decades as a service dispatcher at AT&T, the single mom and her baby boy have been "attached at the hip," Harden says. He got her a house here, just 20 minutes from his own three-story mansion, which he bought for $2 million from retired Rocket Cuttino Mobley. And she mothers not only his quartet of best friends but also Houston's starting five. "Her coaching on the sidelines," James says, "is, 'Follow through!'"
"It depends on who you're talking to," Monja counters. "If it's Dwight [Howard], I have to tell him to follow through. Or: 'Bend your knees!' And he does it! And it goes in!"
Still, Harden takes care to restrict the venues for his mother's feedback. "He tells me to stay off of Twitter, stay off of Instagram. It's hard. I have to bite my tongue sometimes." She pauses. "Well, a lot."
The Internet, they both understand, is where an Olympic gold medalist and three-time All-Star is accused, routinely, of playing in such a way that debases nothing less than basketball itself. It is where the NBA's best shooting guard, who just towed his team to the Western Conference finals, triggers more comparisons to Lamar Odom, his girlfriend's ex, than Kobe Bryant, his childhood idol. And it is where the news of a $200 million shoe deal—the ultimate bet on James Harden's image—begets an essential yet unanswered question: Who truly wants to be like him?
IF ONE WERE to envision an ideal summer afternoon for Daryl Morey, the notoriously quantitative Rockets GM, one might imagine him leaning back in an office chair, loafers up on a mess of a conference-room table, savoring a loop of Harden highlights while guzzling Mountain Dew. But one would be mistaken. Morey drinks only Diet Mountain Dew. "You gotta watch this play," he tells me between sips. "This play is f---ing absurd."
Harden, who averaged 27.4 points, 7.0 assists and 5.7 rebounds a game last season, owns a lethally diverse repertoire. When asked about specific on-court influences, he cites three: Bryant's monomaniacal drive (no one carried a heavier offensive load last season than Harden); Manu Ginobili's southpaw creativity (the maestro of the Euro step now deems Harden's the best in the league); and Paul Pierce's blend of pace, trash-talk and step-back jumpers. But it is a more polarizing trait that brings Morey to replay transition buckets with the lonely righteousness of Galileo discussing the orbit of Earth.
You can read up to 3 premium stories before you subscribe to Magzter GOLD
Log in, if you are already a subscriber
Get unlimited access to thousands of curated premium stories, newspapers and 5,000+ magazines
READ THE ENTIRE ISSUE
October 26,2015