A Hit Left Eric LeGrand Paralyzed, But His Love Of Football Endures
ESPN The Magazine
|
September 14,2015
Five years after a hit left him paralyzed, the former Rutgers standout says his lifelong love of football still sustains him. To understand why, you must see his daily grind through his eyes.
It's your nose this time. You try to do what you can for it, sitting alone in your bedroom, arms resting on each side of a $40,000 wheelchair. You are parked beneath a giant TV, watching football. You scrunch your eyes and flex your cheeks, wriggle each nostril, stretch your mouth, until your entire face is dancing. But the itch won't go away, so you call out to your ma for the third time in the past hour.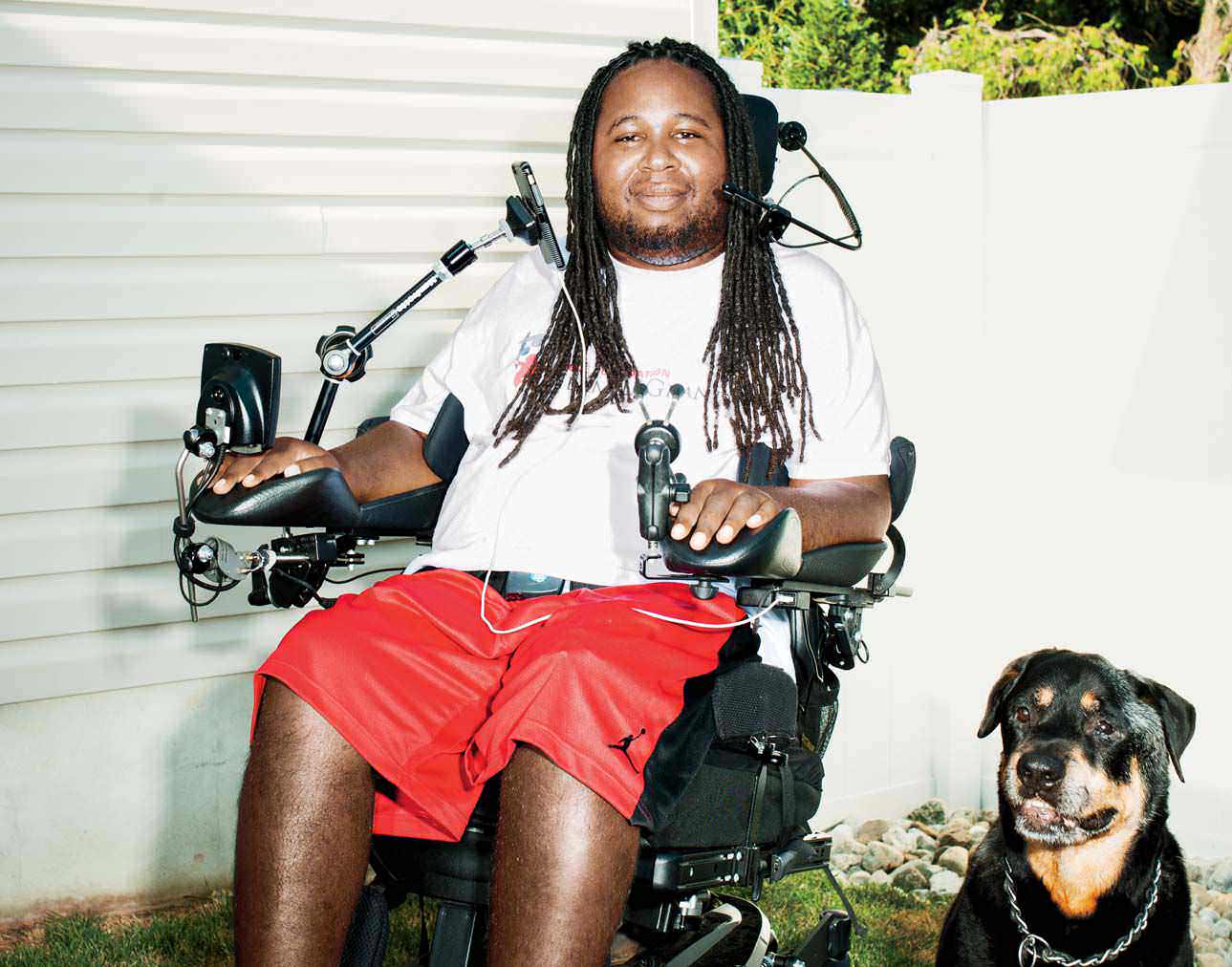 "MAAAAAA!"
She was just in your bedroom, her fingers weeping your dreadlocks out of your face. She was just grumbling, "It's 80 degrees in here, Eric," as the portable heater hummed next to the bed with metal rails where you sleep. She was just scratching the eczema around the edge of your forehead—the reprieve of nails digging across your skin, the joy of being able to feel—and applying layers of ChapStick to your lips.
You hear her scream back, exhausted, from downstairs: "WHAAAAAAAT!?" You hear her familiar thumping up the steps and through the wide doorway to your bedroom and adjoining man cave, with the free admission to those who believe sign on the door and the autographed footballs from a dozen NFL teams in cases on the wall. Your jersey from the Tampa Bay Buccaneers is also on the wall, with paintings of you when you were a defensive tackle for Rutgers, No. 52. You hear her huffing, finally, behind you.
You can move your head, and your shoulders, but you do not turn to see your ma. You often shrug your shoulders, sometimes wildly, as an expression of excitement, of giddiness, in tandem with the enveloping ring of your laugh: "Tahh-hah-hah!" You shrug when you're making fun of your ma, when you're "giving her s---" after she huffs up the stairs, when you smell a fart that you couldn't feel and can't control, owning the embarrassment the only way you know how, when you're watching football and a defender doles out a punishing hit, like you used to: "Damn! Tahh-hah-hah!"
Such a hit stole your legs, your arms, very nearly your life. But watching football stirs something inside of you, and every time you see a big defensive play, a big hit, you shimmy to life, wiggle and shrug your shoulders and move your head within the confines of the chair, smiling.
Your muscles spasm when your arms or legs are lifted out of rest, and you're still strong enough to knock over anyone who's doing the lifting. You're 270 pounds, 25 years old, a quadriplegic with an incomplete spinal cord injury, your C3 and C4 vertebrae fractured during a kickoff return five years ago—a hit you are still very proud of.
Doctors told your ma, Karen, there was no more than a 5 percent chance you'd move your extremities again, much less walk. But occasionally now your fingers twitch. To touch the mini-joystick in front of your face, you push out your bottom lip, zapping your 400-pound wheelchair to life.
"What do you want for dinner?" your ma asks.
Your lip nudges the joystick and the chair whirs forward. "Chinese," you answer.
Your ma covered the joystick with a hospital glove because you thought it was gross to keep touching the naked plastic with your mouth, especially when you were using your tongue. Its taste, its texture—like licking something you could only imagine licking, like maybe a shoe.
"Eric, I know what you're gonna order—fried shrimp and french fries is not Chinese food!"
Your wheelchair is an extension of your body, designed to provide a semblance of your independence, to open doors and the elevator that takes you downstairs. You can tilt back, lie flat, extend your legs; you can raise the chair on its axis to a height like you were standing, move your body into different positions so you won't get a pressure sore that could kill you if it went undetected.
Your ma jokes that you used to need her only to fold your laundry when you drove the half hour home every week from Rutgers to Avenel, New Jersey, and to come to the stadium and cheer. Now you need her every waking hour.
"My extent of Chinese food is fried shrimp and french fries," you say. Then you raise your voice, impersonating her—That isn't Chinese food, Eric! All you do is get fried shrimp and french fries! Tahh-hah-hah. You're trying to lighten the mood.
"Hah-hahhh. Shut up!" she yells.
You understand what it is to be irritated. You'd rather not be the source of hers. But you can't change that, at least not yet. With your smartphone an inch from your face, you say, "Call Bamboo China."
Your ma trails a tissue across your face, her finger delicately scratching your nose. You feel relief as she bends down and says, softer, "Eric, what else do you need?"
NOTHING DISSUADES YOU from loving football. Not your muscles spasming without control. Not the two hours it takes for you to get ready every morning. Not the nurses cleaning your dangling body, cradled naked in the air in a Hoyer electronic lifting system. Not your ma draining your urine and sterilizing your Foley catheter leg bag so you won't get a UTI. Not the pills your ma takes out of a little rectangular plastic container and drops, one by one, onto your tongue: Neurontin, a precautionary medication for nerve pain; Ditropan to relax your bladder so it doesn't shrink; and a stool softener so you can hopefully use the bathroom from the shower chair around the same time every morning. Not the nurse coaxing your bowels when the stool softener doesn't work. Not watching the video of the moment your life changed, seeing the hit, hearing the hollow thunk of the old you coming to an end.
You've seen the replay "about 1,000 times." You can go through your hit by memory, which you have to do, a lot, as part of the talks you give, in front of people you hope are motivated by your perseverance. The play has become something you laugh about, that you use not as a cautionary tale but as a moment of self-deprecation, and discovery. You used it on Twitter, the very picture of you paralyzed on the field, and turned it into a meme:"BRUHHH" written over the photo along with the tweet: "Beyonce got everyone like this when she performs Drunk in Love."
You offended people. But it was damn funny to you. This is your life, not theirs. "I hit that guy hard," you say. "At least I went out on a good hit, you know? Tahh-hah-hah."
You speak about your injury as though it were just another memory, like when you went to Turks and Caicos recently with your family and they lifted you out of your chair and you floated, arms and legs starfished in the ocean, staring up at the sun, feeling like you were on the moon.
You can read up to 3 premium stories before you subscribe to Magzter GOLD
Log in, if you are already a subscriber
Get unlimited access to thousands of curated premium stories, newspapers and 5,000+ magazines
READ THE ENTIRE ISSUE
September 14,2015