Roque De Los Muchachos
CYCLING WEEKLY
|
October 17, 2019
Simon Warren goes to the top of the world. Twice
Some geologists have predicted that if the dormant volcano on the Canary Island of La Palma eventually pops, the cataclysmic explosion and subsequent landslide would send a deadly wall of water 1,000 metres high hurtling across the ocean at speeds of up to 800kph. This mega-tsunami would wipe clean the coast of Africa in just under an hour, reach Europe not long after that then annihilate the eastern seaboard of the United States a further five hours later. Erasing the cities of Casablanca, Lisbon, Porto, New York, Boston, Miami from the map, it would be the greatest disaster since the extinction of the dinosaurs. But hey, let's not dwell on that, it may never happen, and anyway, we are here to ride to its summit not hypothesise on its potential destructive power.
Although 1,292 metres shorter than its more famous cousin Mount Teide on Tenerife, what sets the peak of La Palma apart is that there is tarmac going all the way to the very top to the Roque de los Muchachos (Rock of the Boys). From base to summit the eastern flank (including the short 3km descent near the top) is 41.8km. That's three times as long as Alpe d'Huez and twice as long as Mont Ventoux from the Bedoin side.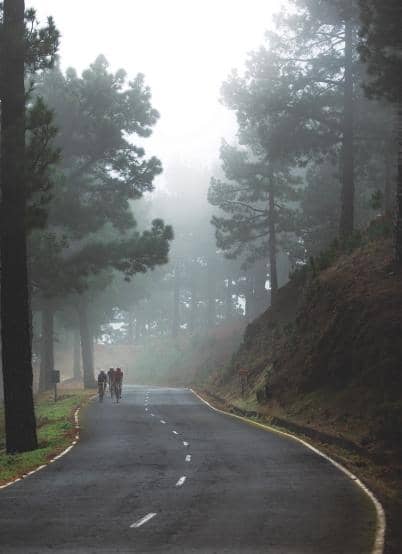 Into the wild
Rolling out through the twisting cobbled streets of Santa Cruz de la Palma, within minutes we were at the base of our ascent. The skies overhead were dark and with a voice that feared the worst came to the pessimistic prediction of my ride buddy Paul: "It's going to rain, we're going to get very wet." "No, it's not," I replied. "And anyway, even if it does, we won't get wet for long because we are going way above those clouds."
For the first six kilometres, the climb is a little congested and urban, but then that's it, you pass the very last house, dwelling, settlement of any description before the top. This in itself is remarkable; I can't think of any climb on mainland Europe that doesn't at least have a refuge or bar of some sort dotted along its route. It is essential, then, to take sufficient supplies for the ride as you are facing well over three hours on the way up alone.
You can read up to 3 premium stories before you subscribe to Magzter GOLD
Log in, if you are already a subscriber
Get unlimited access to thousands of curated premium stories, newspapers and 5,000+ magazines
READ THE ENTIRE ISSUE
October 17, 2019