FACE DOWN YOUR FEARS
CYCLING WEEKLY
|
August 06, 2020
Being aware of risk is vital in keeping us safe, whereas being irrationally scared actually makes us more liable to crash. Sports psychologist Dr Josephine Perry explains how to put cycling fears back in their box
Cycling is pitched as a cheap way to commute, an efficient amble into nature, an excellent path to fitness and an exhilarating way to get your competitive juices flowing. The adverts show intense or smiley faces, loving the freedom cycling gives, sucking up the effort. But what we rarely see depicted or hear spoken about is the fear. It is there, lurking in the background – and none of us is immune. Pros and amateurs alike are all, at some point in their riding lives, seized by the 'fight, flight or freeze' response. Once we are honest with ourselves about our fears, we become more open to learning how to override them. This feature aims to do just that, tackling the six most common fear-inducing situations.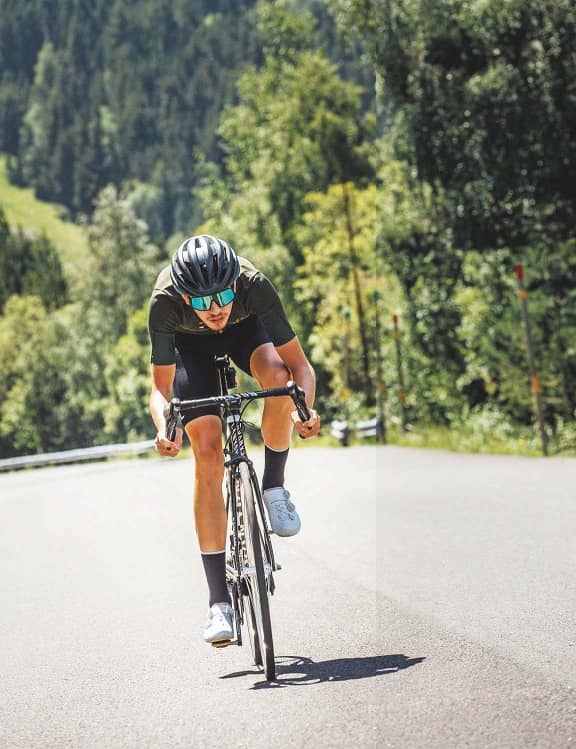 AFRAID OF FAST DESCENTS
Causes of this fear: Our brain is designed to look out for threat. It has a special part called the amygdala (you might have heard it referred to as your inner chimp), which keeps us alert and jumps into action whenever we are in a risky situation.
Descending fast downhill is one of those situations – no surprise that our chimp starts gnashing its teeth. The amygdala sets off a chain reaction, flooding the body with cortisol and adrenaline, making us hyper-alert. The problem is that that alertness makes our focus extremely narrow, so we only see a little of what is ahead. It can block out a lot of our peripheral vision and tighten our muscles – not great when staying relaxed and finding a rhythm is so key to being safe and fast.
It happened to me: Thirty-two-year-old Emily Barrow rides with Velosport CC, Putney. She first started riding in 2015. "My biggest fear has always been descending, particularly anything steep or featuring hairpins," she explains. "There was a point where I couldn't stop on descent and someone had to literally catch me. I would silently sob with fear and use the brakes so much I feared a blowout!"
Barrow knew this fear was limiting her potential and realised she needed help. "I had tried looking at descending advice videos online, which helped a little. I also found that it helped if I could anticipate the road coming up, descending with the map up on my Garmin. A big turning point was going on a training camp in Tenerife with Polka Dot Cycling. Our rides were guided, with a minimum of two guides per group and there was a focus on technique. I was watched in all aspects of my cycling and even videoed ascending and descending.
"They gave excellent advice on braking, position on the road, position on the bike and bike handling. It improved my confidence no end."
How to override it: Like Barrow did, you need to face the fear and ask those who are confidently doing what scares you for help and advice. "The knowledge I gained from experienced cyclists was invaluable. It was great to be able to apply that practically within a week of cycling, gain immediate feedback and continue to work on it," said Barrow.
When you have the knowledge and security that you can do it safely, the threat centre in your brain switches off, so you remain in control and enjoy the exhilaration.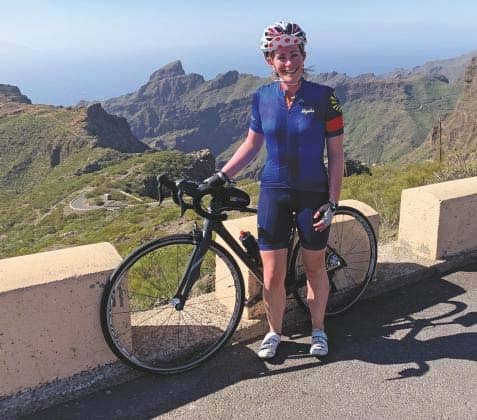 WORRIED ABOUT GETTING ILL
You can read up to 3 premium stories before you subscribe to Magzter GOLD
Log in, if you are already a subscriber
Get unlimited access to thousands of curated premium stories, newspapers and 5,000+ magazines
READ THE ENTIRE ISSUE
August 06, 2020