When Disaster Strikes
Boxing News
|
July 25, 2019
John Dennen hears Charlie Edwards, Amir Khan and Rocky Fielding reflect on experiencing a crushing loss.
HIS phone had gone silent. He knew that after his bout with Canelo Alvarez, the media attention, the calls, the interest would all fade. But Rocky Fielding had not expected it to die off so abruptly and so completely. The weeks after the contest blended into months and, as far as the wider boxing world was concerned, it was finished with Rocky Fielding.
"My phone didn't stop going off before the fight, once you're on that losing side that's it then," Fielding told Boxing News.
Before boxing Canelo he'd had DAZN, ESPN, Mexican TV following him, charting his progress. "Because it was that high profile a fight and everything, it was all new to me," he said. "It's all new things like that.
"I enjoyed it all but it was non-stop."
In New York his name and face were plastered across Madison Square Garden, on top of taxis, it was hard to avoid. He went to Disneyland with his family after the fight and some of that recognition still lingered. "I was walking around Disneyland and you're getting Mexicans that recognised me. The day before I was in Madison Square Garden fighting Canelo. The next day I'm pushing the baby around in a pram, drinking Bud Lite and I'm getting stopped for pictures. It's crazy," he said.
That though was forgotten swiftly. Fielding was left to nurse the bruises after being battered by Canelo inside three rounds and the shame that stays with a fighter after such a loss. "Take all that away, I lost. I'm a fighter, I don't like losing and that's what happened. That's why I've just got to get back in the gym and get back focused on the next one and keep going," he said. "It'll be hard to top fighting at Madison Square Garden against Canelo, but it'll be hard now to be on an undercard somewhere. But that's just boxing and that's what I've got to accept because I could have been in a worse position."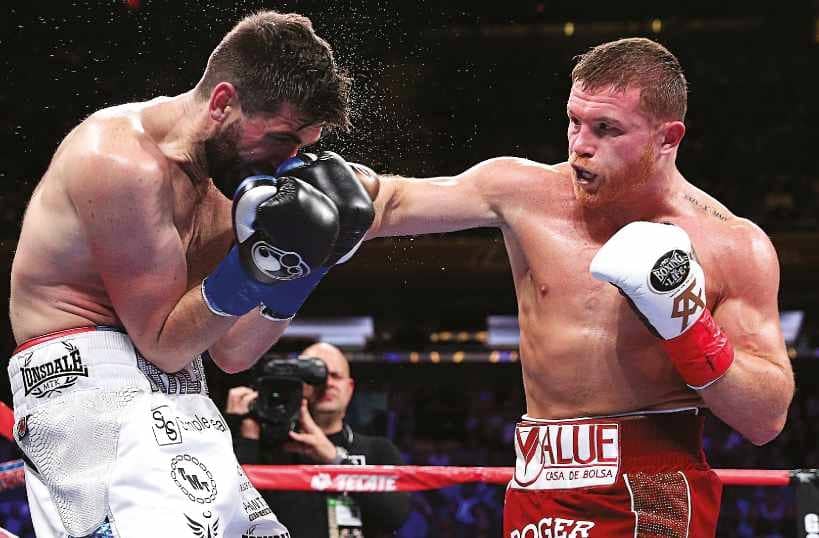 He was a real life Rocky story - in this reality, Rocky didn't overcome the odds to perform better than expected against the big star. Events in fact unfolded true to form. In the ring the impact of being hit so hard by Alvarez had sent Fielding reeling to his knees, dazed, with a faint grin on his face. He has been mocked for that goofy expression but in reality he was just stunned. "I went down. Just my shock," he explained. "No one's daft enough to smile because they got hit.
"I made mistakes and I paid. That's what happens when you're at that level. I got stick from people thinking I was smiling and happy about it. It was me just going, that was a good shot, do you know what I mean?"
"One shot got me. F**king hell, I wasn't happy that I lost. I went back to the changing room and it was a totally different thing. I was devastated."
As hard a puncher as Canelo Alvarez is, as good a boxer as he is, losing at Madison Square Garden in front of so many people is a humbling experience, even if Rocky was well compensated for that bout. "The hard part now is investing it and using it. That's the pressure. For the kids, to invest well," he says. "Take the purse away and whatever else. I just need to get back in, get back to winning ways and not being known for going a couple of rounds with Canelo."
You can read up to 3 premium stories before you subscribe to Magzter GOLD
Log in, if you are already a subscriber
Get unlimited access to thousands of curated premium stories, newspapers and 5,000+ magazines
READ THE ENTIRE ISSUE
July 25, 2019