Diary Of A Geeky Kid
Boxing News
|
March 28, 2019
Birmingham 'man about boxing' Jon Pegg is one of the busiest operators in the business. The 44-year-old father of three fronts the upwardly mobile Eastside gym and has been instrumental in resurrecting a pro scene in the midland Motor City. Ahead of starturn Sam Eggington's make-or-break showdown with Liam Smith in Liverpool on Saturday (30th), the former pro tells Louis Daniel his life story
I WAS a very quiet 'geeky' kid so our mum sent me to the Birmingham Irish boxing gym to toughen me up when I was 10. I have to credit the trainer there, Seamus Jackson, for getting me hooked. He realised I was a thinker, different from
the other lads. When my pals sneaked off to have a fag between 10 of them, I'd be reading Lord of the Rings! Every session, Seamus posed me a boxing question. I'd always answer it cos I loved researching, then I'd give him a question back. Boxing grew on me. I started reading all the autobiographies and anything about the sport's history.
As an amateur, I had just under 50 bouts, boxed the likes of Wayne Elcock and Mark Smallwood. I won just over half but really wasn't very talented, just determined. I could never beat anyone over 100 metres but could beat 'em over a two-mile run cos I'd hang in. I only got stopped once on an injury - and was never dropped as a pro, amateur or in the gym….and I sparred (former EBU bantam boss) Paul Lloyd for money when I was only 20 years old. Unfortunately, determination was about all I had.
When I was 19, 20, I had eight pro fights but no one ever told me I was the 'away fighter'. I sold 220 tickets for my debut and won over in Walsall but never won again. When they put me on at home, two weeks later, I got my head punched in by Danny Ruegg, worst beating I ever took!
I definitely won the one they said I drew and four of my six losses were by half a point. After the amateurs, I thought I was going for a fair fighter but came away thinking 'What's this about?' I lost heart and packed up. I never did it for the money cos I was always good at earning.
I doubt I had the temperament for big fights. I was very nervous, just a boy. I didn't even shave!
I trained really hard but just weren't good enough. That's why when I see talented lads bugger about it frustrates me. Perhaps I'd have done better if I'd turned pro later but, at best, I might have fought at Area title level. It wasn't my path. What I'm doing now is my path.
Over the next decade, I worked doors on pubs, had a few market shops but always helped out boxers like Wayne Elcock, selling tickets, providing info on opponents. Before Boxrec, people asked me stuff. I didn't need Boxrec. That's just how I was.
I started helping Richie Woodhall's boxers. About three years before, I'd queued for half an hour and paid a tenner to get a picture with Richie. Then I'm on the phone to him every day. Surreal.
In the noughties, Ken Purchase ran the shows in Brum but when he stepped away, I decided to step in. Then Richie landed the GB (coaching) job so I took over training and managing his lads.
Suddenly I'm in the mix. Starting out, there was nothing much going on in Brum. We had this ingrown reputation, 'Birmingham is Journeyman'. Nobby (Nobbs, of Losers Limited notoriety) did what he did very well, making a lot of kids a lot of money but bad decisions on the road grind the ambition out of you. Brummie boxers had a mindset that they were rubbish which needed turning round.
Twenty years ago, any decent Brummie boxers migrated to Manchester or London so there was no fan base here. Brummies can be cynical by nature and don't flock behind their boxers as other cities do.
Moving forward wasn't easy. It's been a long hard process but now other promoters are reluctant to take our fighters.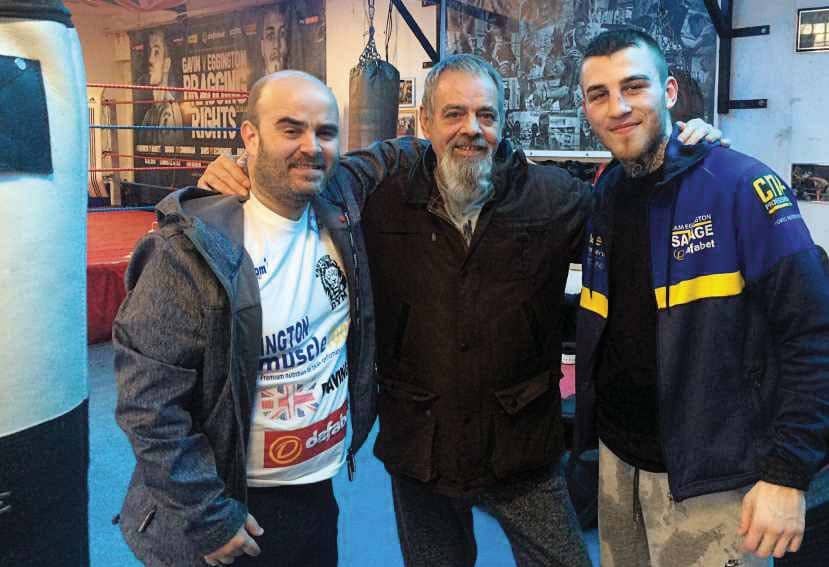 You can read up to 3 premium stories before you subscribe to Magzter GOLD
Log in, if you are already a subscriber
Get unlimited access to thousands of curated premium stories, newspapers and 5,000+ magazines
READ THE ENTIRE ISSUE
March 28, 2019