Women's Hockey Wants to Break Into the Big Leagues
Bloomberg Businessweek
|
November 16 - November 22, 2015
Can women build a hockey league from the ice up?
Claire Suddath, photographs by Amy Lombard
For athletes in a game that doesn't allow body checking, women's hockey players sure do slam into each other a lot. The New York Riveters are playing the second home game of their inaugural season, against the Connecticut Whale, at an ice rink in the outer reaches of Brooklyn, and the game clock can't tick more than a few seconds without someone flying at full speed into someone else— sometimes by accident, sometimes maybe not. Gloves are lost. At least one stick breaks. "You can't beat a game like this," says Mike Martorella, 42. He's wearing a Riveters jersey. "I paid $20 to sit in the front row and watch Olympic-level athletes play right in front of me."
The Riveters are the flagship team of the National Women's Hockey League, founded this year by Dani Rylan, a former Northeastern University hockey player who wants to make her league "as big as the NHL." Only about 700 people are watching this game—about half of whom are women—but they have the enthusiasm of at least twice that. "When we heard about these guys, we had to get season tickets," says Kristine Boniello, 30, smiling through bright red lipstick, her hair in pin curls and tied with a red bandanna just like the team's mascot, Rosie the Riveter. Boniello drove more than an hour from Long Island with her sister and some friends to watch the game. There are a few other Rosies in the crowd.
Before the NWHL started in October, there was no professional pipeline for women hockey players in the U.S. That's not to say women weren't playing hockey anywhere—they have been, since at least 1891, when some ladies gathered at an ice rink in Canada and an Ottawa newspaper wrote about the spectacle—but Americans were relegated to amateur leagues or to playing individually in men's leagues. When women's hockey was added to the Winter Olympics in 1998, the American and Canadian teams recruited almost exclusively from collegiate and men's minor league teams.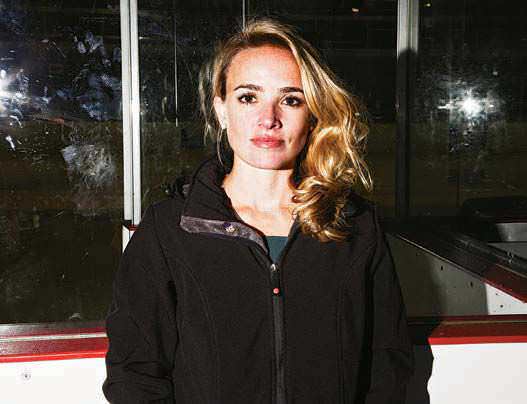 "Unless you're good enough for the Olympics, your career basically ends with college," Rylan says. At 28, she has long blond hair and a smile so even and bright it's clear she's never taken a puck to the face. (An opposing player did skate over her forearm, though.) Rylan started playing hockey at age 5 in Tampa and continued through college. After she graduated in 2012 and moved to New York to open a coffee shop called Rise & Grind in East Harlem, she joined two amateur men's hockey leagues for fun.
You can read up to 3 premium stories before you subscribe to Magzter GOLD
Log in, if you are already a subscriber
Get unlimited access to thousands of curated premium stories, newspapers and 5,000+ magazines
READ THE ENTIRE ISSUE
November 16 - November 22, 2015