The Bulgarian Duo Leading An Indoor Rock Climbing Revolution
Bloomberg Businessweek
|
November 16 - November 22, 2015
As indoor rock climbing booms, two guys from Bulgaria have become the world leaders in putting up walls.
Esm E. Deprez, photographs by Guy Martin
The Bulgarian village of Letnitsa (population 2,547) is a cluster of red-roof-tiled homes in a rural stretch of countryside in the Danube River valley, between the Balkan Mountains and the Romanian border. It's a two-and-a-half-hour drive east from Sofia along a two-lane highway lined with monotone Soviet-era apartment buildings and sunflower fields. As the poorest and most corrupt member of the European Union, Bulgaria is still struggling to shed its communist past as it transitions to a market economy. A small town here is an unlikely place to manufacture walls for that most First World of sports: indoor rock climbing.
"I tend to consider myself as more clever than the others," says Ivaylo Penchev, before leading a tour of his factory, on Letnitsa's western edge. He and Metin Musov founded Walltopia in 1998 and have since turned it into the largest builder of climbing walls in the world. They've assembled more than 2.5 million square feet of them in more than 50 countries. That's enough to cover all of the office space in the Empire State Building. They've surpassed older, more established companies riding the surge in interest in climbing by taking advantage of Bulgaria's cheap labor and Penchev's ego.
"All the time, I knew that we will succeed," he says, circling a crew of 12 workers who are applying fiberglass to a 38-foot-long stretch of plywood ribbing. Resting on a support of rusty metal pipes, it will become a climbing structure bound for a gym in Wichita. "It was a matter of building a few climbing gyms, having people feel happy afterward, and then they would spread the word."
Penchev, 45, had pulled up moments earlier in his immaculate 2014 silver S-Class Mercedes, just shy of 12:30 p.m., when a buzzer signaled the end of lunch. Dozens of men in blue overalls and sweat-stained T-shirts stamped out their cigarettes and went inside to weld together long, square-shaped ducts, then cut thin birch panels and smother them in layers of glue and quartz sand.
When Penchev was here earlier in the summer, he was in disguise for the Eastern European version of Undercover Boss, hiding behind a brown wig, spectacles, and a bushy mustache. "I looked like a getting-old redneck rocker-loser type," Penchev recalls. "People were very supportive, and they were convincing me that I am quite good in what I am doing. Obviously everyone is watching too much American movies, and political correctness spreads out even on the Balkan Peninsula."
As they walk the factory floor, Penchev and Musov crack jokes in Bulgarian amid the clamor of power tools and the stench of polyester resin, marveling at their latest creations, headed for Austria, Russia, and Dubai.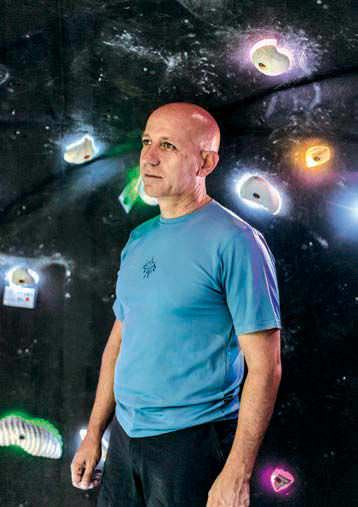 The pair, who met in high school while climbing at their local crag, both grew up poor before the collapse of communism. Musov never went to college; Penchev says he didn't eat in restaurants until his mid-20s. Musov, who has a mop of unruly brown hair and short, bowed legs, now oversees the 250-worker factory in Letnitsa. He drives a white BMW X6. Penchev, who speaks English and Russian in addition to Bulgarian, spends as much time flying around the world for meetings as he does at the company's head quarters in Sofia. He recently added an arrest-me-red Lamborghini to his car collection. On this humid September afternoon, he sports a casual, big-city polish: jeans, Adidas sneakers, and a fitted, pale pink polo. His head shines—he's shaved it bare every morning since he started going bald almost two decades ago—and his hands are soft. The trademark calluses of the climber he once was were lost long ago to typing on a laptop and glad-handing.
Walltopia, which employs about 650 people, is building two factories that will double its capacity. New capital from a first round of outside investment has valued the company at $70 million. Walltopia agreed this month to take a stake in Momentum, a small climbing gym chain out of Salt Lake City, to help it expand nationwide. "It's very smart for them to be on both sides of this business: making the walls as the supplier but also profiting in getting people into the gyms," says Peter Mortimer, a climber and filmmaker. "They're going to help grow the industry, and they're going to profit from it. It's like Budweiser opening a bar."
You can read up to 3 premium stories before you subscribe to Magzter GOLD
Log in, if you are already a subscriber
Get unlimited access to thousands of curated premium stories, newspapers and 5,000+ magazines
READ THE ENTIRE ISSUE
November 16 - November 22, 2015