NFL Owner Stan Kroenke Wants to Take Over L.A.
Bloomberg Businessweek
|
November 23 - November 29 2015
He takes what he wants. Now he wants L.A.
At the NFL owners' meetings at the Waldorf Astoria New York in October, reporters are kept in a hallway behind velvet ropes. They wait all day for anything they can get.
"You guys are in the pen? What's going on over here?" NFL Commissioner Roger Goodell says as he walks by in the morning.
"You make the rules," says one reporter. "I didn't make those rules," Goodell says over his shoulder. Now and again, an owner, this time Jerry Jones of the Dallas Cowboys, leaves the ballroom where the meeting is and walks down the hall to the men's room at the other end. "Mr. Jones? Jerry?" the reporters plead. "Do you have a minute?"
Jones stops, and a scrum forms. Nobody has to say what everybody wants to know: What's the latest on Los Angeles? "We have the opportunity to do something special," Jones says, before ambling away. The reporters huddle to parse his words. He must mean the Stan Kroenke plan.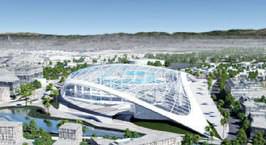 The National Football League wants to put at least one franchise in Los Angeles by the start of next season. Kroenke, the owner of the St. Louis Rams and arguably the most powerful owner in sports, wants it to be his. He's ready to build a $1.9 billion stadium southwest of downtown. He has big backers. Jones, who built an 80,000-seat cathedral to excess known as "Jerry's World" for his Cowboys in 2009, admires the grandeur of Kroenke's plan and has sided with him against owners from the San Diego Chargers and Oakland Raiders, who want to build and share a stadium in the L.A. suburb of Carson, bringing two franchises to the city at once. Jones's tossed-off comment about "something special" is the tiniest scrap, but when you're covering Kroenke, that feels like a meal. He seldom gives interviews.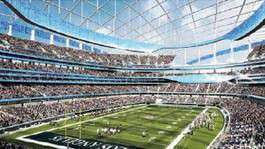 Kroenke (pronounced KRONE-key) is one of the wealthiest and least known owners in professional sports. He's a Missouri-born (full name: Enos Stanley, after St. Louis Cardinals Hall of Famers Enos Slaughter and Stan Musial) real estate developer who's married to a Wal-Mart heiress. At the Waldorf, he looks trim and fit for 68 years old. He's wearing a dark suit, black tie, and white shirt with matching pocket square. His chevron mustache and sideways flop of hair are graying. At one point, in what passes for tweet-worthy news, he exits the restroom with Clark Hunt, owner of the Kansas City Chiefs and one of the members of the NFL committee overseeing the Los Angeles bids. As usual, he ignores the reporters. He didn't respond to multiple requests for comment on this story.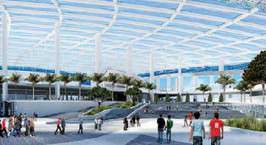 According to the website for his project, billed as the City of Champions Revitalization, Kroenke aims to turn a demolished horse racing track and parking lot in Inglewood, Calif., into an 80,000-seat stadium with a latticed open-air roof; an adjacent 6,000-seat arena; 1.7 million square feet of retail and office space; 2,500 residential units; and a hotel. To put the Rams there, he'll have to secure the approval of at least 24 of 31 of his fellow NFL owners and give a stiff arm to his native Missouri. Everything in Kroenke's past suggests he will find a way. "If it can get done, he'll get it done," says Jim Gordon, a longtime business partner. The move would almost instantly create one of the most valuable teams in football.
Kroenke's first attempt to land a franchise in the National Football League was a dud. In 1993, St. Louis was one of five cities bidding to become home to a new NFL team. A group of investors backing the St. Louis Stallions, as they planned to call the team, fell apart a few days before formal presentations to the league owners in Chicago. Kroenke, then a little-known strip mall developer said to be worth a half billion dollars, stepped in to lead the bid. He went before the owners with Richard Gephardt (D-Mo.), then the U.S. House Majority leader, Jack Buck, the play-by-play man for the St. Louis Cardinals baseball team, and Dan Dierdorf, who'd played for the St. Louis Cardinals—the NFL team—before they moved to Phoenix in 1988.
Kroenke's performance that day was memorably forgettable. "I don't even know that he said anything," Gephardt recalls. "He may have." A league source told the Philadelphia Inquirer that Kroenke was "evocative of the cartoon character Droopy Dog." The owners chose Charlotte, N.C., for a new team that day and, five weeks later, selected Jacksonville, Fla., for the second expansion slot.
The city of St. Louis then went shopping for a team to fill the domed football stadium it was already building. The Rams, who had been in Los Angeles since 1946, accepted a sweetheart deal to move in. Kroenke offered to purchase a stake in the team. The NFL approved the move in 1995, and he became a minority owner. In 2010, after the death of longtime owner Georgia Frontiere, Kroenke exercised his option to buy the available 60 percent share of the franchise for $450 million. "It's exciting to be a 17-year overnight success," he joked at a news conference.
Kroenke, as the NFL learned, specializes in slogs. For him, deals are like fence posts. "You've just got to pound on them," Gordon recalls him saying. "You pound on it, pound on it, pound on it, and then all of a sudden it actually goes down." In this way, Kroenke has built a fortune worth $5.6 billion, according to Bloomberg estimates. It includes 20 million square feet of retail property, more than a million acres of ranchland, a pair of California wineries, and a sports portfolio to rival any in the world. Along with the Rams, Kroenke owns the National Basketball Association's Denver Nuggets, the National Hockey League's Colorado Avalanche, Major League Soccer's Colorado Rapids, and two-thirds of the English Premier League soccer club Arsenal—all separate from his wife Ann's $3.8 billion inheritance.
You can read up to 3 premium stories before you subscribe to Magzter GOLD
Log in, if you are already a subscriber
Get unlimited access to thousands of curated premium stories, newspapers and 5,000+ magazines
READ THE ENTIRE ISSUE
November 23 - November 29 2015