2019 Black Belt Hall Of Fame
Black Belt|December/January 2020
As you've no doubt noticed, this is Black Belt's annual Hall of Fame issue. Presented here are five inductions for 2019. Appended to the Demetrious Johnson cover story is the sixth. Watch for additional coverage of these talented martial artists in future issues of Black Belt.
2019 MAN OF THE YEAR
Chatri Sityodtong
The martial arts gods are smiling down on Chatri Sityodtong and ONE Championship. Either that or Chatri is a genius because what he and his crew are serving up is resonating not only with fight fans in Asia but also with traditional and eclectic martial arts practitioners around the world. As evidence, note that ONE is seeing consistently growing audiences, and it's the subject of weekly stories in mainstream outlets touting its unparalleled success and preaching the gospel of Chatri.
The following quote sums up the philosophy of the man and the org rather nicely: "The word 'MMA' is now synonymous with martial arts, [and] the general public thinks of MMA as blood sport, violence, hatred, controversy. Literally from day one, my mission for ONE Championship [has been] to unleash the real-life superheroes who ignite the world with hope, strength and inspiration."
In a nutshell, that's why ONE is riding a rocket into the stratosphere. Not surprisingly, the path along which Chatri is guiding the promotion grew out of his 34-plus years in the arts. "The biggest misconception about martial arts is that it's about fighting or violence," he observed in a Black Belt interview. "In actuality, martial arts is the warrior way of life, of inheriting these incredible values that allow you to release your potential as a human being. It gives you so many skills, so many values to apply to the rest of your life."
More and more people — martial artists as well as business leaders — are listening to what Chatri has to say on a variety of subjects. As the CEO of Asia's largest global sports entity, he possesses a gravitas that's rare in the martial arts, one that's refreshingly in line with the principles all practitioners hold dear.
Of course, his philosophical bent doesn't preclude him from growing ONE. His expansion plans don't stop with MMA, however, and what he has in mind could be even more intriguing for traditional martial artists everywhere. That's because Chatri intends to feature on his cards — and eventually organize events around — other combat sports, including karate, kung fu, taekwondo, lethwei and submission grappling.
"I view ONE as the bridge between the new and the old," he told Black Belt. "I want to preserve the old in the sense of the history, the culture and the values of what traditional martial arts brings. But I want to present it in a way that millennials can enjoy genuinely, hence allowing martial arts to become truly mainstream."
Few are doing more to propagate our traditions in a format that appeals to the next generation of fans and practitioners than Chatri Sityodtong. Which is why he is Black Belt's 2019 Man of the Year.
— Robert W. Young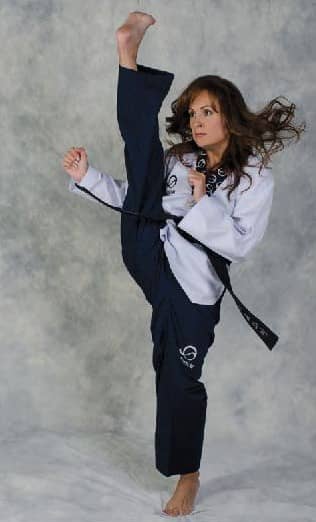 2019 WOMAN OF THE YEAR
Rondy McKee
When taekwondo master Rondy McKee gives a keynote speech, it's standing room only. Her tips on marketing and advertising are worth their weight in gold. Consider this update Black Belt received right before going to press:
"I just got home from Germany," McKee said. "In addition to teaching several classes, I was the keynote speaker at a large seminar in Munich, training attendees on marketing strategies and in how to implement new programs for martial arts schools.
"For the past 10 years, I've been advising and teaching various marketing groups and schools. I provide different services specific to the needs of the particular school or organization. One of the issues I worked on this morning in Germany was that many martial arts schools there can't get into public schools, so what can they do? I provided them with details and materials outlining how I overcame that same problem at my school in North Carolina."
McKee is savvy enough to know that different countries impose different rules on the martial arts, which is why she advises her clients to review her presentations and then choose what works for them. It's a strategy that would make Bruce Lee proud.
Attesting to the depth of her knowledge, she recently conducted a clinic on how to build your own building using her school as an example. History: Seventeen years ago, McKee created one of the largest and most successful schools in the world. It is an immaculate 24,000-square-foot structure with a koi pond in the sitting area, situated on 3.5 acres. It became the headquarters for the 2,000 students of her über-successful White Tiger Taekwondo & Martial Arts.
You can read upto 3 premium stories before you subscribe to Magzter GOLD
Log-in, if you are already a subscriber
Get unlimited access to thousands of curated premium stories and 5,000+ magazines
READ THE ENTIRE ISSUE
December/January 2020