'Try to keep it as normal as possible'
Here are some highlights from head coach Sean McDermott's recent press conferences.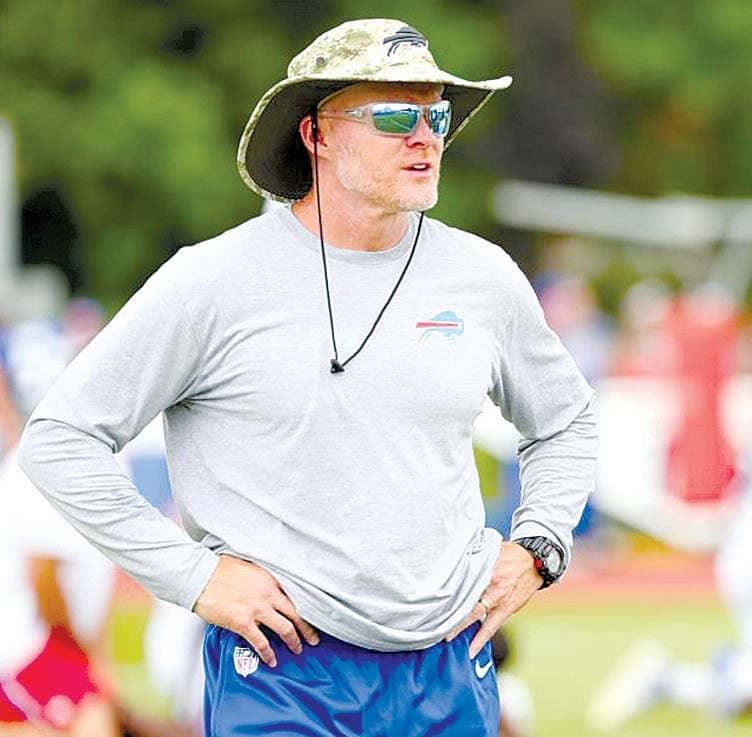 Q: How daunting is the task to prepare for a season and a training camp during this pandemic?
SM: There's certainly some challenges out there. You know the protocol is the protocol however, we'll see. One thing we have on our side at this point is some time, we've got some time on our side. I think the other thing is our approach at the Bills, and I'll speak on just the Bills, our approach is that we're going to do our best to find a way, to find a solution and to make sure we do things the right way. Certainly the protocols, there are a lot. That said, we do have time on our side and our team here is working long hours to try and make sure that we can meet all those protocols and still function at a high level once training camp begins.
Q: What are your thoughts on how everything went during this virtual offseason period?
SM: I think it's been a reflection on, we're capable of sometimes a lot more than what we think we're capable of, right? It's a great example of that and to sit here now, if you would have asked me would we have been able to get this done four or five months ago? To execute what we've been able to execute at the level that we've been able to execute it at. I would have said that's going to be a very heavy lift and it has been. It's been to me just incredible to watch our team come together from not just our players, but the staff and the support that we get from our IT department, everyone in our building has had to do things ... and so I think that's been really cool to watch the human spirit at work, not only in our building but also in our community as well.
Q: What is your level of concern with what the team has not been able to accomplish given these limitations?
SM: There's still a gap that we're not able to replace at this point. So you take reps, and there's 500-plus reps that we are not able to replace for new players, for existing players, and building some of the chemistry and continuity that we're going to need. I think you also go into it knowing that all the teams are on the same level playing field with that and no one's been able to get together obviously in and around facilities. So I think we're all starting around the same place and that as we head into training camp. So is that a concern of mine? Yes. I think the better question is, what is our plan and what is our solution come training camp to try and close that gap. So that's some of, or a large part of the communication that we're having here is what can we do in training camp? What do we need to do to find those solutions that we may not have had the same challenges in prior years? So that's where you have a strong staff and the value of communication comes in and then, hey, when we start it's all hands on deck. I'm confident in our building that that's the approach that I'm already seeing and that's the approach that we're going to have to take in order for us to have a successful season.
Q: How drastic of a change do you think things will be this training camp?
You can read up to 3 premium stories before you subscribe to Magzter GOLD
Log in, if you are already a subscriber
Get unlimited access to thousands of curated premium stories, newspapers and 5,000+ magazines
READ THE ENTIRE ISSUE
August 2020